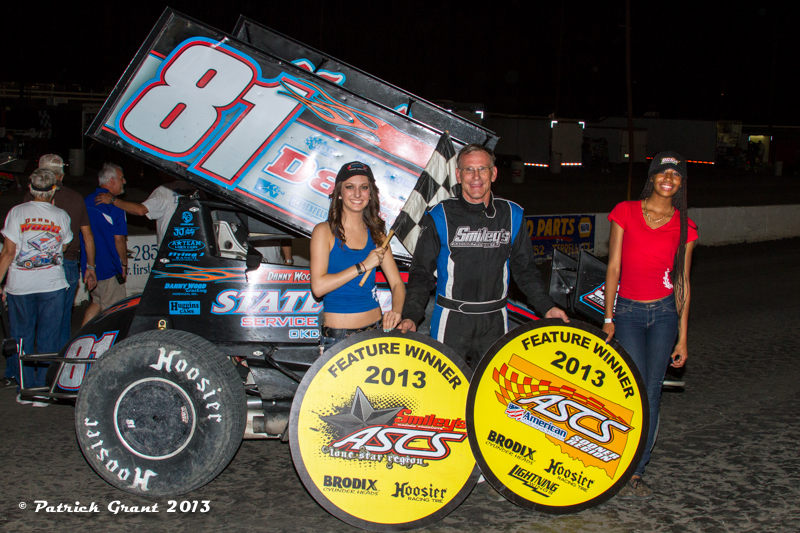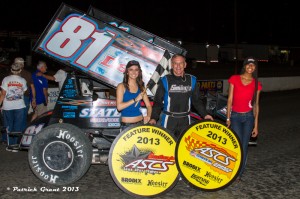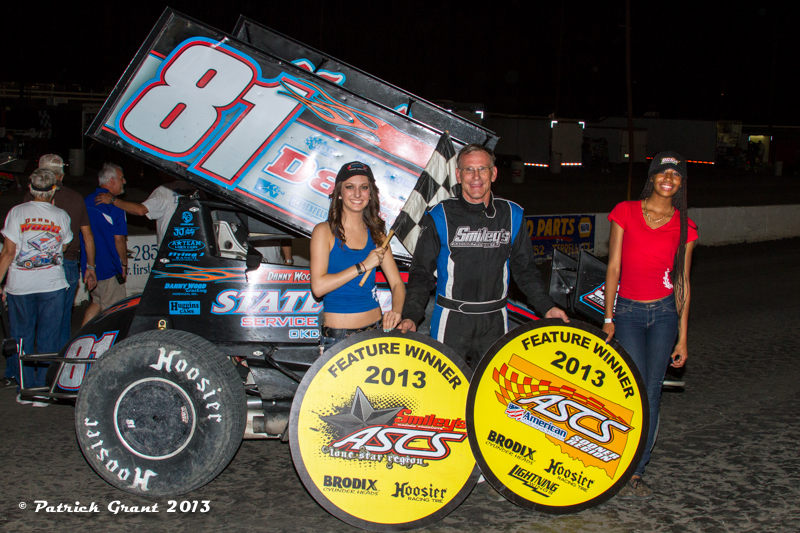 From Bryan Hulbert
Mesquite, TX —  (May 18, 2013) — Notch a win for the American Bank of Oklahoma Sooner Region as Norman, Okla. shoe Danny Wood parked the Statewide Services No. 81 in victory lane at the Devil's Bowl Speedway against the Smiley's Racing Products Lone Star Region.
Starting eleventh, Wood worked past Dale Wester on Lap 15 for his first Sooner Region victory of 2013. Wester crossed second with Jake Martens completing the podium. Matt Covington climbed from twelfth to fourth with Mike Goodman charging back from an opening lap spin to round out the top five.
John Carney II, Danny Jennings, Justin Melton, Martin Edwards, and Blake Hahn completed the top ten.
American Bank of Oklahoma Sooner Region
Smiley's Racing Products Lone Star Region
Devil's Bowl Speedway – Mesquite, Texas
Saturday, May 18, 2013
Car Count: 21
Heat 1 (8 Laps): 1. 1-Danny Jennings; 2. 17X-Josh Baughman; 3. 10-George White; 4. 14-Michael Lang; 5. 11-Justin Melton; 6. 2K-John Kelly; DNS 29-Travis Rilat
Heat 2 (8 Laps): 1. 19-Patrick Stasa; 2. 12W-Dale Wester; 3. 12M-Kolt Walker; 4. 224-John Carney II; 5. 17-Blake Hahn; 6. 58-Gary Floyd; DNF 5-Joe Bob Lee
Heat 3 (8 Laps): 1. 4AM-Mike Goodman; 2. 45-Martin Edwards; 3. 48-Jake Martens; 4. 81-Danny Wood; 5. 95-Matt Covington; 6. 22A-Dan Adkins; 7. 3-Raven Culp
A Feature (25 Laps): 1. 81-Danny Wood; 2. 12W-Dale Wester; 3. 48-Jake Martens; 4. 95-Matt Covington; 5. 4AM-Mike Goodman; 6. 224-John Carney II; 7. 1-Danny Jennings; 8. 11-Justin Melton; 9. 45-Martin Edwards; 10. 17-Blake Hahn; 11. 17X-Josh Baughman; 12. 10-George White; 13. 14-Michael Lang; 14. 19-Patrick Stasa; 15. 12M-Kolt Walker; 16. 2K-John Kelly; 17. 58-Gary Floyd; 18. 22A-Dan Adkins; 19. 3-Raven Culp; DNF 5-Joe Bob Lee; DNS 29-Travis Rilat
Lap Leader(s): Dale Wester (1-14), Danny Wood (15-25)