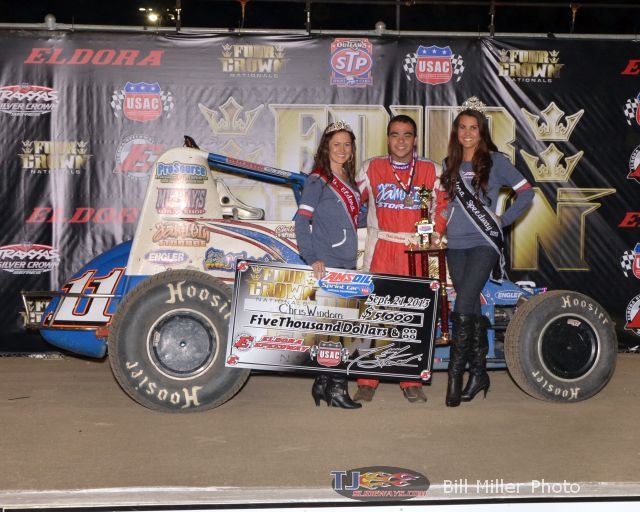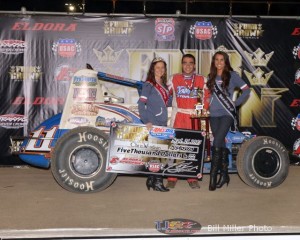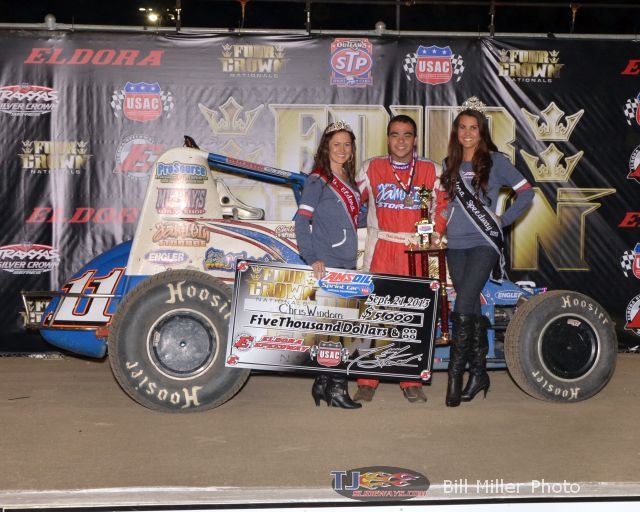 By T.J. Buffenbarger
Rossburg, OH – (September 21, 2013) —  With a nearly full red moon in the sky Chris Windom won an unusual AMSOIL USAC National Sprint Car Series feature on Saturday night during the 32nd 4-Crown Nationals at Eldora Speedway.    Windom inherited the lead after Tracy Hines crashed in turn four coming to the checkered flag on the final lap.   Windom then held off a final lap challenge from Jac Haudenschild and Bryan Clauson for the victory.
"I dodge some bullets there.  I ran down Tracy (Hines) at the end and he got away from me at the end," said Windom in victory lane.  "I nearly got into (Hines) down there.  This is probably the biggest win of my career here.  I've run well here, but never got over the hump."
Clauson and Clayton s started on the front row for the 30-lap main event for the sprint cars.  Clayton raced into the lead while Clauson found himself racing three wide for second with Chase Stockon and Jac Haudenschild with Stockon taking the position with a bold move into turn three.  Clayton then opened up a second and a half lead with Stockon and Bryan Clauson in tow.  Behind them Tracy Hines and Haudenschild were racing side by side for fourth.
Clayton's large lead was erased on lap seven when C.J. Leary slid into the inside wall in turn three.  Leary was unable to restart.
During the restart Clayton pulled away, but behind him Hines and Haudenschild continued their battle for third when Haudenschild hit the fence on the front stretch, but kept going.  In the ensuing shuffle Brady Bacon drove by both Hines and Haudenschild into fourth spot.
Clayton had pulled away during the restart but as laps clicked off Stockon and Clauson began to close in when Dallas Hewitt brought out the caution flag on lap 14 when he slowed on the race track.
The following restart started a chain of unusual events when Brady Bacon got upside down between turns one and two.   Bacon climbed out of the car dejected but uninjured.   During the red flag session fifth place Robert Ballou went pitside with a flat tire along with second place Chase Stockon with engine problems.  Ballou was able to restart while Stockon was forced pitside.
Then on lap 24 Clayton approached slower traffic.  While trying to lap the slower car of Tyler Courtney Clayton got into the turn two wall and flipped hard through the corner.  Clayton exited the car under his own power.
Tracy Hines then took over the lead after the restart and then had to deal with Chris Windom.  Windom was right on Hines back bumper, but Hines was able to open up some distance coming to the while flag.  Then while coming to take the checkered flag off of turn four Hines got into the wall and flipped, bringing out the red flag.  Hines emerged from his car visibly upset but uninjured.
This setup a one lap shootout for Windom and held on for the final lap to the 4-Crown victory.   Haudenschild, Dave Darland from 24th starting spot after having to switch to a backup car, Clauson, and  Ballou after starting from the tail with the flat tire rounded out the top five.
Tracy Hines was the fastest qualifier over the 36 car field with a lap of 15.081 seconds around the high banked half-mile oval.   Hines followed up his quick qualifier honors by winning a heat race.  Daron Clayton, Gary Taylor, and Robert Ballou also won heat race events.   Dallas Hewitt won the B-Main event.
Amsoil USAC National Sprint Car Series
32nd 4-Crown Nationals
Eldora Speedway – New Weston, OH
Saturday September 21, 2013
AMSOIL USAC NATIONAL SPRINT CAR RACE RESULTS: September 21, 2013 – Rossburg, Ohio – Eldora Speedway – 32nd "4-Crown Nationals"
QUALIFICATIONS: 1. Tracy Hines, 4, Hines-15.088; 2. Brady Bacon, 69, Dynamics-15.341; 3. Chase Stockon, 32, 32 TBI-15.414; 4. Dave Darland, 71p, Phillips-15.431; 5. Jac Haudenschild, 22s, Simon-15.489; 6. Daron Clayton, 35, Byram-15.528; 7. Justin Grant, 27a, Elson-15.583; 8. Bryan Clauson, 20, Stewart/Curb-Agajanian-15.608; 9. Jerry Coons Jr., 10E. Edison-15.617; 10. Chris Windom, 11, Walker-15.619; 11. Jon Stanbrough, 66, Tate/Wade-15.656; 12. Robert Ballou, 12x, Ballou-15.669; 13. Matt Westfall, 54, Best Performance-15.732; 14. Kevin Thomas Jr. 17RW, Dutcher/RW/Tri-Star-15.736; 15. Kyle Cummins, 21x, Pollock-15.739; 16. Dallas Hewitt, 2m, Marshall-15.777; 17. Scotty Weir, 18, Keen-15.779; 18. Wes McIntyre, 83, McIntyre-15.816; 19. Gary Taylor, 40, Hery-15.841; 20. Bill Rose, 6, Rose-15.908; 21. Mike Brecht, 9x, SC-15.929; 22. C.J. Leary, 30, Leary-16.021; 23. Jarett Andretti, 18a, Andretti-16.112; 24. Logan Jarrett, 29, Jarrett-16.202; 25. Luke Hall, 9N, Nelson-16.247; 26. Tyler Courtney, 23c, Courtney-16.279; 27. Tim Hunter, 5m, Walters-16.281; 28. Nick Drake, 55, Cline-16.329; 29. Mike Miller, 82, Miller-16.366; 30. Aaron Farney, 15F, Farney-16.386; 31. Adam Cruea, 83x, Cruea-16.520; 32. Brandon Whited, 15, French-16.548; 33. Derek Hastings, 32m, Marshall-16.957; 34. Mike Galajda, 2x, Galajda-17.214; 35. Toby Alfrey, 5a, Alfrey-17.577; 36. Mitch Wissmiller, 1w, Wissmiller-NT.
FIRST HEAT : (8 laps) 1. Hines, 2. Brecht, 3. Westfall, 4. Haudenschild, 5. Hastings, 6. Weir, 7. Miller, 8. Coons, 9. Hall. 2:11.83
SECOND HEAT : (8 laps) 1. Clayton, 2. Windom ,3. Bacon, 4. Thomas, 5. McIntyre, 6. Farney, 7. Courtney, 8. Galajda, 9. Leary. NT
THIRD HEAT : (8 laps) 1. Taylor, 2. Stockon, 3. Stanbrough, 4. Cummins, 5. Andretti, 6. Cruea, 7. Hunter, 8. Alfrey, 9. Grant. 2:14.41
FOURTH HEAT : (8 laps) 1. Ballou, 2. Rose, 3. Clauson, 4. Drake, 5. Hewitt, 6. Jarrett, 7. Whited, 8. Darland. NT
SEMI: (12 laps) 1. Hewitt, 2. Darland, 3. Hall, 4. Grant, 5. Andretti, 6. McIntyre, 7. Leary, 8. Miller, 9. Cruea, 10. Whited, 11. Farney, 12. Hunter, 13. Courtney, 14. Jarrett, 15. Alfrey, 16. Galajda, 17. Hastings, 18. Coons. NT
FEATURE: (30 laps) 1. Chris Windom, 2. Jac Haudenschild, 3. Dave Darland, 4. Bryan Clauson, 5. Robert Ballou, 6. Jon Stanbrough, 7. Gary Taylor, 8. Justin Grant, 9. Kevin Thomas Jr., 10. Jarett Andretti, 11. Mike Brecht, 12. Wes McIntyre, 13. Kyle Cummins, 14. Bill Rose, 15. Matt Westfall, 16. Luke Hall, 17. C.J. Leary, 18. Nick Drake, 19. Tyler Courtney, 20. Tracy Hines, 21. Daron Clayton, 22. Mike Miller, 23. Chase Stockon, 24. Brady Bacon, 25. Dallas Hewitt,
———————————
**Bacon flipped on lap 15 of the feature. Clayton flipped on lap 25 of the feature. Hines flipped on the 30th lap of the feature.
FEATURE LAP LEADERS: Laps 1-24 Clayton, Laps 25-29 Hines, Lap 30 Windom.
NEW AMSOIL NATIONAL SPRINT POINTS: 1-Clauson-1,634, 2-Darland-1,632, 3-Bacon-1,543, 4-Thomas-1,435, 5-Stockon-1,416, 6-Hines-1,318, 7-Ballou-1,287, 8-Windom-1,045, 9-Hunter Schuerenberg-1,000, 10-Shane Cottle-952.
NEXT AMSOIL NATIONAL SPRINT RACE: September 28 – Lawrenceburg (IN) Speedway