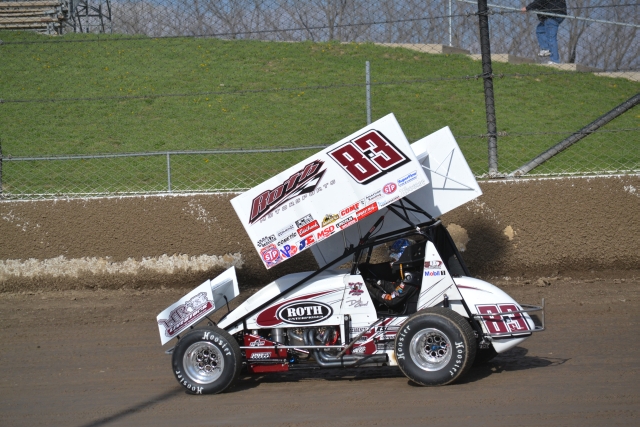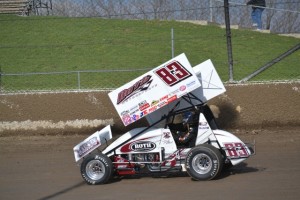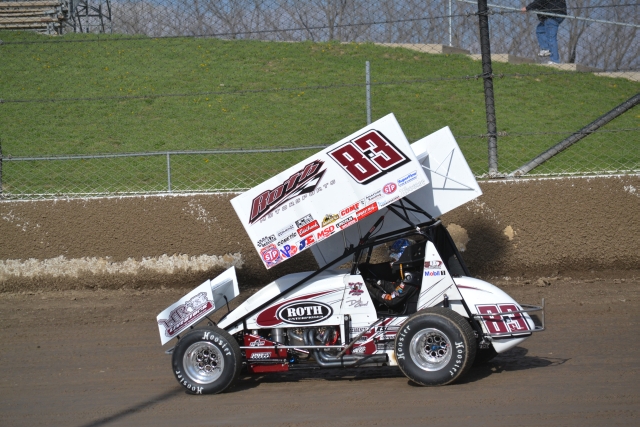 By T.J. Buffenbarger
Rossburg, OH – (May 3, 2014) – David Gravel did not take long to get used to his new surroundings at Roth Motorsports. Gravel picked up the World of Outlaws STP Sprint Car Series feature victory at Eldora Speedway on Saturday in only his second night with his new team. .
"I can't say enough to Dennis and Teresa Roth and my crew. It's been a rough couple of weeks for them and hopefully this puts a smile on their faces back home. Thanks for believing in me," said Gravel in victory lane. I fell back to third, pulled the wing back, and the car was awesome. This was great"
After starting on the front row Gravel had to climb back up from dropping to third at the start of the race and exchanging slide jobs with Daryn Pittman for the lead while holding off Randy Hannagan running the low side at the same time. The win was Gravel's second on the World of Outlaws tour this season.
"I raced with Daryn a lot when he was in the 27 car, and I think we put on a hell of a show," said Gravel.
Pittman and Gravel exchanged slide jobs multiple times through the last half of the race with Randy Hanngan running the low side behind them in the third spot. The top three cars raced through traffic until Gravel cleared a lapped car . Pittman was gracious in defeat.
"Hats off to David, I just got beat by a better driver tonight. Had a great car, just got too cautious in lapped traffic and got in dirty air. Then he pissed me off when he got by me and I started driving the car the w ay I should have done. "
Hannagan made his way through the field from seventh starting spot around the bottom of the race track up to third spot and made it a three car battle for the lead in the later stages of the race. Hannagan said afterwards he made some mistakes late that could have cost him a shot at the win.
"On that restart sitting third I thought I was going to be able to get a good start, and it worked. The car kept getting better and better, then I started over driving at the end and missed my mark and the top started going again"
By virtue of winning the dash David Gravel started on the pole position with Pittman to the outside. Gravel lead the field during the initial start until Pittman used his momentum on the high side to take the top spot. Gravel then endured a slide job from Joey Saldana to drop back to third on lap two. By lap five Pittman began to encounter slower traffic and it allowed Saldana to close in. Gravel also caught the lead duo and was able to pass Saldana for second on lap 11 while the top three were bottled in traffic. Just as Gravel took over second Kerry Madsen, who was running in the fourth position, slowed with a flat right rear tire on the backstretch. Madsen went to the work area and his crew was able to make repairs for the restart.
Pittman chose the high line for the double file restart and maintained the lead after the restart with Gravel and Saldana in tow. Hannagan made his presence felt after the restart by racing with McMahan and Saldana for the third spot.
Pittman closed in on slower traffic again on lap 17. Gravel chased down Pittman through traffic and caught a break when Pittman bounced his right rear off the fence and allowed Gravel to take the lead. Pittman countered by retaking the lead with a slide job in turns one and two. Gravel returned the favor in turns three and four to retake the lead. Pittman attempted another slide job, but Gravel was able to cross over and maintain the top spot on lap 20.
The race for the lead allowed Hannagan to close on Pittman to race for second on lap 22. Somehow while racing for second Pittman and Hannagan closed in on Gravel for the lead. Hannagan took a look under Pittman for second, but could not make the pass. One lap later Pittman pulled a slide job on Gravel for the lead, but Gravel crossed over on Pittman to maintain the top spot.
With three laps to go Hannagan and Pittman were side by side for second. One lap later as Pittman began to close in on Gravel again, Pittman's teammate Cody Darrah held up Pittman for just a moment while being lapped. This was all Gravel needed to motor ahead the final two circuits for the victory. Pittman held off Hannagan for second. McMahan and Donny Schatz, picking up the hard charger award after starting 19th, rounded out the top five.
For the second night in a row Kerry Madsen was the fastest qualifier with a lap of 13.296 seconds at an average speed of 135.379 miles per hour. Madsen also collected a heat race victory along with McMahan, Hannagan, and Sammy Swindell. Darrah won the Last Chance Showdown.
World of Outlaws STP Sprint Car Series
Eldora Speedway – Rossburg, OH
Saturday May 3rd, 2014
Qualifications: 1. 29 – Kerry Madsen, 13.296; 2. 51 – Paul McMahan, 13.383; 3. 49 – Brad Sweet, 13.385; 4. 71M – Joey Saldana, 13.416; 5. 9 – Daryn Pittman, 13.474; 6. 83 – David Gravel, 13.490; 7. 11 – Steve Kinser, 13.564; 8. 7S – Jason Sides, 13.586; 9. 2 – Shane Stewart, 13.589; 10. 40 – Caleb Helms, 13.596; 11. 11N – Randy Hannagan, 13.635; 12. 53 – Christopher Bell, 13.639; 13. 28 – Brian Paulus, 13.661; 14. 63 – Chad Kemenah, 13.676; 15. 5W – Lucas Wolfe, 13.708; 16. 1 – Sammy Swindell, 13.713; 17. 4 – Cody Darrah, 13.727; 18. 10H – Danny Holtgraver, 13.736; 19. 1S – Logan Schuchart, 13.748; 20. 14H – Dale Blaney, 13.750; 21. 15 – Donny Schatz, 13.789; 22. 9W – Jac Haudenschild, 13.819; 23. 11K – Kraig Kinser, 13.827; 24. 71MX – Paul May, 13.848; 25. 77x – Wayne Johnson, 13.901; 26. w20 – Greg Wilson, 13.968; 27. 1A – Jacob Allen, 13.983; 28. 93 – Sheldon Haudenschild. , 14.012; 29. 21 – Dallas Hewitt, 14.044; 30. 5T – Travis Philo, 14.053; 31. 19M – Brent Marks, 14.062; 32. 55 – Trey Starks, 14.202; 33. 24H – Brandon Wimmer, 99.000; 34. 80 – Trey Gustin, 99.000;
Heat Race #1 (8 Laps): 1. Kerry Madsen, 2. Donny Schatz, 3. Shane Stewart, 4. Travis Philo, 5. Daryn Pittman, 6. Cody Darrah, 7.Wayne Johnson, 8. Brian Paulus. DNS: Sheldon Haudenschild (First five finishers transferred to the A-Main)
Heat Race #2 (8 Laps): 1. Paul McMahan, 2. Chad Kemenah, 3. Jac Haudenschild, 4. David Gravel, 5. Danny Holtgraver, 6. Caleb Helms, 7. Greg Wilson, 8. Brent Marks. (First five finishers transferred to the A-Main)
Heat Race #3 (8 Laps): 1. Randy Hannagan, 2. Steve Kinser, 3. Lucas Wolfe, 4. Brad Sweet, 5. Logan Schuchart, 6. Kraig Kinser, 7. Jacob Allen, 8. Trey Starks. (First five finishers transferred to the A-Main)
Heat Race #4 (8 Laps): 1. Sammy Swindell, 2. Dale Blaney, 3. Joey Saldana, 4. Christopher Bell, 5. Jason Sides, 6. Paul May, 7. Trey Gustin, 8. Dallas Hewitt.
Dash (4 Laps): 1.David Gravel, 2. Daryn Pittman, 3. Joey Saldana, 4. Kerry Madsen, 5. Brad Sweet, 6. Sammy Swindell, 7. Randy Hanngan, 8. Paul McMahan. (Finish determined the first four rows of the A-Main)
B-Main (10 Laps): 1. Cody Darrah, 2. Kraig Kinser, 3. Wayne Johnson, 4. Jacob Allen, 5. Paul May, 6. Brent Marks, 7. Trey Starks, 8. Greg Wilson, 9. Trey Gustin, 10. Caleb Helms, 11. Dallas Hewitt. DNS: Brian Paulus, Sheldon Haudenschild, Brandon Wimmer, (First four finishers transferred to the A-Main)
A-Main (30 Laps): 1. David Gravel, 2. Daryn Pittman, 3. Randy Hannagan, 4. Paul McMahan, 5. Donny Schatz, 6. Dale Blaney, 7. Danny Holtgraver, 8. Mandsen, 9. Sweet, 10. Steve Kinser, 11. Kraig Kinser, 12. Joey Saldana, 13. Logan Schuchart, 14. Chad Kemeneah, 15. Shane Stewart, 16. Jason Sides, 17. Cody Darrah, 18. Sammy Swindell, 19. Jac Haudendshild, 20. Christopher Bell, 21. Wayne Johnson, 22. Lucas Wolfe, 23. Travis Philo, 24. Jacob Allen.
Lap Leaders: Pittman 1-18, Gravel: 19-30