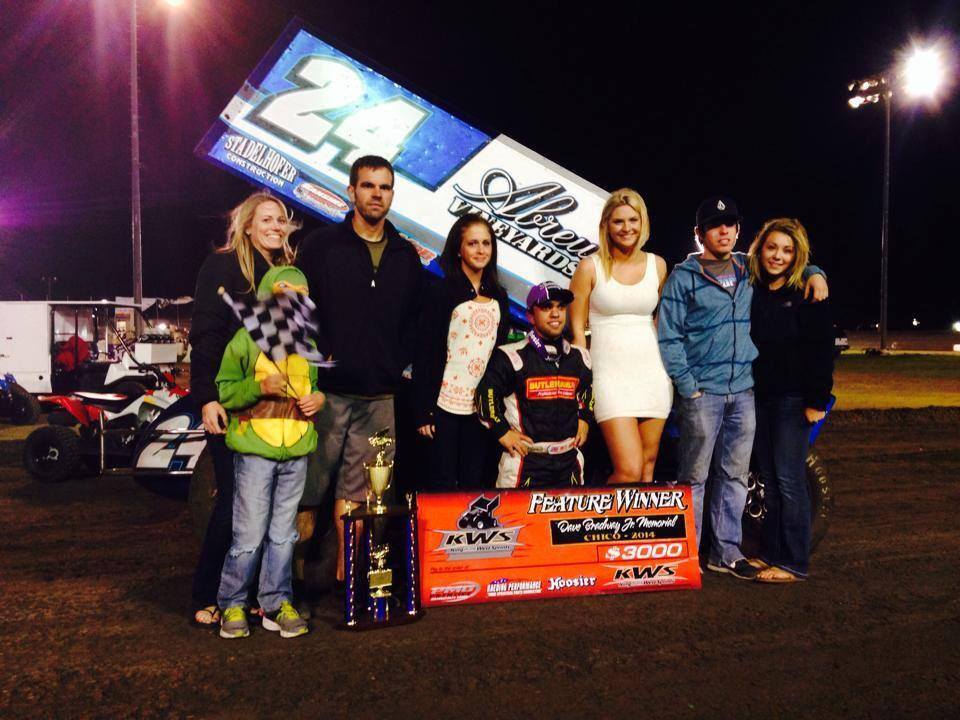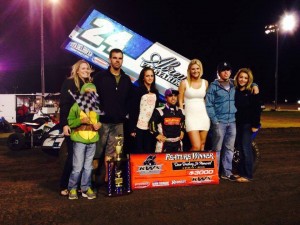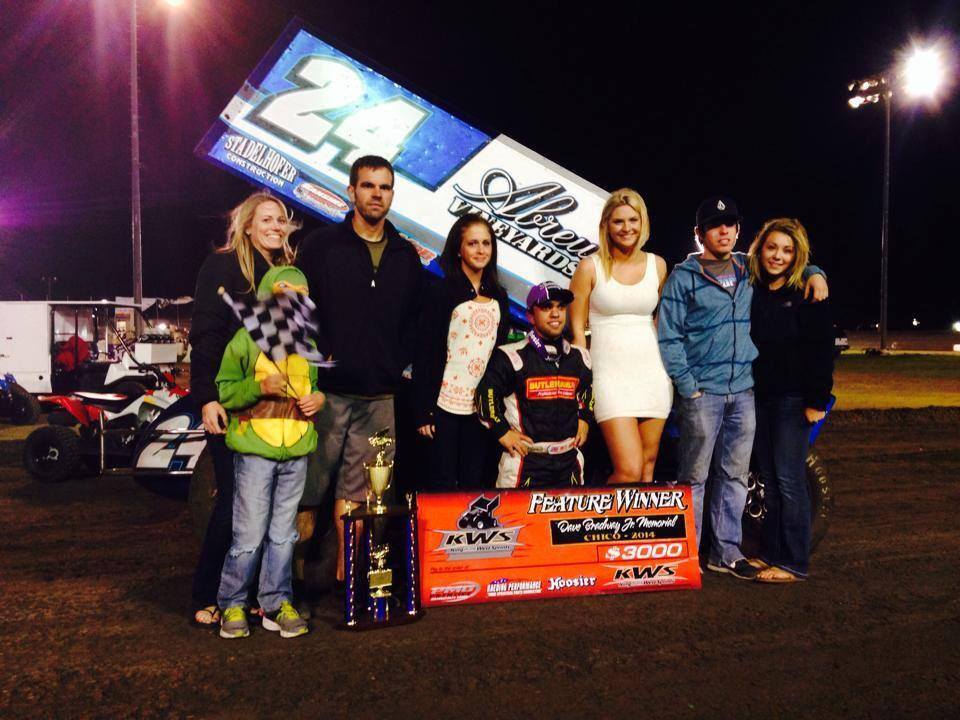 From Gary Thomas
Chico, CA – (May 3, 2014) – Rutherford, CA's Rico Abreu reminded everyone on Saturday night why he is arguably the hottest Sprint Car driver around at the moment, as he romped to his second consecutive win in the prestigious Dave Bradway Jr. Memorial at Chico's Silver Dollar Speedway.
It was Abreu's second consecutive King of the West 410 Sprint Car Series victory and the seventh of his career, tying Kyle Hirst, Jimmy Sills, Kyle Larson, Greg Decaires and Randy Hannagan for 14th on the all-time win list. The 22-year-old also claimed the $1000 Abreu Vineyards Dash and with lap money added in will go home with $6500 for his efforts. Despite strong day time winds the track surface held up and made for some entertaining racing throughout the night.
"It feels great to get another win here at the Bradway and I can't thank Paul Silva and my guys enough for giving me a great car," Abreu commented. "I also want to thank everyone that helps put the Dave Bradway Jr Memorial on. It's a pretty awesome event and seeing all the money and awards up for grabs is pretty awesome. We've been on a roll here to start the year and I really hope we can keep it up heading back to the Midwest. I also want to thank all the fans for coming out tonight."
When the green lights came on Abreu got the jump on the field and would ultimately never look back. Outside front row starter Shane Golobic of Fremont settled into second at the start, but had a water fitting failure knock him out of contention early on. Golobic also will go home with the hard luck award that features $300 cash courtesy of Dan & Laurel Belton and HMC Promotions the Louie Vermeil Classic, plus a set of Schoenfeld Headers and Flowmaster Mufflers courtesy of Kaeding brothers racing.
Over the opening laps Scotts Valley's Evan Suggs was able to keep pace with Abreu and keep him within striking distance, but caution flags plagued the flow of things in the 40-lapper early on. Once some green flag laps were clicked off however, Abreu pulled away and left everyone else to fight for second. Current King of the West point leader Kyle Hirst carved his way into the runner up position as the race wore on and would eventually finish in the spot for the second straight year.
"I have to congratulate Rico Abreu, Paul Silva and those guys on their win tonight, because they've been real tough," said Hirst. "I also want to thank my whole Roth Motorsports team for all their support. I've been close to winning the Bradway and one of these years it's going to happen. This was a good point's night for us though, so we'll take it and go on to next week. I would like to thank the Durica's and everyone that helps put the Bradway on each year."
Sacramento's Willie Croft had a great run in the main event to complete the podium aboard the Holey Smokes BBQ No. 29 Sprinter. The finish marked his best career Dave Bradway Jr Memorial result. "I'm happy to be up here on the podium tonight with Rico and Kyle," Croft said. "The Bradway is our biggest race out here with KWS so to get a third is pretty solid for us. We've had lots of speed so far this year so that gives me a lot of confidence. We'll move on next week to Petaluma and see if we can get this car into victory lane."
Evan Suggs finished the main event in fourth, with Roseville's Colby Copeland doing a great in the feature to come home fifth. Completing the top-10 in the 40-lapper were Chico's Jonathan Allard, who earned the hard charger award coming from 17th to sixth. Allard will go home with $1300 courtesy of Abreu Vineyards, Budget Landscaping, Browns Valley RV and Hunts Race World the Hunt Family, plus a pack of tear offs. Seventh through 10th in the main event were Oroville's Sean Becker, Campbell's Brent Kaeding, Campbell's Bud Kaeding and Hanford's DJ Netto.
Leading all 12-laps to win the Last Chance Showdown was Placerville's Andy Gregg, who claimed $1000 cash from Abreu Vineyards, plus an additional $600 in lap money. The eight-lap C-main was won by Chico's Brad Bumgarner.
Rico Abreu won the six-lap Dash and took home the $1000 cash from Abreu Vineyards as previously noted.
Picking up wins in the four 10-lap heat races included Medford, Oregon's Roger Crockett, Fresno's Craig Stidham, Brent Kaeding and Shane Golobic. Each heat race winner went home with $500 cash from Abreu, along with a right rear tire and five sleeves of tear offs courtesy of HoservilleCA, plus a Red Line Oil Sprint Car Oil Change. Opening the night by earning the Carwash Mike Fast Time Award was Roger Crockett, who takes home $1625 cash, plus a custom helmet paint job courtesy of Shell Shock Designs, along with a custom Jager Trophy & Coors Light cowboy hat in memory of Carwash Mike Avilla.
The King of the West 410 Sprint Car Series will head next for the Petaluma Speedway this coming Saturday night for Round number four in the 2014 season. Full results will be available at
http://www.kwssprints.com/