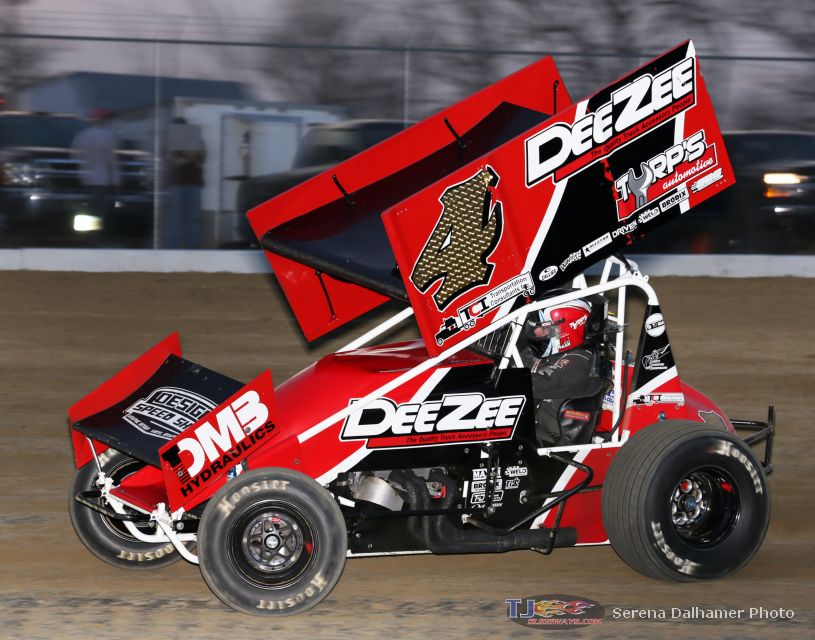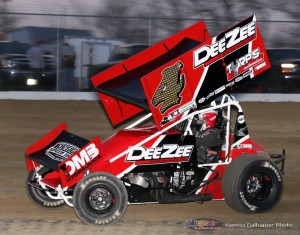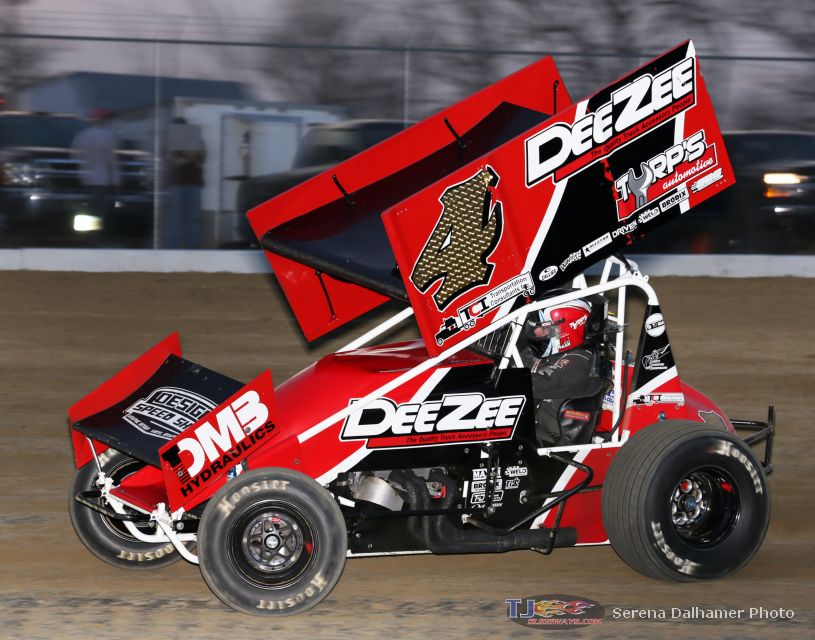 From Bill W
West Burlington, IA — (May 25, 2014) — Jon Agan bested a 30-car field Sunday night at 34 Raceway in West Burlington.  It was the Knoxville, Iowa driver's first ever win at the track and the second in his career with the Brockway Mechanical & Roofing Sprint Invaders.
Agan led Josh Schneiderman and Roger Crockett at the outset of the feature.  On lap three, Andy Huston lost his left front wheel.  While the lead duo missed the incident, bad luck struck Crockett.  He struck the errant tire at the wrong time in the wrong place, upending the Buffalo Wild Wings #82 and ending his night.  He was uninjured.
The restart saw Agan leading Josh Schneiderman, Jarrod Schneiderman, Jordan Weaver and Mike Houseman Jr.  Three laps later, CJ Houseman jumped the turn four cushion, struck the wall, and tipped over.  He was also uninjured.
Agan shot away each time in clean air.  Josh Schneiderman tagged the turn four wall while running second on lap thirteen, allowing his brother, Jarrod, to surge by.  Jarrod began gaining on Agan, who was in lapped traffic before Tim Moore came to a stop with 21 laps in the books, bringing a caution that set up a four lap dash to the checkers.  Under yellow flag conditions, Weaver, who was running eighth, suffered a flat right rear tire.
Agan breezed to the win in the Dee Zee Manufacturing/DMB Supply/Turp's Automotive/Dickler Masch Plastics #4 ahead of Jarrod Schneiderman, Josh Schneiderman, Mike Houseman Jr. and Russ Hall.  Bobby Mincer, Tony Shilling, hard-charger Davey Heskin, John Schulz and Harold Pohren completed the top ten.  Jarrod Schneiderman, Weaver, Houseman Jr. and Crockett won heats.  Kris Miller won the Dash, and Heskin took the B.
"We've been pretty good here in a lot of ways, we just haven't finished the deal," said Agan of his first win in West Burlington.  "We've had nights where we just haven't finished it off and we wanted to make sure to do that tonight.  We were pretty good in the heat race, and really good in the Dash.  It was a great night.  I can't thank Jeff and Amy Laue and the Sprint Invaders officials enough for what they do.  It's such a great group to have and we're fortunate to be a part of it."
"We didn't need that last restart there," said Jarrod Schneiderman.  "We were catching (Agan) in lapped traffic.  The car was pretty nice.  I started driving a little harder when I saw him.  It wasn't a bad night.  Our car wouldn't take off as well on restarts.  We need to get that figured out for the next one."
"I think we had a car to win," said Josh Schneiderman.  "Track position was key tonight.  We just got into the fence a little bit and Jarrod got by.  He had a good racecar too.  (Hitting the wall) didn't affect car.  As the race went on, we got better.  It was good to finish third."
The Sprint Invaders return to action, Friday, May 30 at the Independence Motor Speedway in Independence, Iowa.  For more information, log on to www.SprintInvaders.com!
Results
Brockway Mechanical & Roofing A main (started), 25 laps: 1. 4, Jon Agan, Knoxville, IA (1) 2. 11s, Jarrod Schneiderman, West Burlington, IA (4) 3. 49, Josh Schneiderman, West Burlington, IA (2) 4. 68, Mike Houseman Jr., Des Moines, IA (8) 5. 29, Russ Hall, Pleasant Hill, IA (9) 6. 15, Bobby Mincer, Burlington, IA (10) 7. 22T, Tony Shilling, Knoxville, IA (14) 8. 41, Davey Heskin, St. Michael, MN (16) 9. 99, John Schulz, West Burlington, IA (17) 10. 50P, Harold Pohren, Lowell, IA (7) 11. 9D, Daniel Bergquist, Burlington, IA (15) 12. 33, Kris Miller, Woodward, OK (6) 13. 83, Dave Getchell, Sperry, IA (18) 14. 6, Mitchell Alexander, Knoxville, IA (11) 15. 92, Jordan Weaver, Woodward, OK (5) 16. 10T, Tim Moore, Rock Island, IL (19) 17. 83D, Damian Getchell, Sperry, IA (20) 18. 12G, Kelly Graham, Collins, IA (21, prov.) 19. 80x, CJ Houseman, Des Moines, IA (12) 20. 82, Roger Crockett, Medford, OR (3) 21. 40, Andy Huston, Roseville, IL (13) DNS – 14P, Bret Tripplett, Lincoln, IL. Lap Leader: Agan 1-25. Hard-charger: Heskin. KSE Hard-charger: Shilling.
Advanced Plumbing & Machine Heat one (started), 8 laps, top two to Dash, top four to A main: 1. Jarrod Schneiderman (2) 2. Harold Pohren (4) 3. Bret Tripplett (1) 4. CJ Houseman (3) / 5. Davey Heskin (6) 6. John Schulz (5) 7. 16, Dustin Clark, Agency, IA (7) 8. 22P, Kyle Peterson, Gladstone, IL (8)
Huston Land Improvement Heat two (started), 8 laps, top two to Dash, top four to A main: 1. Jordan Weaver (2) 2. Kris Miller (1) 3. Russ Hall (4) 4. Andy Huston (3) / 5. 20T, Corey Timmerman, Carmen, IL (7) 6. 85, Chase Wanner, Agency, IA (5) 7. Damian Getchell (6) 8. 58, Andy Krieger, Burlington, IA (8)
CenPeCo Lubricants Heat three (started), 8 laps, top two to Dash, top four to A main: 1. Mike Houseman Jr. (1) 2. Josh Schneiderman (4) 3. Bobby Mincer (6) 4. Tony Shilling (7) / 5. Tim Moore (2) 6. Kelly Graham (5) 7. 73, Dustin Selvage, Indianola, IA (3)
Brockway Mechanical & Roofing Heat four (started), 8 laps, top two to Dash, top four to A main: 1. Roger Crockett (3) 2. Jon Agan (4) 3. Mitchell Alexander (2) 4. Daniel Bergquist (6) / 5. Dave Getchell (7) 6. 3, Scott Lawyer, Adair, IL (5) 7. 27, Carson McCarl, Altoona, IA (1)
Budweiser "King of Beers" Shake-up Dash (started), 6 laps: 1. Kris Miller (2) 2. Jon Agan (6) 3. Josh Schneiderman (4) 4. Roger Crockett (8) 5. Jarrod Schneiderman (1) 6. Jordan Weaver (7) 7. Harold Pohren (3) 8. Mike Houseman Jr. (5)
B main (started), 12 laps, top five to A main: 1. Davey Heskin (1) 2. John Schulz (5) 3. Dave Getchell (4) 4. Tim Moore (3) 5. Damian Getchell (10) / 6. Kyle Peterson (11) 7. Kelly Graham (7) 8. Scott Lawyer (8) 9. Chase Wanner (6) 10. Corey Timmerman (2) 11. Dustin Clark (9) DNS – Dustin Selvage, Carson McCarl, Andy Krieger
Contingencies
Weld – Tim Moore
Saldana Racing Products – Tony Shilling
Pyrotec – Kelly Graham