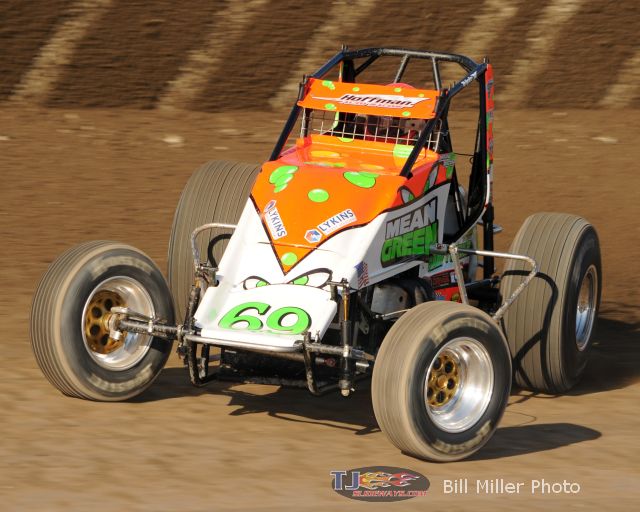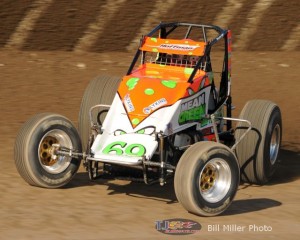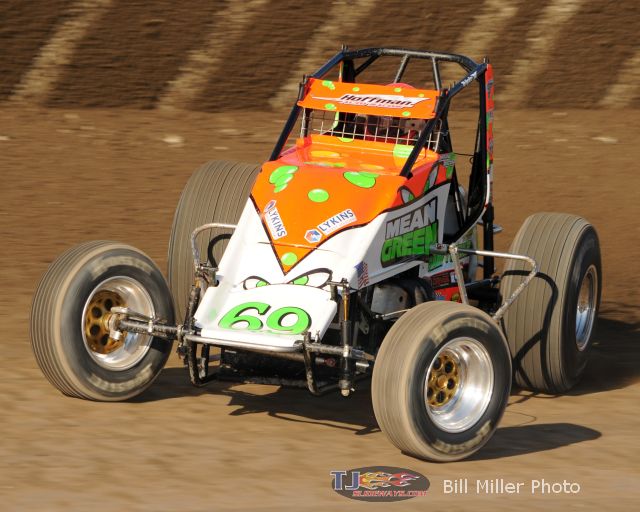 From Dick Jordan and Port Royal Speedway
Port Royal, PA — (June 8, 2014) — Brady Bacon of Broken Arrow, Oklahoma, took the $6,000 USAC Eastern Storm sprint car feature event at Port Royal Speedway on Saturday night, putting on an exciting show for the fans for his first ever oval victory.
For Bacon, aboard the Hoffman Racing No. 69, the victory helped widen his advantage in the Eastern Storm series that concludes on Sunday night.
In the 15-lap econo late model feature event, super sub Trent Brenneman upset the field while filling in for regular driver Todd Snook to etch his name in the Port Royal history books where his grandfather Butch Renninger owns countless stock car wins and titles. 
The 20-lap ARDC Midget feature went to Steve Drevicki in a flag to flag performance.
The start of the 30-lap USAC sprint car feature event got off to a rocky start when the yellow flag unfurled for a false start.
As the yellow fell over the field, seventh starter Tracy Hines of New Castle, Indiana, snap rolled in the second corner, turning the yellow to red.
Hines was uninjured but two other cars involved including Robert Ballou had to tag the rear of the field for the restart.
Second starter Jon Stanbrough of Avon, Indiana, took control of the main when action did get started with polesitter Kevin Thomas Jr. of Cullman, Alabama, following in second and third starter Bacon running in third.
During the early going Stanbrough and Thomas got away from Bacon and raced back and forth for control before Thomas finally seized the spot on the fourth tour.
But one lap later Bacon surged into second while touring around the inside groove and as leader Thomas entered the backmarkers on the 10th circuit, Bacon was knocking on the door for the lead.
It took a few attempts for Bacon to gain control as he pushed his racer underneath Stewart in the first and second turns repeatedly only to see Thomas regain the lead as he jetted off of the cushion onto the backstretch.
But finally with 12 laps to go Bacon was able to take the spot for good before beginning to get away from the field. 
Meanwhile, having restarted at the rear of the field, Robert Ballou was stirring the fans with an impressive march into the front of the field. 
And by the time that Bacon took the checkers with Thomas and Stanbrough following, Ballou was knocking on the door for third.
Last year's Port Royal USAC winner, Dave Darland crossed the finish line in fifth.
Sixth through 10th went to Chase Stockon, Justin Grant, Bryan Clauson, Shane Cockrum and Hunter Schuerenberg.
Heats for the 23 cars went to Hines, Cockrum and Ballou. 
Fast time, worth $100 from Packers Concessions, was set by Justin Grant of Ione, California, with a lap of 19.247 seconds.
Brenneman started second in the 15-lap econo late model feature event but found third starter Jason Nace taking the lead at the start.
Brenneman stuck close to leader Nace during the first 10 laps before pulling the trigger for the lead with just five laps to go. 
Once in command, Brenneman pulled away from the field as a four car race for second unfolded between Nace, Eric Irvin, Tim Krape and three time winner Andrew Yoder.
Racing through traffic, Yoder bulled his way into second with a pair of laps left but failed to close on Brenneman. 
Irvin was third followed by Krape and Nace.
Twin heats for the 16 cars went to Yoder and Nace.
Drevicki started on the pole of the ARDC Midget main and led all 20 laps of the race.
A lone caution flag at the halfway point regrouped the field but no one could challenge Drevicki.
Instead attention turned to eighth starter Steve Buckwalter who moved into second with a pair of laps to go.
Tim Buckwalter, who took second with nine laps to go, ended up falling to third at the finish.
Brenden Bright ended fourth and Bruce Buckwalter Jr. rode home fifth.
Heats went to Steve Buckwalter and Drevicki.
AMSOIL USAC NATIONAL SPRINT CAR RACE RESULTS: June 7, 2014 – Port Royal, Pennsylvania – Port Royal Speedway – "Eastern Storm" Presented by RW and Partners
      QUALIFICATIONS: 1. Justin Grant, 40, Hery-19.247; 2. Dave Darland, 71P, Phillips-19.454; 3. Chase Stockon, 32, 32/TBI-19.532; 4. Brady Bacon, 69, Dynamics-19.588; 5. Jon Stanbrough, 37RW, Dutcher-19.610; 6. Kevin Thomas, Jr., 9K, KT-19.714; 7. Tracy Hines, 4, Hines-19.727; 8. Hunter Schuerenberg, 20N, Schuerenberg/Nolen-19.865; 9. Bryan Clauson, 20, Stewart/Curb-Agajanian-19.871; 10. Daron Clayton, 3R, Byram-19.900; 11. Shane Cockrum, 66, Wade-19.905; 12. Jarett Andretti, 18, Andretti-20.029; 13. Chris Windom, 11, Walker-20.032; 14. C.J. Leary, 30, Leary-20.092; 15. Robert Ballou, 12, Ballou-20.151; 16. Mark Bitner, 15, Bitner-20.265; 17. Dalten Gabbard, 5, Baldwin-20.461; 18. Billy Pauch, Jr., 36, Thomas/Engler-20.516; 19. Chad Boespflug, 98, Boespflug-20.577; 20. Joey Biasi, B1, Biasi-20.698; 21. Trevor Kobylarz, 14, RT-20.912; 22. Brian Ehrenzeller, 33E, Ehrenzeller-21.260; 23. Curt Stroup, 33, Ehrenzeller-21.291.
      FIRST HEAT: (8 laps) 1. Hines, 2. Bacon, 3. Windom, 4. Clayton, 5. Grant, 6. Bitner, 7. Boespflug, 8. Ehrenzeller. 2:39.70
      SECOND HEAT: (8 laps) 1. Cockrum, 2. Leary, 3. Schuerenberg, 4. Darland, 5. Stanbrough, 6. Biasi, 7. Gabbard, 8. Stroup. 2:43.61
      THIRD HEAT: (8 laps) 1. Ballou, 2. Clauson, 3. Stockon, 4. Pauch, 5. Thomas, 6. Andretti, 7. Kobylarz. NT
      FEATURE: (30 laps) 1. Brady Bacon, 2. Kevin Thomas, Jr., 3. Jon Stanbrough, 4. Robert Ballou, 5. Dave Darland, 6. Chase Stockon, 7. Justin Grant, 8. Bryan Clauson, 9. Shane Cockrum, 10. Hunter Schuerenberg, 11. Chris Windom, 12. C.J. Leary, 13. Chad Boespflug, 14. Jarett Andretti, 15. Dalten Gabbard, 16. Mark Bitner, 17. Trevor Kobylarz, 18. Joey Biasi, 19. Daron Clayton, 20. Curt Stroup, 21. Billy Pauch, Jr., 22. Brian Ehrenzeller, 23. Tracy Hines. NT
—————————-
**Hines flipped on the start of the Feature.
FEATURE LAP LEADERS: Laps 1-4 Stanbrough, Laps 5-17 Thomas, Laps 18-30 Bacon.
NEW AMSOIL NATIONAL SPRINT POINTS: 1-Bacon-776; 2-Darland-732; 3-Stockon-701; 4-Clauson-692; 5-Hines-656; 6-Stanbrough-653; 7-Grant-647; 8-Schuerenberg-578; 9-Windom-520; 10-Leary-493.
NEW RW & PARTNERS EASTERN STORM POINTS: 1-Bacon-250; 2-Darland-235; 3-Stockon-233; 4-Grant-217; 5-Clauson-200; 6-Stanbrough-198; 7-Thomas-187; 8-Leary/Ballou-184; 10-Hines-180.
NEXT AMSOIL NATIONAL SPRINT RACE: June 8 –  Newberrytown, PA – Susquehanna Speedway Park – "Eastern Storm" Presented by RW and Partners