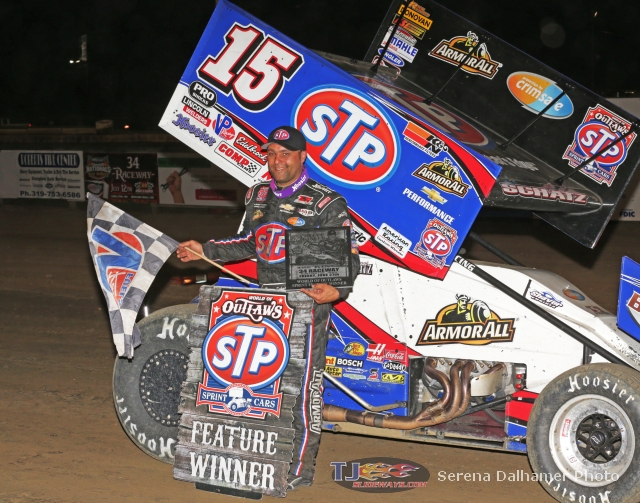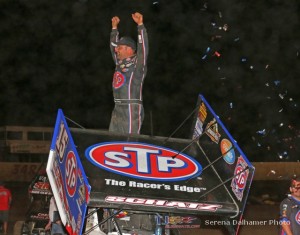 From the World of Outlaws
Burlington, IA — (June 27, 2014) — Only two other people have done what five-time champion Donny Schatz did at 34 Raceway Friday night – win 154 World of Outlaws STP Sprint Car Series features. In scoring his seventh win of the season, Schatz surpassed two-time champion Mark Kinser for third on the all-time wins list.
"It's something you can't really ever set your sights on – it's something you just accomplish," Schatz said. "I'm pretty lucky to be in this position and Mark Kinser is definitely a very good friend and a mentor to me. To be able to pass him on the list is something that means a lot."
Only 20-time champion Steve Kinser and three-time champion Sammy Swindell have more wins than Schatz. Kinser has 577 wins while Swindell has 293.
"The two guys in front of me, I don't know that I'm ever going to catch either one of them," Schatz said. "But realistically I didn't try to get to this point on the list. I'm just going out and having a good time and racing and enjoying myself. When you're enjoying yourself, things just happen. We're kind of over that milestone and now we can just enjoy the rest of it."
Schatz scored the victory after a tenth place starting position. Through the 30-lap A Main, he methodically worked his through the crowd ahead, eventually taking the lead on lap 21.
"We qualified well where we went out," Schatz said. "We just missed the Dash there and we had a great run in the heats. We had a good car in the heat we just tried to fine tune it and make it a little better and that they did, they got a better race car for me. We tried to stay out of trouble early, some guys were real aggressive, and going a lot harder and being kind of silly so I tried to stay away from that and stay out of trouble and use my car when we needed it. We had an awesome machine."
Schatz's seventh win of the season in his STP/Armor All car tied him with Daryn Pittman for most on the year. Schatz also extended his points lead over Pittman to 61 points.
Kerry Madsen and Steve Kinser led the field to the green flag with Sammy Swindell and Brad Sweet on row two. Schatz started in the 10th position with second place finisher Terry McCarl in 14th and third place finisher Bill Balog in fifth.
Madsen jumped out to a strong lead when the green flag flew and through early cautions and an ongoing shuffling of competitors behind him, managed to hang on to it. Farther back in the field Schatz began making his move to the front and by lap seven, he took the sixth position.
Up front Paul McMahan, Joey Saldana, Brad Sweet and Swindell all battled for the top positions.
As the caution flew for the third time on lap 12, McCarl cracked the top five for the first time as he set his sights ahead. When the green flag again flew, McCarl battled Sweet down the backstretch, when contact between the two on lap 14 sent Sweet into the barrier near the entrance of turn three. After hitting a large tire, Sweet's car took a scary tumble that left the car torn in two. Sweet was able to walk away from the wreck.
When the race returned to green after an extended red flag, Madsen maintained his lead until the caution fell again on lap 20. Schatz, now all the way up to the second place position after getting around Saldana and then McMahan, took advantage of the opportunity. As Madsen led the field into turn one, he went high while Schatz looked low. The two drag raced down the backstretch and took similar lines into turns three and four. Schatz had the advantage as they entered onto the front stretch, officially taking over the lead on lap 21.
Battles ensued in the remaining nine laps with cautions flying two more times. As McCarl settled his TheSnowPlow.com car into second, Saldana and McMahan slipped back in the pack giving way to Brian Brown's FVP car and Bill Balog. The two battled for the third place position, trading it several times in the closing laps. Ultimately it was Balog who took the position with McCarl in second and Schatz in first.
McCarl, who was the recipient of the night's ASE Hard Charger Award after starting in the 14th position, had Sweet on his mind following the race.
"It was unfortunate I got into Brad – I didn't see him there," McCarl said. "We're thankful Brad is OK."
McCarl said 34 Raceway is one of his favorite tracks – a place he has been coming to since he was young. His father, he said, ran at the track in the early 1970s. Whenever he competes at 34, McCarl said he expects to run well.
"We started 14th, we had a great car – we just didn't have anything for Donny there at the end," McCarl said. "He's a champion and obviously one of the best drivers if not the best driver in the world. So to be hanging there with him and be putting on a show for the fans is pretty big for our team. We're just a low-buck, little family team out of Altoona, Iowa. So to compete with these guys is a big deal for us."
Bill Balog, a Union Grove, Wis. native, said he and his Buesser Concrete team started the day unsure about the weather and uncertain whether or not they would make the trip to 34.
"I'm glad we came out," Balog said. "The car worked great. Like I said, I'm just glad to be up here wand running good with the World of Outlaws this time."
Balog, who plans to compete with the Outlaws as the series moves into Wisconsin Saturday and Sunday nights, said he thinks his car will be in good shape.
"It's going to be great," Balog said. "We've got a few nights on the motor. The car is just kind of sorted out I guess you could say. So I'm pretty excited about it going back up to Beaver Dam, one of our home tracks it should be a good time."
The World of Outlaws STP Sprint cars return to the track on Saturday at Beaver Dam Raceway in Beaver Dam Wisconsin. The Outlaws then move to Cedar Lake Speedway in New Richmond, Wis. for the FVP Outlaws at Cedar Lake.
34 SPEEDWAY NOTES: Schatz took over third on the all time wins list… Joey Saldana took his 14th quick time of the season… Kerry Madsen, Daryn Pittman, Steve Kinser and Brad Sweet all won their heat races tonight… Terry McCarl was the ASE Hard Charger award tonight, advancing 12 positions to finish in the second position.
SEASON WINNERS: Daryn Pittman – 7 (Thunderbowl Raceway on March 14, Calistoga Speedway on April 6, Devil's Bowl Speedway on April 19, Williams Grove Speedway on May 16 and May 17, Orange County Fair Speedway, May 18 and New Egypt Speedway, May 20); Donny Schatz – 7 (Volusia Speedway Park on Feb. 15, The Dirt Track at Las Vegas on March 6, Devil's Bowl Speedway on April 19, Lawrenceburg Speedway on May 27, I-96 Speedway on May 31, River Cities Speedway on June 20 and 34 Raceway on June 27); Joey Saldana – 4 (Perris Auto Speedway on April 12, Salina Highbanks on April 25, The Dirt Track at Charlotte on May 23 and I-80 Speedway on June 6); David Gravel – 3 (Merced Speedway on March 28, Eldora Speedway on May 3, and Wilmot Raceway on May 9);Kerry Madsen – 3 (Stockton Dirt track on March 22, El Paso Speedway Park on April 15 and Lakeside Speedway on June 7); Paul McMahan – 2 (The Dirt Track at Las Vegas on March 5, Tri-State Speedway on May 10); Brad Sweet – 3 (Volusia Speedway Park on Feb. 14, Tucson International Raceway on March 8 and Calistoga Speedway on April 5); Rico Abreu – 1 (Thunderbowl Raceway on March 15); Dale Blaney – 1 (Attica Raceway Park on May 30); Christopher Bell – 1 (Jacksonville Speedway on May 7); Cody Darrah – 1 (Kings Speedway on April 11); Steve Kinser – 1 (Volusia Speedway Park on Feb. 16);Stevie Smith – 1 (Lincoln Speedway on May 14); Shane Stewart – 1 (Eldora Speedway on May 2) ; Sammy Swindell – 1 (Federated Auto Parts Raceway at I-55 on April 26).
World of Outlaws STP Sprint Car Series Statistical Report; 34 Speedway; Burlington, Iowa; June 27, 2014
A-Main – (30 Laps) – 1. 15-Donny Schatz [10] [$10,000]; 2. 24-Terry McCarl [14] [$5,500]; 3. 17B-Bill Balog [5] [$3,200]; 4. 21-Brian Brown [9] [$2,800]; 5. 51-Paul McMahan [6] [$2,500]; 6. 83-David Gravel [11] [$2,300]; 7. 11-Steve Kinser [2] [$2,200]; 8. 4-Cody Darrah [15] [$2,100]; 9. 11K-Kraig Kinser [12] [$2,050]; 10. 1-Sammy Swindell [3] [$2,000]; 11. 77X-Wayne Johnson [13] [$1,500]; 12. 7S-Jason Sides [23] [$1,200]; 13. 71M-Joey Saldana [7] [$1,100]; 14. 82-Roger Crockett [16] [$1,050]; 15. 45X-Johnny Herrera [24] [$1,000]; 16. 9-Daryn Pittman [8] [$900]; 17. 29-Kerry Madsen [1] [$800]; 18. 9X-Paul Nienhiser [17] [$800]; 19. 49J-Josh Schneiderman [18] [$800]; 20. 18-Ian Madsen [19] [$800]; 21. 55-Brooke Tatnell [20] [$800]; 22. 49-Brad Sweet [4] [$800]; 23. 7K-Dustin Selvage [22] [$800]; 24. 17W-Cole Wood [21] [$800]. Lap Leaders: Kerry Madsen 1-20, Donny Schatz 21-30. KSE Hard Charger Award: 24-Terry McCarl [+12]
Qualifying – 1. 71M-Joey Saldana, 12.663; 2. 51-Paul McMahan, 12.683; 3. 1-Sammy Swindell, 12.698; 4. 17B-Bill Balog, 12.786; 5. 29-Kerry Madsen, 12.810; 6. 21-Brian Brown, 12.863; 7. 15-Donny Schatz, 12.865; 8. 49-Brad Sweet, 12.930; 9. 83-David Gravel, 12.931; 10. 9-Daryn Pittman, 12.980; 11. 11K-Kraig Kinser, 12.983; 12. 77X-Wayne Johnson, 12.997; 13. 24-Terry McCarl, 13.007; 14. 4-Cody Darrah, 13.058; 15. 11-Steve Kinser, 13.110; 16. 82-Roger Crockett, 13.153; 17. 9X-Paul Nienhiser, 13.198; 18. 49J-Josh Schneiderman, 13.211; 19. 18-Ian Madsen, 13.273; 20. 55-Brooke Tatnell, 13.287; 21. 44-Chris Martin, 13.288; 22. 59-Tim Kaeding, 13.310; 23. 17W-Cole Wood, 13.415; 24. 17M-Joey Moughan, 13.428; 25. 7K-Dustin Selvage, 13.430; 26. 1s-Logan Schuchart, 13.443; 27. 7S-Jason Sides, 13.527; 28. 1A-Jacob Allen, 13.535; 29. 45X-Johnny Herrera, 13.567; 30. 4XX-Dakota Hendrickson, 13.650; 31. 6R-Ryan Bunton, 13.661; 32. 84-Ben Wagoner, 13.857; 33. 4X-Shawn Peterson, 14.605; 34. 10T-Tim Moore, 14.930
Heat 1 – (8 Laps – Top 5 finishers transfer to the A-feature) – 1. 29-Kerry Madsen [3]; 2. 83-David Gravel [2]; 3. 71M-Joey Saldana [4]; 4. 9X-Paul Nienhiser [5]; 5. 24-Terry McCarl [1]; 6. 45X-Johnny Herrera [8]; 7. 44-Chris Martin [6]; 8. 7K-Dustin Selvage [7]; 9. 4X-Shawn Peterson [9]
Heat 2 – (8 Laps – Top 5 finishers transfer to the A-feature) – 1. 9-Daryn Pittman [2]; 2. 4-Cody Darrah [1]; 3. 49J-Josh Schneiderman [5]; 4. 21-Brian Brown [3]; 5. 51-Paul McMahan [4]; 6. 59-Tim Kaeding [6]; 7. 1s-Logan Schuchart [7]; 8. 4XX-Dakota Hendrickson [8]; 9. 10T-Tim Moore [9]
Heat 3 – (8 Laps – Top 5 finishers transfer to the A-feature) – 1. 11-Steve Kinser [1]; 2. 15-Donny Schatz [3]; 3. 11K-Kraig Kinser [2]; 4. 1-Sammy Swindell [4]; 5. 7S-Jason Sides [7]; 6. 18-Ian Madsen [5]; 7. 17W-Cole Wood [6]; 8. 6R-Ryan Bunton [8]
Heat 4 – (8 Laps – Top 5 finishers transfer to the A-feature) – 1. 49-Brad Sweet [3]; 2. 77X-Wayne Johnson [2]; 3. 82-Roger Crockett [1]; 4. 55-Brooke Tatnell [5]; 5. 17B-Bill Balog [4]; 6. 17M-Joey Moughan [6]; 7. 1A-Jacob Allen [7]; 8. 84-Ben Wagoner [8]
Dash – (6 Laps, finishing order determined first 8 starting positions of A-feature) – 1. 29-Kerry Madsen [4]; 2. 11-Steve Kinser [1]; 3. 1-Sammy Swindell [6]; 4. 49-Brad Sweet [3]; 5. 17B-Bill Balog [5]; 6. 51-Paul McMahan [7]; 7. 71M-Joey Saldana [8]; 8. 9-Daryn Pittman [2]
Last Chance Showdown – (12 Laps – Top 4 finishers transfer to the A-feature) – 1. 18-Ian Madsen [1] [-]; 2. 17W-Cole Wood [4] [-]; 3. 45X-Johnny Herrera [9] [-]; 4. 7K-Dustin Selvage [6] [-]; 5. 1s-Logan Schuchart [7] [$200]; 6. 17M-Joey Moughan [5] [$180]; 7. 44-Chris Martin [2] [$175]; 8. 1A-Jacob Allen [8] [$160]; 9. 84-Ben Wagoner [12] [$150]; 10. 4XX-Dakota Hendrickson [10] [$150]; 11. 4X-Shawn Peterson [13] [$150]; 12. 10T-Tim Moore [14] [$150]; 13. 59-Tim Kaeding [3] [$150]; 14. 6R-Ryan Bunton [11] [$150]
World of Outlaws STP Sprint Car Series Championship Standings
A main (started): 1. Josh Schneiderman (4) 2. Dillan Roth (1) 3. Jarrod Schneiderman (15) 4. Justin Newberry (5) 5. Andy Huston (10) 6. Jason Ditsworth (11) 7. Cody Wehrle (6) 8. Jacob Glasgow (8) 9. Donnie Steward (3) 10. Kade Higday (9) 11. Daniel Bergquist (12) 12. Andy Krieger (13) 13. Nick Guernsey (19) 14. Dave Getchell (23) 15. Shane Quam (21) 16. Kyle Peterson (18) 17. Corey Kautz (16) 18. Blaine Jamison (2) 19. Richard Brod (14) 20. Heath Bundy (20) 21. John Schulz (7) 22. Roger Krieger (22) 23. Shawn Whiting 5 (17)