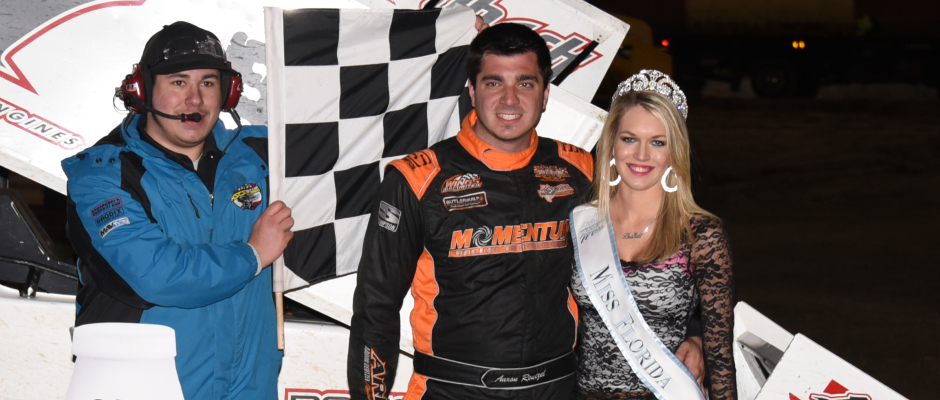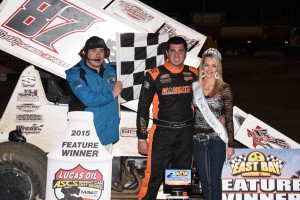 From Bryan Hulbert
Tampa, FL — (February 19, 2015) — The start to the 2015 season for the Lucas Oil American Sprint Car Series presented by MAVTV American Real opened with a bang as Aaron Reutzel stormed to victory on night one of the 14th annual Ronald Laney Memorial, and 17th King of the 360's at East Bay Raceway Park.
Jumping from the top of this B.C. Funds No. 87, Reutzel paid high honors to the track crew, "What a hell of a racetrack. Wow, there are no words for that racetrack. It was just awesome up there bouncing the fence. That was unreal."
Rolling to second on Lap 5 from 8th, Reutzel set sights on Mark Smith who grabbed the lead the previous lap from Tampa's A.J. Maddox. Edging Smith on Lap 7, the pair went slide for slide on Lap 8; exchange the point three times before the caution waved for Chad Kemenah.
Two takes on the restart, Reutzel had to play catch up as Smith distanced himself from the No. 87. Losing ground again following a Lap 10 caution for Wayne Johnson, whose night ended after contact with the wall, the Clute, Texas driver commented on the mid-race stall, "I don't know what happened. I knew our car was fast enough to win but it got so tight there. I don't know if I had a tire going down or what but it took me at least five laps to get going. McCarl past me, then I started reeling McCarl back in and we were both able to get around the No. 1, but McCarl was good enough he could run anywhere he wanted so I knew he was going to be tough to beat but luckily he hit the bottom in lapped traffic and left me the top and that was all she wrote."
The win is Aaron's first at East Bay Raceway Park, and fifth with the Lucas Oil ASCS National Tour.
Crossing second, Iowa's Terry McCarl charged from 17th in the Snowplow.com No. 24, "It was a really tricky racetrack, but that's what we love about East Bay. It's my favorite track down here in Florida. There are so many different variables going on. It's a chess game out there. You know Mark got out there felling good, then the track changed and we found a spot, then that changed."
In talking about the track surface, Terry commented that the track was similar to the night Ronald Laney won the King of the 360's.
"I was telling the guys earlier on Racinboys, this was just like the racetrack when Ronald won this deal. He came from way back to the front and it just got really weird. I think he back up at the beginning and at the end just drove around us like we were tied to a stump."
Battling with McCarl throughout the closing laps, Pennsylvania's Mark Smith completed the evening's podium.
"It was a pretty nice race. I just couldn't get my car to turn in the center," commented Smith. "I was really, really, good as long as it would turn but the longer I went, the tighter it got and just couldn't get it the way I wanted but we had a hell of a race there."
Brad Loyet from fourteenth snagged fourth with Seth Bergman completing the top-five after starting twelfth.
Johnny Herrera was the night's Hard Charger, coming from 22nd to 6th with Jeff Swindell crossing seventh. Greg Hodnet from 20th to 8th, Matt Covington 9th from 19th, and Ohio's Danny Smith completed the top-ten.
With 67 drivers drawing in, 9 Heat Races took place with Terry Gray, Danny Martin, Jr., Wayne Johnson, Mark Smith, Brad Loyet, Aaron Reutzel, Jeff Swindell, A.J. Maddox, and Lou Kennedy, Jr. each taking wins. Three B-Features went to Terry McCarl, Matt Kurtz, and Matt Covington. Provisionals based on owner points from 2014 where used by Tony Bruce, Jr. and Lane Whittington.
The 17th annual King of the 360's and 14th Ronald Laney Memorial continue on Friday, February 20 with races getting underway at 7:00 P.M. (ET). Races can also be seen live on http://www.xsan.tv.
For continued updates on the American Sprint Car Series, log onto http://www.ascsracing.com.
Race Results:
Lucas Oil ASCS presented by MAVTV American Real
East Bay Raceway Park – Tampa, Fla.
14th annual Ronald Laney Memorial
Thursday, February 19, 2015
Car Count: 67
Heat Races: (8 Laps, taking winners plus Top-7 in Passing Points to the A-Feature.)
Heat 1 (8 Laps): 1. 10-Terry Gray[2]; 2. W20-Greg Wilson[4]; 3. 81W-Danny Wood[5]; 4. 49X-Cole Duncan[7]; 5. 83-Mark Ruel Jr[6]; 6. 67-Chris Durand[1]; 7. 10P-Jim Perricone[8]; 8. (DNF) 90-Matt Tanner[3]
Heat 2 (8 Laps): 1. 24X-Danny Martin Jr.[5]; 2. 61-Parker Evans[2]; 3. 50-Joe Zuczek[1]; 4. 6S-Robbie Smith[6]; 5. 40-Caleb Helms[3]; 6. 09-Timmy Thrash[7]; 7. 10M-Morgan Turpen[8]; 8. (DNF) 18-Tony Bruce Jr[4]
Heat 3 (8 Laps): 1. 77X-Wayne Johnson[8]; 2. 33M-Randy Hannagan[4]; 3. 23-Seth Bergman[6]; 4. 95-Matt Covington[7]; 5. 8J-Jess Stiger[3]; 6. 45-Tim Shaffer[2]; 7. 15-Johnny Gilbertson[5]; 8. (DNF) F16-Lance Hester[1]
Heat 4 (8 Laps): 1. M1-Mark Smith[2]; 2. 29-Travis Rilat[1]; 3. 64-Scotty Thiel[4]; 4. 20K-Thomas Kennedy[5]; 5. 9P-Parker Price-Miller[8]; 6. 0-Glenn Styres[3]; 7. 52-Blake Hahn[7]; 8. 3H-Brandon Hanks[6]
Heat 5 (8 Laps): 1. 05-Brad Loyet[1]; 2. 17B-Josh Baughman[4]; 3. 27-Greg Hodnett[3]; 4. 24-Terry McCarl[7]; 5. 33-Kris Miller[2]; 6. 7S-Jason Sides[6]; 7. 49-Shawn Dancer[5]
Heat 6 (8 Laps): 1. 87-Aaron Reutzel[6]; 2. 16-Ryan Ruhl[2]; 3. 92K-Matt Kurtz[4]; 4. 9JR-Derek Hagar[5]; 5. M16-Justin Hoffman[1]; 6. 14K-Kyle Bellm[3]; 7. 10J-C.J. Jones[7]
Heat 7 (8 Laps): 1. 94-Jeff Swindell[3]; 2. 5X-Tyson Hall[2]; 3. 3B-Brad Greer[7]; 4. 28H-James (Hud) Horton[6]; 5. 1-Freddie McCall[4]; 6. (DNF) 92W-Jordan Weaver[1]; 7. (DNF) 59-Danny Holtgraver[5]
Heat 8 (8 Laps): 1. 3A-A.J. Maddox[3]; 2. 15H-Sam Hafertepe Jr[2]; 3. 10B-Mitch Brown[1]; 4. 4X-Shawn Petersen[5]; 5. 6-Danny Lasoski[6]; 6. 45X-Johnny Herrera[7]; 7. 7K-Kyle Pitts[4]
Heat 9 (8 Laps): 1. 21K-Lou Kennedy Jr.[1]; 2. 10H-Chad Kemenah[7]; 3. 66-Danny Smith[6]; 4. 38-Tony Agin[3]; 5. 4M-Michael Miller[4]; 6. 17-Lane Whittington[2]; 7. 14H-Chris Hoyt[5]
B-Features (12 Laps, top 2 advance to the A-Feature.)
B Feature 1 (12 Laps): 1. 24-Terry McCarl[1]; 2. 27-Greg Hodnett[5]; 3. 45-Tim Shaffer[13]; 4. 20K-Thomas Kennedy[6]; 5. 28H-James (Hud) Horton[4]; 6. 5X-Tyson Hall[2]; 7. 18-Tony Bruce Jr[17]; 8. 10M-Morgan Turpen[12]; 9. 50-Joe Zuczek[7]; 10. M16-Justin Hoffman[11]; 11. 10J-C.J. Jones[14]; 12. 09-Timmy Thrash[9]; 13. 49-Shawn Dancer[15]; 14. (DNF) 83-Mark Ruel Jr[8]; 15. (DNF) 15-Johnny Gilbertson[16]; 16. (DNF) 40-Caleb Helms[10]; 17. 64-Scotty Thiel[3]…(No. 64 DQ, Front Wing to far forward.)
B Feature 2 (12 Laps): 1. 92K-Matt Kurtz[3]; 2. 15H-Sam Hafertepe Jr[2]; 3. 9P-Parker Price-Miller[4]; 4. 7S-Jason Sides[11]; 5. 9JR-Derek Hagar[6]; 6. 49X-Cole Duncan[5]; 7. 6-Danny Lasoski[8]; 8. 52-Blake Hahn[13]; 9. 10B-Mitch Brown[7]; 10. 61-Parker Evans[1]; 11. 0-Glenn Styres[12]; 12. 7K-Kyle Pitts[15]; 13. 33-Kris Miller[10]; 14. 90-Matt Tanner[16]; 15. 1-Freddie McCall[9]; DNS 92W-Jordan Weaver; DNS F16-Lance Hester
B Feature 3 (12 Laps): 1. 95-Matt Covington[5]; 2. 45X-Johnny Herrera[9]; 3. 81W-Danny Wood[4]; 4. 4M-Michael Miller[8]; 5. 6S-Robbie Smith[3]; 6. 59-Danny Holtgraver[17]; 7. 14K-Kyle Bellm[12]; 8. 17-Lane Whittington[15]; 9. 67-Chris Durand[13]; 10. 16-Ryan Ruhl[1]; 11. 8J-Jess Stiger[10]; 12. 4X-Shawn Petersen[6]; 13. 3H-Brandon Hanks[16]; 14. 10P-Jim Perricone[11]; 15. 14H-Chris Hoyt[14]; 16. (DNF) 29-Travis Rilat[2]; 17. (DNF) 38-Tony Agin[7]
A-Feature (25 Laps)
A Feature (25 Laps): 1. 87-Aaron Reutzel[8]; 2. 24-Terry McCarl[17]; 3. M1-Mark Smith[4]; 4. 05-Brad Loyet[14]; 5. 23-Seth Bergman[12]; 6. 45X-Johnny Herrera[22]; 7. 94-Jeff Swindell[2]; 8. 27-Greg Hodnett[20]; 9. 95-Matt Covington[19]; 10. 66-Danny Smith[13]; 11. 21K-Lou Kennedy Jr.[15]; 12. 15H-Sam Hafertepe Jr[21]; 13. 17-Lane Whittington[24]; 14. W20-Greg Wilson[9]; 15. 3A-A.J. Maddox[1]; 16. (DNF) 92K-Matt Kurtz[18]; 17. (DNF) 77X-Wayne Johnson[6]; 18. (DNF) 33M-Randy Hannagan[10]; 19. (DNF) 10H-Chad Kemenah[3]; 20. (DNF) 3B-Brad Greer[16]; 21. (DNF) 10-Terry Gray[5]; 22. (DNF) 18-Tony Bruce Jr[23]; 23. (DNF) 24X-Danny Martin Jr.[7]; 24. (DNF) 17B-Josh Baughman[11]
Lap Leader(s): A.J. Maddox 1-3; Mark Smith 4-6, 8-13; Terry McCarl 14-18; Aaron Reutzel 7, 19-25;
Hard Charger: Johnny Herrera +16
Provisionals: Tony Bruce, Jr. (P1); Lane Whittington (P1)