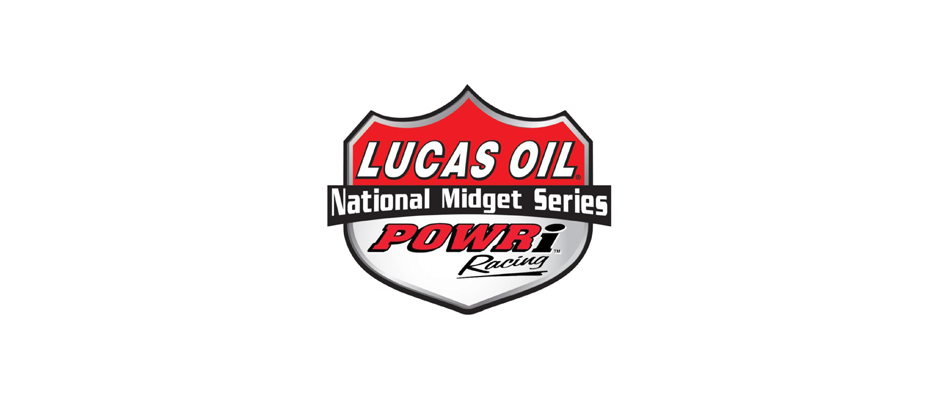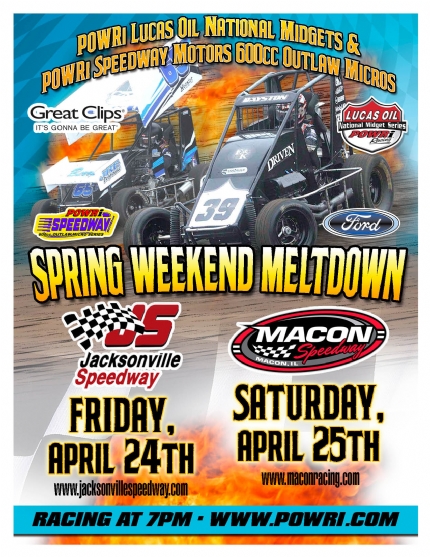 From POWRi
As the POWRi Lucas Oil National Midget series gears up for five straight weekends of racing, a test of endurance for even the most experienced teams, the 2015 championship battle has already begun.
With 830 points, defending POWRi Lucas Oil National Midget Series Champion (2013,2014) Zach Daum sits atop the charts with a comfortable 110 point margin heading into the double header weekend for Jacksonville Speedway and Macon Speedway. Darren Hagen holds 720 points in second and Andrew Felker rounds out the top three, currently with 690 points. With all three competitors extremely strong at both the ¼ mile Jacksonville Speedway and the high-banked 1/5th mile bullring "Mighty" Macon Speedway, spectators will be sure to view excellent shows.
With only the POWRi Speedway Motors 600cc Outlaw Micro Series season opener at Belle-Clair Speedway in the books, the 2015 championship is still up for grabs. Currently in the lead with 300 points after winning the Belle-Clair event, Dereck King carries his wealth of experience, including 3 POWRi Speedway Motors 600cc Outlaw Micro Series Championships (2007,2008,2009) and being the all-time win leader with 25 victories, into this weekend driving the Josh Kilgore-owned, FTZ-powered BOSS Chassis. Sitting in second place with 290 points after coming up a few feet short at Belle-Clair, Aaron Andruskevitch couldn't feel more comfortable as the series invades the Riverton, IL native's home tracks. Currently in third place, Ayrton Gennetten holds 280 points in the Ozark Barge & Docking Service, Suzuki-powered Pace Chassis. Be on the lookout for the defending POWRi Speedway Motors 600cc Outlaw Micro Series Champion (2013,2014), Nathan Benson who looks to rebound after suffering a devastating engine failure while leading the season opener at Belle-Clair.
Both the POWRi Lucas Oil National Midgets and the POWRi Speedway Motors 600cc Outlaw Micros are scheduled to run at Jacksonville Speedway in Jacksonville, IL on Friday, April 24th. The ¼ mile high-banked oval hosted two POWRi events in 2014. Bryan Clauson and Christopher Bell each took midget feature wins while Aaron Andruskevitch and Joe B. Miller brought home micro feature wins at Jacksonville Speedway last year. The April 24th event will be the first of four times that POWRi will visit the Jacksonville, IL track during the 2015 season.
Following Friday night at Jacksonville Speedway, both the midgets and micros will visit Macon Speedway in Macon, IL on Saturday, April 25th. Macon Speedway will host 6 events throughout the 2015 season dishing spectators a full plate of open wheel racing with slide jobs galore. In midget competition, Zach Daum and Bryan Clauson each came out on top in 2014. In the micros, Devin Feger and Nathan Benson claimed feature wins at the track in 2014.
Current 2015 POWRi Lucas Oil National Midget Point Standings (Top 10): 1. Zach Daum (830) 2. Darren Hagen (720) 3. Andrew Felker (690) 4. Austin Brown (610) 5. Christopher Bell (600) 6. Spencer Bayston (570) 7. Kyle Schuett (570) 8. Daniel Robinson (520) 9. Tanner Thorson (510) 10. Kevin Thomas Jr. (500)
Current 2015 POWRi Speedway Motors 600cc Outlaw Micro Point Standings (Top 10): 1. Dereck King (300) 2. Aaron Andruskevitch (290) 3. Ayrton Gennetten (280) 4. Kurt Westerfield (270) 5. Shelby Bosie (240) 6. Chad Elliott (230) 7. Jeremy Camp (210) 8. Joey Wirth (200) 9. Slater Helt (190) 10. Carlee Gress (180)