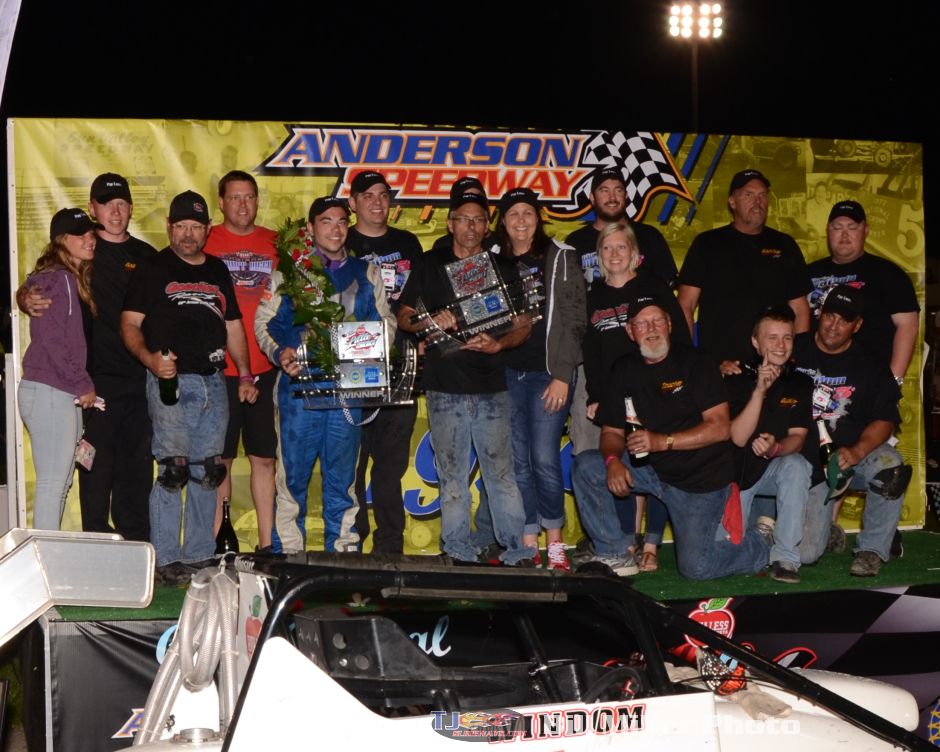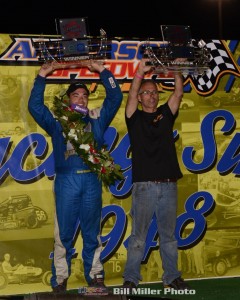 By T.J. Buffenbarger
With just a few days before hosting a Fan Forum at the National Sprint Car Hall of Fame and Museum during the Knoxville Nationals on the Little 500 I randomly found out Jason Goacher was attending. With some prodding from myself and his wife Traci we managed to talk Goacher into being on the panel on the Pay Less Little 500 at Anderson Speedway. During that forum Goacher talked about how much he loved the race from when he was a kid. Everyone left that panel with clearly could tell how much the race meant to him.
Saturday the Little 500 dream came drew when Chris Windom held off Dave Steele and Kyle Hamilton for the victory driving for Goacher. For Windom it was a tremendous driving performance holding off one of the best pavement sprint car drivers and race teams of all time. For Goacher it was the realization of a dream he had since his childhood. Goacher does help Issac Chapple with his midget and even fields a dirt sprint car for him now, but the Little 500 is still the centerpiece of the team's effort. Saturday's win capped off a near lifelong dream that spans generations.
"This one is as much for my Dad and it is for me," said an emotional Goacher following the race. "Tray House and I used to sit up on the hill at Eldora Speedway and I told him there were two races he wanted to win as a car owner, the 4-Crown Nationals and the Little 500."
Goacher, Windom, and the team overcame a long first pit stop and avoided a lot of the problems that befell other front runners during the first 100 laps and put themselves in prime positions to take the lead from Mickey Kempgens and hold off Steele and Hamilton through two restarts during the final 100 laps.
One of the more amusing moments in victory lane was upon my arrival to speak with Jason about the victory I ran into his wife with Jason nowhere to be found. They had actually crossed paths via the access ramp in turn four, never seeing each other, as Traci went to victory lane while Jason went to the stands to find her. Thankfully Anderson officials kept the champagne and milk sealed until Jason was able to return.
Standing around after the victory ceremonies were over Goacher still was in a bit of a daze.
"I still feel numb," said Goacher.
Notes:
Three incidents before getting to the halfway point in the 2015 Little 500 dramatically altered the flow of the event before the halfway point.Two time Little 500 champion Jacob Wilson's run for a third straight victory went by the wayside early when a valve stem got cut on his right rear tire, forcing him to pit on lap 38. After going six laps down during that green flag pit stops Wilson made up four of them and overcame having to make four pit stops to finish fourth.

On lap 82 a multiple car accident in turn one that took JoJo Helberg, Aaron Pierce, Jerry Coons, Jr, Tony Elliott, and Shane Cottle out of contention for the victory. Then working lap 164 Caleb Armstrong and Bobby Santos, III got swept up from Brian Tyler's blown engine while racing for the lead.

Florida has a history of providing contenders for the victory at the Little 500. This year's contingent from the sunshine state included the return of veteran Dave Steele and Mickey Kempgens. Steele gave Windom everything he wanted and more for the lead, diamonding off the corners, but an ever loosening setup on his car allowed Windom to get away at the end.Kempgens surprised a lot of onlookers in his third Little 500 start by leading with less than 100 laps to go, but gave way to Windom on lap 427. Unfortunately Kempgens got tangled up with a slower car late in the event and dropped out of the top five.
The Northwest was represented by Jimmy Wysong and Ryan Burdette returning to the Little 500 this year. Unfortunately both drivers had a rough 500 lap outing with Wysong being involved in two cautions, the second being the massive pile up in turn one that damaged his car to the point of the tail tank being knocked off the car, while Burdette got tangled up with Mickey Kempgens later in the race while Kempgens was running in the top five.
It was a good day for most of our Little 500 fan forum participants. Along with photographer Max Dolder was inducted into the Little 500 hall of fame this weekend.