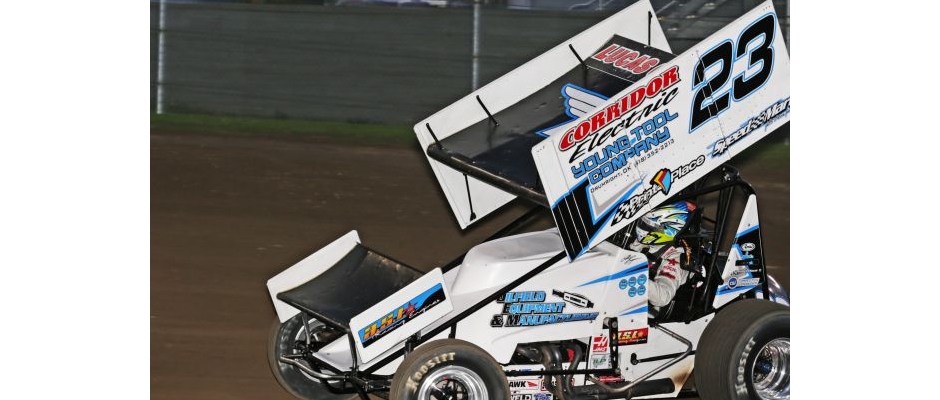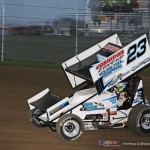 From Bryan Hulbert
Eagle, NE — (May 30, 2015) — For the second time in as many races with the Lucas Oil American Sprint Car Series presented by MAVTV American Real, the Oil Field Equipment and Manufacturing No. 23 of Seth Bergman was first to the checkered flag, putting all but the top-five a lap down on his way to victory in the 2015 Hinchman Indy Racewear Eagle Nationals presented by TBJ Promotions.
"I can't say enough about this team. If it wasn't for them, and my parents watching tonight on PPV, this just wouldn't be possible. I'm really lucky to have great partners that allow me to do this," said Seth following his victory.
A red for Colorado's Jake Buback through the opening corners, that would be the only time the night's feature was slowed.
Gridding the field fifth, Seth Bergman utilized a choppy highline to drive to the front; moving past Matt Covington on Lap 10 for the lead with traffic looming. Finding the tail of the field shortly after taking the point, Bergman sawed the wheel top to bottom around back markers.
Asked about his run to the lead, the Washington native replied, "The first couple of laps, the track changed and it got really rough through turns one and two and I was just kind of observing that for the first three or four laps and just see how it was going to play out. Once I knew, I made up my mind on where I was going to run and once they singled filed in front of me, we were able to go to work."
Charging from ninth, Albuquerque's Johnny Herrera crossed second 3.625 seconds behind.
"We had a good car starting ninth and just weeded our way through there. I put a different shock package on the back of the car with the way the track was, and went with my Gas Shocks and it felt really good," commented Herrera.
"I really think we were as good as Seth, he just got there before we did. He got about a straight-a-way and it seemed like I could never really make a gain, but he'd never get away but hats off to Seth. You know last week, we ran some regional stuff and he ran second to me, so we just ran the opposite today."
After starting on the pole, Matt Covington held onto third despite losing Power Steering on his T&L Foundry No. 95, "The track was fun, but I lost Power Steering about Lap 15 and it made it really tough getting into one. It would just jerk the wheel out of my hand, so I am tickled to run top-three here tonight."
Falling out the top-five after starting second, Springfield's Jack Dover fought back to finish fourth with Ryan Roberts putting an exclamation point on his evening with a fifth place finish after setting a new one-lap record of 11.801 seconds at the Eagle Raceway.
Billy Alley crossed sixth with Brandon Hanks posting his best finish of the season in seventh in his new David Smith Racing entry. Jordan Boston climbed from the night's B-Feature, coming from 20th to finish eighth. Wayne Johnson crossed ninth with Jeff Swindell completing the top-ten.
With 33 drivers checking in, Four Heat Races went to Ryan Roberts, Matt Covington, Jack Dover, and Seth Brahmer, who unfortunately was not able to start the night's A-Feature. Tyler Drueke won the B-Feature.
The Lucas Oil American Sprint Car Series presented by MAVTV American Real competes next at the Belleville High Banks in Belleville, Kan. on Sunday, May 31. This marks the first time the National Tour has graced the clay of the world's fastest half-mile.
Race Results:
Lucas Oil ASCS National Tour
Eagle Raceway – Eagle, Neb.
Hinchman Racewear Eagle Nationals
Saturday, May 30, 2015
Car Count: 33
Heat Races: 8 Laps, taking the winner plus the next the next 12 highest in passing points to the A-Feature.
Heat 1 (8 Laps): 1. 18R-Ryan Roberts[2]; 2. 87-Aaron Reutzel[4]; 3. 23-Seth Bergman[6]; 4. 18-Tony Bruce Jr[3]; 5. 1B-Jake Bubak[8]; 6. 14-Joey Danley[1]; 7. 82-Jordan Boston[5]; 8. 14K-Kyle Bellm[7]; 9. 52-Blake Hahn[9]
Heat 2 (8 Laps): 1. 95-Matt Covington[1]; 2. 45X-Johnny Herrera[3]; 3. 84-Brandon Hanks[6]; 4. 5X-Jason Martin[2]; 5. 12-Tyler Drueke[4]; 6. 35L-Cody Ledger[8]; 7. 1X-Mark Pace[7]; DNS 52P-Dalton Parsons
Heat 3 (8 Laps): 1. 53-Jack Dover[1]; 2. 76-Jay Russell[2]; 3. 77-John Klabunde[3]; 4. 94-Jeff Swindell[5]; 5. 03-Shayle Bade[6]; 6. 33-Kris Miller[8]; 7. 12M-James Mosher[7]; 8. 92J-J.R. Topper[4]
Heat 4 (8 Laps): 1. 13V-Seth Brahmer[1]; 2. 77X-Wayne Johnson[3]; 3. 3-Billy Alley[6]; 4. 81-Trevor Grossenbacher[4]; 5. 14J-Josh Riggins[2]; 6. 48-Taylor Forbes[5]; 7. 27-Danny Thoman[8]; 8. (DNF) 92-Jordan Weaver[7]
B-Feature(s): 15 laps, taking the top 6 to the tail of the A-Feature.
B Feature (12 Laps): 1. 12-Tyler Drueke[4]; 2. 5X-Jason Martin[2]; 3. 35L-Cody Ledger[5]; 4. 82-Jordan Boston[11]; 5. 14J-Josh Riggins[6]; 6. 14-Joey Danley[10]; 7. 14K-Kyle Bellm[13]; 8. 33-Kris Miller[3]; 9. 52-Blake Hahn[16]; 10. 03-Shayle Bade[1]; 11. 12M-James Mosher[9]; 12. 92J-J.R. Topper[15]; 13. (DNF) 1X-Mark Pace[12]; 14. (DNF) 27-Danny Thoman[8]; 15. (DNF) 48-Taylor Forbes[7]; DNS 92-Jordan Weaver; DNS 52P-Dalton Parsons
A-Feature: 35 Laps
A Feature (35 Laps): 1. 23-Seth Bergman[5]; 2. 45X-Johnny Herrera[9]; 3. 95-Matt Covington[1]; 4. 53-Jack Dover[2]; 5. 18R-Ryan Roberts[7]; 6. 3-Billy Alley[8]; 7. 84-Brandon Hanks[4]; 8. 82-Jordan Boston[20]; 9. 77X-Wayne Johnson[10]; 10. 94-Jeff Swindell[14]; 11. 12-Tyler Drueke[17]; 12. 35L-Cody Ledger[19]; 13. 77-John Klabunde[13]; 14. 14K-Kyle Bellm[23]; 15. 18-Tony Bruce Jr[16]; 16. 5X-Jason Martin[18]; 17. 52-Blake Hahn[24]; 18. 14J-Josh Riggins[21]; 19. (DNF) 76-Jay Russell[11]; 20. (DNF) 87-Aaron Reutzel[3]; 21. (DNF) 1B-Jake Bubak[12]; 22. (DNF) 81-Trevor Grossenbacher[15]; 23. (DNF) 13V-Seth Brahmer[6]; 24. (DNF) 14-Joey Danley[22]
Lap Leaders: Matt Covington 1-9; Seth Bergman 10-35
KSE Hard Charger – Jordan Boston +12
Provisionals: Kyle Bellm (P1); Blake Hahn (P2