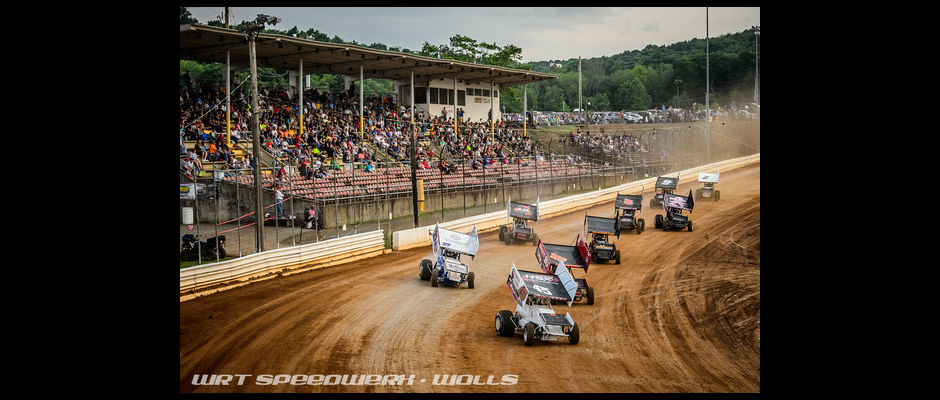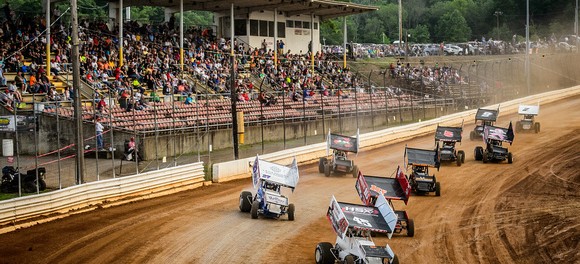 From Tyler Altmeyer
Indianapolis, IN — (April 12, 2016) — The 2016 Arctic Cat All Star Circuit of Champions point chase will officially activate in a big way during the upcoming weekend, with three scheduled events on three consecutive nights in two states. The Series, accompanied by 14 full-time travelers from all areas of the northeast, led by six-time and defending champion Dale Blaney, will trek through areas of Ohio and Pennsylvania during their upcoming three-race excursion, competing for a top prize of $5,000 on all three nights. The point championship was intended to begin on Saturday, April 2, but has since been pushed back two weeks due to Mother Nature.
"Hopefully last weekend was the last of the 'Arctic' weather this year," said Tony Stewart, owner of the Arctic Cat All Stars. "We'd love to be able to get all five races in over the next two weekends in Ohio and Pennsylvania. This is going to be a fun year for sure."
The triple-header weekend will ignite officially on Friday evening, April 15, at the Attica Raceway Park in Attica, Ohio. The rescheduled HD Supply Spring Nationals, originally set to take shape on Saturday, April 9, but was moved due to cold weather, will take center stage at the Attica oval on Friday night, complete with the first full Arctic Cat All Star Circuit of Champions point program of 2016. Ryan Smith is the defending HD Supply Spring Nationals winner, holding off charges by Andrew Palker and Greg Wilson.
Competition will continue on Saturday evening, April 16, with a visit to the Wayne County Speedway in Orrville, Ohio. Saturday's program will be the first of four appearances by the traveling Arctic Cat All Stars at "Orrville's Historic Oval" in 2016. It was Sheldon Haudenschild visiting victory lane during the most recent visit by the Arctic Cat All Stars on September 6, keeping eventual Series champion Dale Blaney at bay, followed by Rob Chaney. Haudenschild's victory at Wayne County Speedway was his fifth and final All Star win of the 2015 season.
The Coffee Pot Classic at the Bedford Fairgrounds Speedway will conclude the triple-header weekend for the Arctic Cat All Star Circuit of Champions. The Bedford, Pennsylvania, half-mile oval will not only welcome the highly talented roster of Arctic Cat All Star travelers, but a competitive field of Central Pennsylvania competitors, better known as the "Pennsylvania Posse," are also expected to join in on the action, including defending event winner Greg Hodnett. Hodnett and fellow "Posse" competitor Danny Dietrich swept the top two spots on the podium on June 7, 2015, followed by three-time All Star main event winner last season Ryan Smith.
"I think we are all pretty excited to get the point season started," explained Dale Blaney; six-time and defending All Star champion. "The weather hasn't been too cooperative, but things look to be OK for all three days this weekend. Despite the last two weekends getting distracted with weather, our mind frame and focus hasn't changed. The road to another title starts this weekend. We have to take everything one race at a time, but it is still important to get a solid start to the year. We'll head into the weekend with the intent to win all three."
Attica Raceway Park will open pit gates at 3:30 pm on Friday afternoon, April 15. Competition is scheduled to hit the speedway at 7:45. For more news and information, such as ticket prices and seating chart, please visit Attica Raceway Park live on the Web at www.atticaracewaypark.com.
Wayne County Speedway will swing open gates at 3:00 pm on Saturday afternoon, followed by warm-ups at 6:00 pm and racing at 7. Additional event information can be found on the official online home of Wayne County Speedway at www.waynecountyspeedway.com.
The Coffee Pot Classic at Bedford Fairgrounds Speedway will kick start with gates opening at 4:00 pm. Hot laps will hit the half-mile at 6:00 pm, followed by racing at 6:30 pm, sharp. Other related news can be found online at www.bedfordspeedway.com.