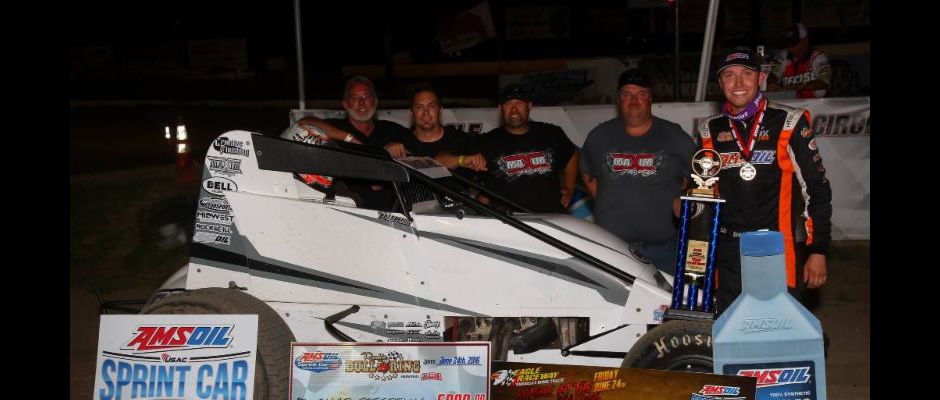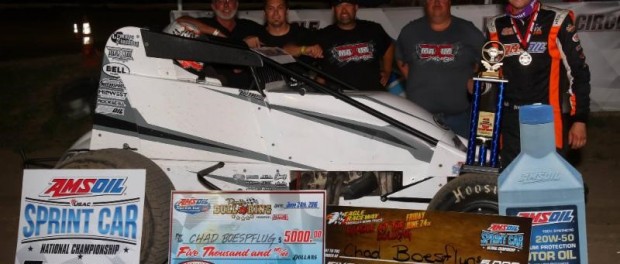 From Richie Murray
Eagle, NE — (June 24, 2016) — Coming into the 2016 season, it had been three seasons since Chad Boespflug visited USAC AMSOIL National Sprint Car victory lane. Now, as the calendar nears the edge of the month of June, the Hanford, California native found the perfect balance on both ends of the racetrack, running the bottom in turns one and two and the topside of turns three and four to perfection to grab his third series win of the year in Friday night's "Rumble in the Bullring" at Eagle (Neb.) Raceway.
On the start, Boespflug shot to the lead from the pole position, sliding up in front of fellow front row starter Isaac Chapple at the flag stand, occupying the high line into turn one. Chapple, the top-rookie in series points, fought back on the bottom of the back straightaway to take the lead from Boespflug.
As the frontrunners came out of turn four, Chapple was in the middle of a three-wide sandwich, just barely nipping Mellenberndt (inside) and Boespflug (outside) to lead the initial lap of the 30-lap feature. The lead was short-lived, however, as Boespflug would carry the momentum from the outside to retake the top spot on the second lap.
On the third circuit, third-running Stockon got squirrely through turn two, sliding sideways down the back straightaway as he wrestled to regain control of his machine. Max McGhee, with no place to go, plowed into the left side of Stockon's car. The two came to a stop, bringing out the race's first yellow. While both would require a visit to the work area in the pits, both would return to action.
Shortly after the restart, two drivers in a position to solidify their best result of their respective seasons – Chapple and Mellenberndt – waged war for second on lap six. Mellenberndt snuck his nose underneath Chapple at the exit of turn four, but Chapple's left rear tire ramped over the right front tire of Mellenberndt, send Mellenberndt with a collapsed front end straight up to the outside wall as C.J. Leary nailed the front end of Mellenberndt's stopped car.
Meanwhile, Robert Ballou, while trying to avoid getting caught in the incident, veered left to steer away from contact. Just behind Ballou was Landon Simon, who ramped over the left side wheels of Ballou, sending him into a wild series of flips down the front straightaway. He was uninjured.
By lap seven, seventh-place starter and previous night's feature winner Brady Bacon had become a player, soaring around the outside of Chapple for second in turn two. Thirteenth place starter Dave Darland also got by the fading Chapple for third on the topside a half-lap later.
Three laps later, Darland, a two-time USAC Sprint Car winner at Eagle, made a bid for second on the bottom of turn two past Bacon, securing the post down the back stretch.
Bacon would remain within arm's length of Darland as the two closed the gap on leader Boespflug throughout the middle-stages of the race. An intense three-car clash between the three ensued, but was put to rest after the red flag was displayed for a Brandon Stevenson tumble on lap 15.
On the restart, Boespflug was able to put his car anywhere he pleased, maintaining his unique line lap-after-lap, running the bottom of turns one and two and up on the cushion in turns three and four.
On lap 17, Chris Windom and Thomas Meseraull became entangled coming off the fourth turn. Meseraull vaulted over Windom's left side wheels and landed on the sidewalls of his own left side tires while Windom was sent into a 360 degree spin. Though Windom continued on without coming to a stop, by rule, he had to restart from the tail of the field.
With Bacon glued to the bottom side of the racetrack and Darland up top, Bacon was able to grab the second spot for good with ten to go. However, Boespflug rode off into the distance, leading with a half-straight advantage with two-thirds of the race's story already written.
A lap 24 caution for McGhee's meeting with a turn three infield tire set up a six-lap shootout between Boespflug, Bacon and Darland. The Hoffman 69 came alive with Bacon at the controls in the final laps as he ran the short way around while Boespflug rode the fence.
With three to go, Bacon reached into his bag of tricks, briefly swapping lines to mimic Boespflug's tracks on the high-side of turns three and four before returning to the bottom one lap later.
Heading toward the final two turns on the final lap, Bacon appeared to edge slightly ahead of Boespflug between turns three and four, but Boespflug had the momentum, rocketing down the hill out of turn four toward the finish line to take the victory by 0.363 of a second for his third victory of the year, thereby quadrupling his USAC win total in the first four months of the 2016 season.
Rounding out the top-five behind Boespflug were Bacon, Darland, Meseraull and Ballou.
Boespflug's Eagle victory joins his "#LetsRaceTwo" Eldora Speedway victory back in May and his recent "Eastern Storm" triumph at New Egypt (N.J.) Speedway on his USAC resume this season. Boespflug led the final 29 laps in his NineEight Motorsports-EZR/Creative Finishing – Midwest Shades/Maxim/Claxton.
"I felt really comfortable ripping the top in (turns) three and four and I took my time up there on the last lap," Boespflug explained. "I could see Brady down there, but I knew I was getting a good run off of turn four. I tried to just start slowing down and making sure I hit my marks. We're kind of hit-and-miss right now, so we're working on a balance. These bigger, high-banked tracks seem to be to our liking right now, so if we can get the flatter tracks figured out we'll be good to go."
Broken Arrow, Oklahoma's Bacon earned his series-leading 13th top-five finish in 19 starts, taking second at the checkered in his Dynamics, Inc./Mean Green – Lykins Oil/Triple X/Williams Mopar and extending his point lead to 51 over Meseraull in the standings heading into back-to-back nights Saturday and Sunday at Lakeside Speedway in Kansas City, Kansas.
"The last five laps, somebody had hit the infield tire and knocked it out onto the track and that hurt me going into (turn) three because I couldn't stay on the bottom all the way around the other end," Bacon said. "I moved up the last few laps and started catching the crumbs and I wish I would've tried that a lap earlier because I almost got him at the checkered. Chad never messed up too bad, even though the track was tricky tonight. It was fun, though, to get to move around and get to run the top and bottom. We survived the bumper cars at the beginning and kept our momentum rolling."
Lincoln, Indiana's Dave Darland was the victor of the two most recent USAC Sprint races at Eagle in 2014 and 2015. On Friday night, Dave was in the hunt once again throughout the duration of the event, taking third at the finish in his Jeff Walker-Curb-Agajanian Racing/Jam-It-In Storage – Hoosier Tire/Maxim/Claxton.
"We were good early around the top and gained a lot of spots that way," Darland recalled. "The track was slick, so a lot of places you had to be easy on the throttle and try to hit the cushion at the right spot to carry enough speed. Those guys were getting off both corners really well, but we did what we could and we're happy with a podium."
C.J. Leary (ProSource Fast Qualifier & Wilwood Brakes 13th Place Feature Finisher), Brady Bacon (Simpson Race Products First Heat Race Winner), Ryan Kitchen (Competition Suspension, Inc. (CSI) Second Heat Race Winner), Robert Ballou (Benic Enterprises/Indy Race Parts Third Heat Race Winner) and Dave Darland (KSE Racing Products Hard Charger).
—————————————————————————-
USAC AMSOIL SPRINT CAR NATIONAL CHAMPIONSHIP RACE RESULTS: June 24, 2016 – Eagle, Nebraska – Eagle Raceway – "Rumble in the Bullring"
PROSOURCE QUALIFYING: 1. C.J. Leary, 17GP, Dutcher-13.247, 2. Chase Stockon, 32, 32 TBI-13.321; 3. Thomas Meseraull, 66, Amati-13.417; 4. Bret Mellenberndt, 97, Mellenberndt-13.439; 5. Isaac Chapple, 52, LNR-13.503; 6. Chad Boespflug, 98E, NineEight/EZR-13.568; 7. Brady Bacon, 69, Dynamics-13.571; 8. Aaron Farney, 15F, Farney-13.614; 9. Max McGhee, 17, McGhee-13.626; 10. Rob Caho, Jr., 78, Caho-13.685; 11. Chris Windom 5, Baldwin-13.827; 12. Joe Bares, 19, TEST-13.828; 13. Dave Darland, 11, Walker/Curb-Agajanian-13.880; 14. Landon Simon, 24, LSR-13.902; 15. Robert Ballou, 1, Ballou-13.982; 16. Clinton Boyles, 77, Hockett-13.995; 17. Ryan Kitchen, 21, Kitchen-14.086; 18. Terry Richards, 18, TR's Tool Service-14.427; 19. Brandon Stevenson, 0, Stevenson-14.626; 20. Alex Schriever, 0x, Davis-14.677.
SIMPSON RACE PRODUCTS FIRST HEAT: (8 laps) 1. Bacon, 2. Darland, 3. Leary, 4. Mellenberndt, 5. Caho, 6. Stevenson, 7. Boyles. NT-
COMPETITION SUSPENSION (CSI) SECOND HEAT: (8 laps) 1. Kitchen, 2. Simon, 3. Farney, 4. Chapple, 5. Stockon, 6. Schriever, 7. Windom. 2:02.07
BENIC ENTERPRISES/INDY RACE PARTS THIRD HEAT: (8 laps) 1. Ballou, 2. Boespflug, 3. Meseraull, 4. McGhee, 5. Richards, 6. Bares. 1:59.60
FEATURE: (30 laps) 1. Chad Boespflug, 2. Brady Bacon, 3. Dave Darland, 4. Thomas Meseraull, 5. Robert Ballou, 6. Rob Caho, Jr., 7. Ryan Kitchen, 8. Chris Windom, 9. Aaron Farney, 10. Joe Bares, 11. Isaac Chapple, 12. Alex Schriever, 13. C.J. Leary, 14. Chase Stockon, 15. Max McGhee, 16. Clinton Boyles, 17. Brandon Stevenson, 18. Terry Richards, 19. Bret Mellenberndt, 20. Landon Simon. NT
—————————-
**Simon flipped on lap 6 of the feature. Stevenson flipped on lap 14 of the feature.
FEATURE LAP LEADERS: Lap 1 Chapple, Laps 2-30 Boespflug.
KSE HARD CHARGER: Dave Darland (13th to 3rd)
NEW AMSOIL NATIONAL SPRINT POINTS: 1-Bacon-1,259, 2-Meseraull-1,208, 3-Stockon-1,134, 4-Ballou-1,125, 5-Darland-1,089, 6-Leary-1,070, 7-Boespflug-991, 8-McGhee-923, 9-Windom-838, 10-Bryan Clauson-774.
NEXT AMSOIL NATIONAL SPRINT RACE: June 25 – Kansas City, Kansas – Lakeside Speedway