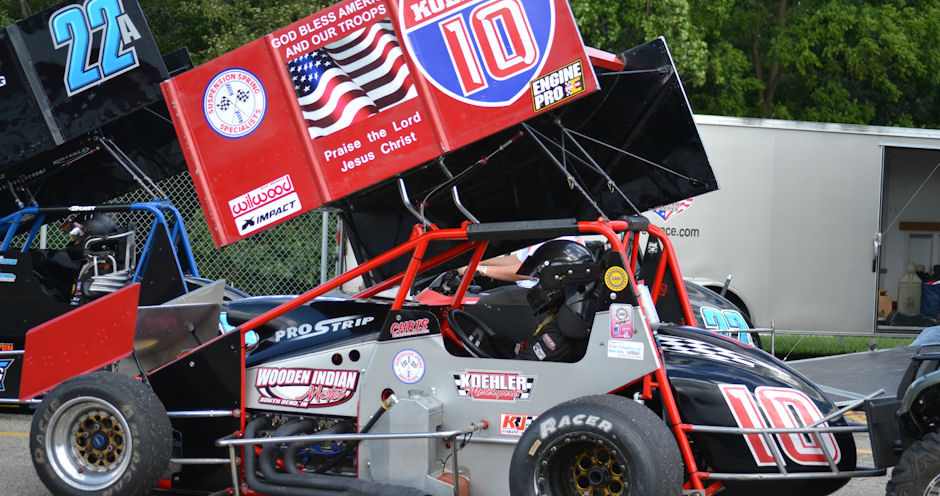 By Bob Buffenbarger
Kalamazoo,Mi (8-21-2016)-Kalamazoo Speedway hosted the "Jerry Landon Classic" Sunday and sprint car winners were Bobby Santos III in MTS action and Chris Neuenshcwander with Must See Racing.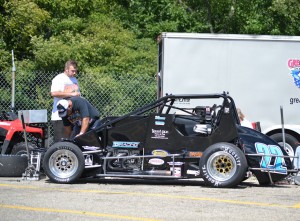 Racing was interrupted several times by light rain showers during the day but drivers and fans stayed with it and stuck with it to the end. First up for their 20 lap feature was the Michigan Traditional Sprints. Mike Astraukas led the first three laps with Doug Dietsch taking over on lap four.
Dietsch continued in front with the #22A of Bobby Santos III in hot pursuit and on the 12th circuit Santos took the lead. Santos wasted little time stretching his lead to a straight away as Nick Landon with a nice run, was closing on 2nd running Dietsch with racing intense from 4th through 7th. However Santos had command of this one and took the checkers over Dietsch, Landon, Don Hamilton and Chris Randolph.
Next, the wing warriors of Must See Racing were due up for a 30 lap main event. Just as cars were formed for the feature, rain again fell causing a 45 minute delay. After track drying was completed the cars lined up again and as the green fell, pole sitter Chris Neuenschwander shot out front with Bobby Santos III (doing double duty), Jimmy McCune, Jason Blonde and Ryan Litt trailing.
A lap three caution appeared for Christian Kohler in turn three. As the green flew again Jason Blonde made a bold move and passed McCune and Santos and took 2nd. At 15 laps Blonde had closed some on Neuenschwander with Santos still 3rd with McCune and Ryan Gillenwater following.
With 20 laps in the books Neuenschwander was now contending with heavy lapped traffic all the way around the track and Blonde looked to be ready to p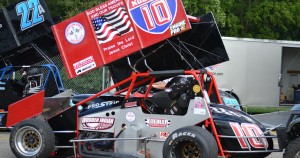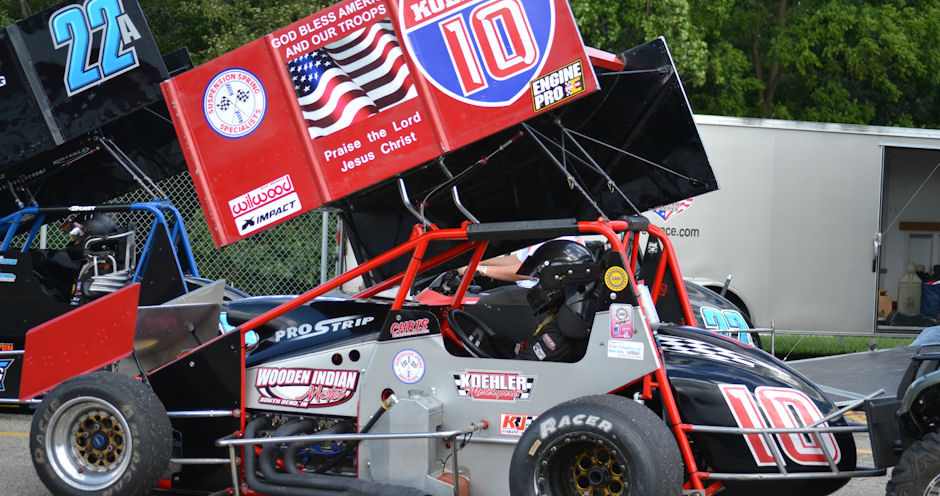 ounce. But Neuenschwander cleared traffic with five to go and was not going to be caught tonight, crossing the stripe ahead of Blonde, Santos, Gillenwater, McCune and Ryan Litt.
Heats for the Must See Racing cars were won by Tyler Roahrig, Kyle Edwards and Jimmy McCune.
Watch for complete and official results