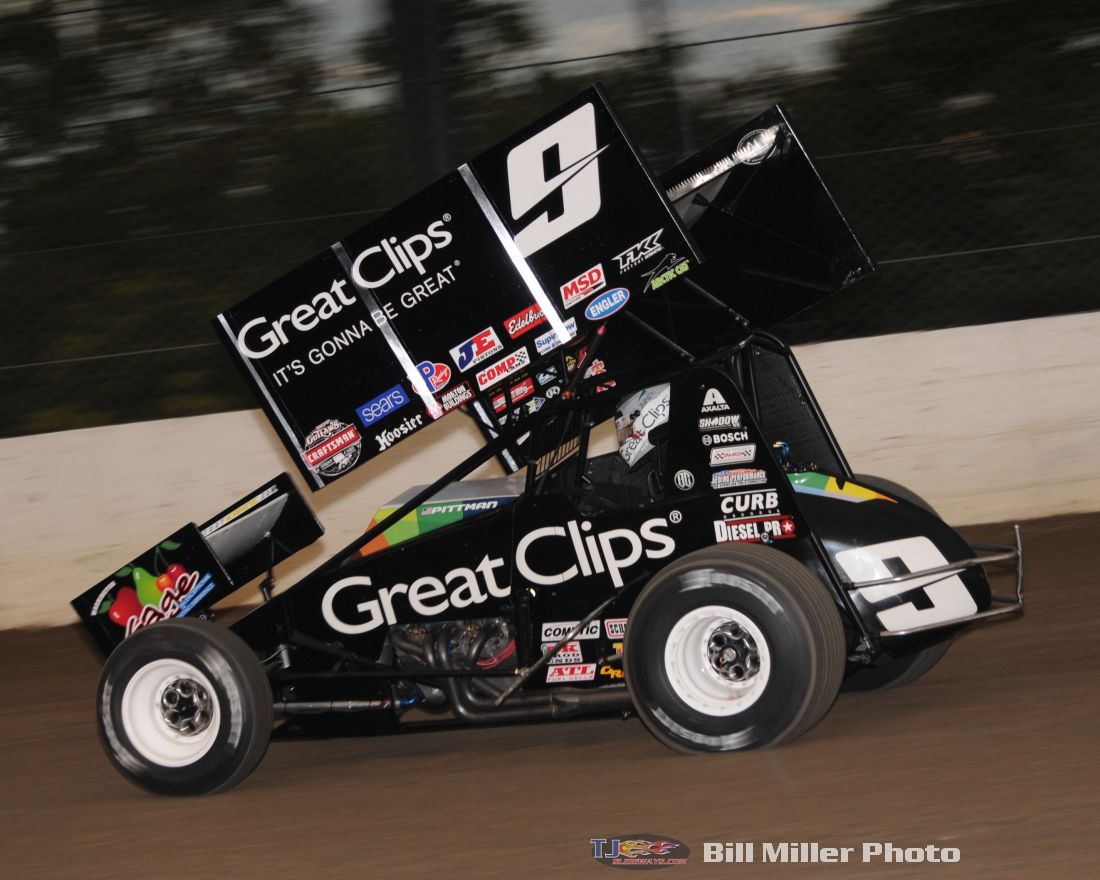 From Tony Veneziano
KANSAS CITY, Kan. (October 18, 2016) — Since July 22, only one driver on the World of Outlaws Craftsman Sprint Car Series circuit has finished in the top-10 in each and every race. That driver is Daryn Pittman and the stats work out to 26 consecutive top-10 finishes, with 17 of those being top-five performances.
Pittman looks to extend his late-season top-10 streak this week in the O'Reilly Auto Parts Rumble on the River at Lakeside Speedway in Kansas City, Kan., on Friday, October 21. Pittman is a past winner at the half-mile, taking the checkered flag in 2003. The veteran driver has finished among the top-10 in all five of his Outlaws starts at Lakeside.
"Lakeside is one of the better half-miles that we go to and it is very unique," said Pittman, who pilots the Great Clips No. 9 for Kasey Kahne Racing. "It's a fun track that I enjoy going to. I am excited for that whole weekend, Lakeside and Salina (Highbanks Speedway), both. I've always run pretty well at Lakeside and it helps when you enjoy running at a track and are fast there."
Entering the O'Reilly Auto Parts Rumble on the River at Lakeside Speedway, Pittman has seven wins on the season. That is tied for fourth-most on the series, with his teammate Brad Sweet. The stat that stands out to Pittman the most, though, are his 14 second-place finishes. In seven of those races he started on the pole position, after winning the Craftsman Club Dash.
"I'm happy with how fast our car has been all year," he noted. "I'm just disappointed in the number of wins we have. I really feel like we let a handful of them slip away. The win total should be a lot higher than it is, and at the end of the day, that's kind of how you measure your season, in the number of wins you have. It hasn't been a bad season at all, it's just our car has been too fast to only have seven wins. I feel like we should be solidly in second (in points) right now and want to get back up there and challenge Donny (Schatz) again at some point. We just have to get better."
Pittman is locked in a torrid battle for the second position in points, with Sweet and David Gravel, as the season winds down. The trio has traded the second spot a number of times over the last two months. Pittman currently holds the position down, with Gravel in third, seven markers back and Sweet fourth, 14 markers out of the second spot. Pittman, a native of Owasso, Okla., who now calls the Indianapolis area home, is on pace to finish among the top-five in points for the fourth straight year and seventh time in his career.
"If you win a few more races, you'll help yourself in that position, when it comes to the points," explained Pittman of the battle for second in the standings. "Finishing second is as good as we can do, so that's what we are focused on. Winning races is going to be the best way to solidify that spot. A lot of the tracks we visit later in the season are good for me, so we'll see how strong we can finish up the year."
While the focus is on finishing this season as strong as possible, and locking down the second spot in points, Pittman and his Kasey Kahne Racing team, led by crew chief Kale Kahne, are always looking ahead to better their performance, trying different combinations to gain that little extra speed that everyone strives for. The pair won the World of Outlaws Craftsman Sprint Car Series championship in their first year together in 2013 and have won 34 races over that span, and have finished fourth or better in points each of the those years.
"We're always trying to get better," said Pittman. "We are not throwing away everything we have worked for, though. We are just trying to get a better balance. We're just a little inconsistent right now. I feel like we are contending for a win one night and then be off a little bit the next night. You'll always want to get better, even if you are winning. We are always trying new things and new set-ups to get a little bit better, so you can obviously win more."
Tickets for the O'Reilly Auto Parts Rumble on the River for the World of Outlaws Craftsman Sprint Car Series at Lakeside Speedway in Kansas City, Kansas on Friday, October 21 can be purchased online at https://slspromotions.ticketforce.com and at the track on race day.
Discount General Admission tickets can also be purchased at participating O'Reilly Auto Parts stores. Each General Admission ticket purchased at an O'Reilly Auto Parts location will feature a special $5 discount. Tickets buyers will exchange their O'Reilly receipt for tickets at the Main Grandstand ticket booth on race day.
For more information on tickets, visit http://slspromotions.ticketforce.com.