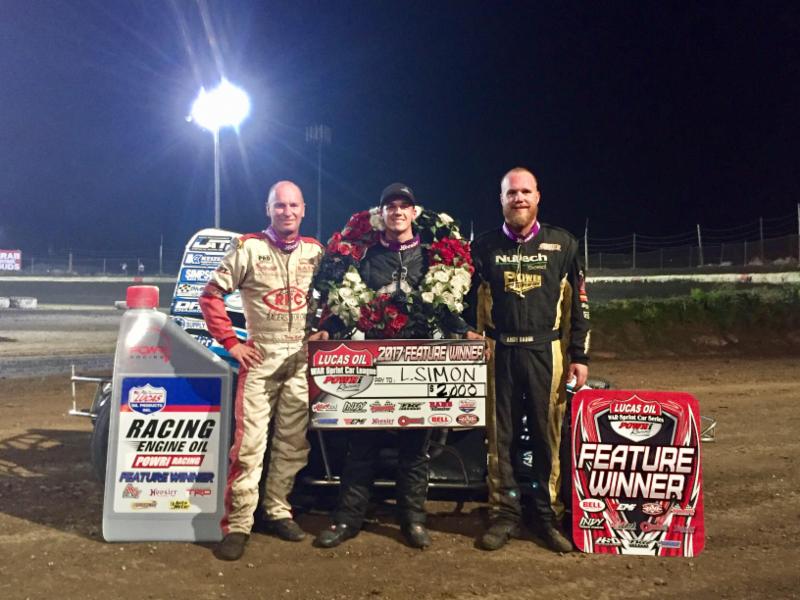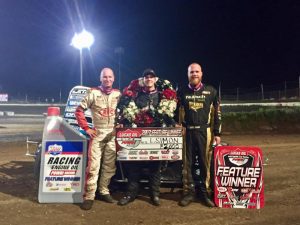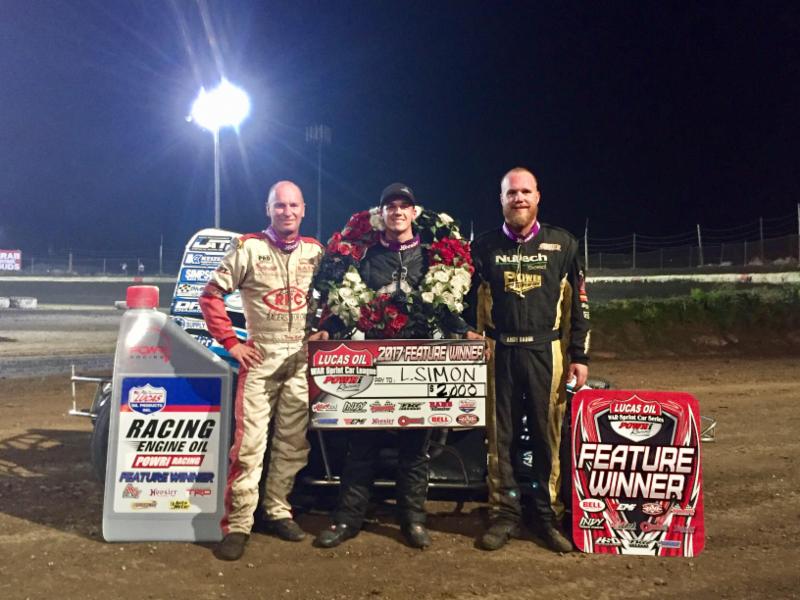 By Chad Buford
(June 2, 2017) – After winning on Wednesday night at The Dirt Oval at Route 66 in Joliet, Illinois in the WAR East season opener, Landon Simon picked up the win at Jacksonville Speedway on Friday night with the POWRi Lucas Oil WAR East Sprints for his second win of the three race swing.
As the field took the green, second-starting Simon battled with Andy Baugh for the top spot. Simon took control as the first lap was completed as he was followed by Baugh, Terry Babb, and Mario Clouser.
With five laps in the books, Clouser rolled to a stop in the infield with motor problems ending his top five run. Simon continued to lead Baugh and Babb as Logan Faucon moved into the top five along with Joe B. Miller. Slater Helt was also in the battle to crack the top five.
Simon continued to lead as he hit heavy lapped traffic as the race moved past halfway. The traffic allowed Baugh to move back within striking distance. The battle was intense among Babb, Faucon, Helt, and Miller as the drivers swapped slide jobs and positions seemingly every lap.
On lap nineteen, Faucon and Babb had a heated battle for the third spot when contact occurred and Faucon then was hit by another car spinning to a stop off the track.
On the restart, Simon would continue to lead as Babb worked his way past Baugh for second on lap twenty-one.
Simon would make it two wins for the week in his Mount Baker Vapor DRC with J&D power under the hood. With his car owner arriving at the track late due to putting a new car together after destroying one the night before at Fairbury, Babb ran a strong second in his KCBJ Motorsports/Faith Flat Out Ministries/APT Powdercoating Eagle with 5 Star power. Baugh was a solid third in his Nu Tech Seed/Zero Motorsports Gaerte-powered J&J. Helt continued his string of strong runs running fourth in his Helt Turf Farms/Dent Remedy/Nathan Benson Racing Maxim with Claxton power. Miller rounded out the top five in his SEMO Services/Insight Wildlife Nutrition Speed Shack powered Maxim. Andy Bishop, making his first ever POWRi Lucas Oil WAR start was sixth followed by Korey Weyant. Bret Tripplett was the Indy Race Parts Hard Charger as he finished eighth after starting sixteenth. Mitchell Davis and James Lyerla rounded out the top ten.
The POWRi Lucas Oil WAR East Sprints will next be in action at the Fayette County Speedway in Brownstown, IL on Saturday, June 24.
POWRi Lucas Oil WAR East Sprint League
6/2/17
Jacksonville Speedway – 20 cars
Hinchman Racewear Heat 1 – 8 laps
1. 52F-Logan Faucon, Elkhart, IL (2); 2. 6-Andy Baugh, Mason City, IL (1); 3. 51B-Joe B. Miller, Millersville, MO (4); 4. 11-James Lyerla, Hillsboro, IL (3); 5. 42-Gary Rooke, Oak Flats, NSW (5); 6. 22-Bret Tripplett, Lincoln, IL (7); 7. 31L-Buddy Lowther, Cincinnati, OH (6)
Wilwood Disc Brakes Heat 2 – 8 laps
1. 24-Landon Simon, Brownsburg, IN (1); 2. 8D-Terry Babb, Decatur, IL (4); 3. 22S-Slater Helt, Harrisonville, MO (3); 4. 99-Korey Weyant, Springfield, IL (6); 5. 20-Steve Thomas, Rantoul, IL (5); 6. 56-Mitchell Davis, Auburn, IL (7); 7. 31-Austin Sears, Macomb, IL (2)
Bell Helmets Heat 3 – 8 laps
1. 6-Mario Clouser, Auburn, IL (2); 2. 77-Dustin Smith, Russiaville, IN (1); 3. 45-Tony Lawrence, Batavia, IL (6); 4. 45X-Andy Bishop, Harrisburg, IL (3); 5. 1T-Tyler Shoemaker, Clinton, IL (5); 6. 1AUS-Rod Holliday, Springfield, IL (4)
POWRi Lucas Oil WAR East Sprint A-Main – 25 laps
1. 24-Simon (2); 2. 8D-Babb (4); 3. 6B-Baugh (1); 4. 22S-Helt (10); 5. 51B-Miller (8); 6. 45X-Bishop (12); 7. 99-Weyant (9); 8. 22-Tripplett (16); 9. 56-Davis (17); 10. 11-Lyerla (11); 11. 45-Lawrence (3); 12. 42AU-Rooke (13); 13. 31-Sears (20); 14. 1AU-Holliday (18); 15. 20-Thomas (14); 16. 31L-Lowther (19); 17. 52F-Faucon (6); 18. 77-Smith (7); 19. 1T-Shoemaker (15); 20. 6-Clouser (5)