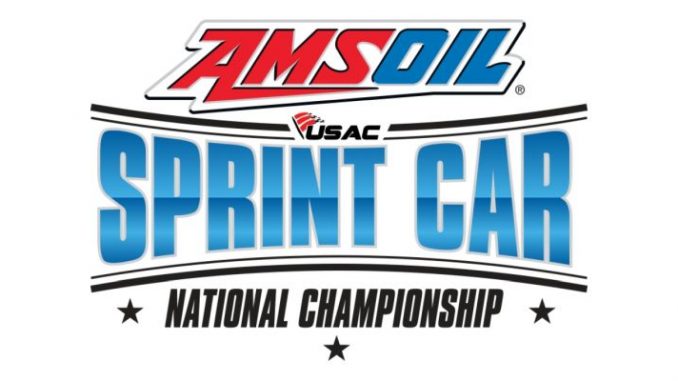 By Bob Miller

Here they come.   The USAC Amsoil Non-Wing sprint cars are heading east for the eleventh annual Eastern Storm that will kick off at the Grandview Speedway on Tuesday night, June 13 with the 40 lap $6,000 to win Jesse Hockett Classic.  This event is part of the NAPA Auto Parts Thunder on the Hill Racing Series.   These non-win heroes of the United States Auto Club invade the state of Pennsylvania for a highly-anticipated week of open-wheel dirt-track racing across the Keystone State.
Grandview Speedway and the Thunder on the Hill Racing Series is the only track to have been a part of every Eastern Storm since its debut in 2007.  The wildly competitive and always exciting Grandview 1/3-mile track opens the five-race series on Tuesday, June 13 in a double header program with the NASCAR 358 Modifieds.    PA Posse hot shoe Danny "Double D" Dietrich will attempt to chase down his first ever USAC non-wing sprint car victory.    Time trials will get underway at 7:30 PM.
Over the past winter, the Grandview Speedway took on a new surface and so far this season, the feedback is that the track is heavy right through the feature and extremely fast.  In five events, there has been five different feature winners in the weekly 358 Modified division.   The layout of the track on the "hill" always provides wheelies, some roster-tails a little wheel banging and you just can't help but to see someone glaze the often non-forgiving outside boiler-plate wall.   Non-wing sprints at Grandview is second to none.
Advance tickets for the Grandview USAC/358 Modified events are available by calling 443 513 4456.   Please leave your name, phone number and the number of tickets you need.   You may pay for and pick-up your tickets on race night at the Grandview Speedway WILL CALL window after 4 PM.   Advance ticket holders may enter the grandstand at 4:30 PM with General Admission tickets going on sale at 5 PM.
It's off to Abbottstown, PA for a stop at the Lincoln Speedway, an Eastern Storm staple since 2010, bringing the series into night two on Wednesday, June 14.  The 358 Sprints will be part of this double header event that will carry a 7:30 PM starting time.
The Eastern Storm continues at Williams Grove on Thursday night, June 15 followed by a stop at the Port Royal Speedway on Saturday night,  June 17.    The venerable Susquehanna Speedway has taken a new look over the past couple of years with upgrades continually being made to the facility, but for the fifth consecutive year, remains in its familiar spot as the host of the series-ender on Sunday night, June 18.
Thirty-four Eastern Storm events have been contested since the series' inception in 2007 when Bob Miller reached out to the USAC organization to entice them to travel back east.    "Growing up at the Reading Fairgrounds, the USAC events were always a key show at the famed half-mile oval".  Miller continued, "I've seen some of the all-time greats in auto racing compete with USAC and the ability to re-kindle the return of USAC to Berks County is something I am very proud to be a part of".
Levi Jones and Bryan Clauson are tied atop the leaderboard as winningest drivers in the series with six wins apiece.  Clauson was the champion in 2016 after three stirring performances at Grandview, Lincoln and Port Royal in which he took the lead late in the going in each.
Chris Windom and Robert Ballou are the active drivers with the most Eastern Storm wins at three each.  Windom, of Canton, Illinois won his first all the way back in 2010 at Big Diamond Speedway in Minersville, PA and his most recent in the last season's finale at Susquehanna.  Ballou, of Rocklin, California, earned all three of his Eastern Storm victories in one magical weekend back in 2015, when he ran away with the series title.
USAC entries to expect include Hanford, CA driver Chad Boespflug,  Fort Branch, Indiana's Chase Stockon,  Kokomo, IN driver Shane Cottle, Sikeston, MO favorite Hunter Schuerenberg, USAC's Triple Crown champion Dave Darland of Lincoln, IN and Landon Simon of Tipp City Ohio.   I'm sure we all remember the 2016 Grandview performance by Mooresville, North Carolina's driver Jarett Andretti, almost taking the win.  Tyler Courtney of Indianapolis, IN,  and Greenfield, IN driver C.J. Leary are hoping to break through for an Eastern Storm taste of victory.
On the local scene, Danny Dietrich a 410 sprint car feature winner at Grandview and the winner of the 2016 National Open at Williams Grove, plans to make his initial foray into USAC for Eastern Storm on the "hill" at Grandview.  Defending ARDC Midget champion and 2016 Chili Bowl Midget Nationals preliminary feature winner Alex Bright, is a regular in USAC's midget division, and  will try his hand for the first time in a USAC Sprint Car.
Eastern Storm has been a harbinger of good fortune when it comes to its champions' future success.  In seven of its ten years of existence, the champion of Eastern Storm has gone on to win the USAC National Sprint Car title in the same season: Levi Jones (2007, 2010 & 2011), Bryan Clauson (2012 & 2013), Brady Bacon (2014) and Robert Ballou (2015).
Additional Eastern Storm champs include Cole Whitt (2008 & 2009) and Clauson (2016), who became the second three-time titlist alongside Jones just one year ago.
EASTERN STORM CHAMPIONS:
2007: Levi Jones
2008: Cole Whitt
2009: Cole Whitt
2010: Levi Jones
2011: Levi Jones
2012: Bryan Clauson
2013: Bryan Clauson
2014: Brady Bacon
2015: Robert Ballou
2016: Bryan Clauson

Tuesday, June 13             USAC Non-Wing Sprints
11th Annual Jesse Hockett Classic  Plus 358 Modifieds  Grandview Speedway
Wednesday, June 14      USAC Non-Wing Sprints & 358 Sprints- – Lincoln Speedway
Thursday, June 15            USAC Non-Wing Sprints & USAC/ARDC Midgets- – Williams Grove Speedway
Saturday, June 17            USAC Non-Wing Sprints & 410 Sprints- –  Port Royal Speedway
Sunday, June 18               USAC Non-Wing Sprints & Extreme Stocks & Stock 600 Micros – – Susquehanna Speedway
Grandview Speedway
GPS USERS: 43 Passmore Road, Bechtelsville, PA 19505
Located less than a mile off Route 100, 10 miles north of Pottstown, PA
Speedway Phone: 610-754-7688
Thunder on the Hill Racing Series Phone: 443-513-4456 (Call for advance tickets)
Series Website:  Track Website: http://www.grandviewspeedway.com
Twitter/Instagram: @TOTHRACING
Facebook: http://www.facebook.com/thunderonthehill
About Thunder on the Hill Racing Series
The brainchild of Grandview Speedway owner Bruce Rogers, special events promoter Bob Miller and local driving star Dave Kelly, the Thunder on the Hill Racing Series celebrates 28 years of the most anticipated events of the racing calendar year after year.    In 124 events over $4.2 million dollars has been divvied up among the area's fastest racers.  What started as a single 410 Sprint Car event in 1990 has blossomed to feature a variety of racing action including 358 Modifieds, USAC Wingless Sprints, All-Star Circuit of Champions, 360 & 410 Sprint Cars, Sportsman, Late Models, Midgets, Legend Cars, DIRTcar and ROC Modified events.
NAPA Auto Parts continues their long run with the Thunder on the Hill Racing Series as the title sponsor joined by Pioneer Pole Buildings, Levan Machine and Truck Equipment,  Quaker Steak & Lube, and GALCO Business Communications.