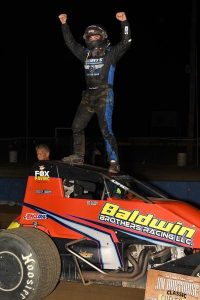 From Richie Murray
TERRE HAUTE, Ind. (September 15, 2017) — Since its inception more than six decades ago, the Terre Haute Action Track has had distinct eras that seem to resonate with a particular driver.
Lately, this era at the famed half-mile dirt oval has belonged to Chris Windom who ran fourth with just four laps remaining and used a daring late-race move on Kevin Thomas, Jr. to capture his third-straight USAC victory at Terre Haute in Friday night's USAC AMSOIL National Sprint Car "Jim Hurtubise Classic" aboard the Baldwin Brothers Racing/Fox Paving – AMSOIL/DRC/Claxton Mopar.
The Windom/Baldwin connection has now netted four USAC Sprint Car feature wins at Terre Haute dating to 2011. The victory also allowed Windom to join Jack Hewitt as just the second driver to win the "Hurtubise Classic" three times. Windom also became the first to win back-to-back "Hurtubise Classic" races since Hewitt in 1990-1991.
"This place is special to me," Windom praised. "Crew chief Derek (Claxton) and I are always good here. Even when we don't have the fastest car, we just dig deep at the end of the race and get the wins here. I wish we could race here about ten times a year!"
Terre Haute served as a sweet renaissance for the Canton, Illinois driver who hadn't been victorious in the series in nearly three months. Although, the 30-lap feature wouldn't start as triumphantly for the second-place driver in the series standings as it would turn out.
For much of the race, Thomas maintained the dominant car. In the first half, Thomas was clicking off laps a half-second faster than second-running Robert Ballou as he extended his lead to a full-straightaway by the seventh lap.
By the 12th lap, Windom had worked his way to third with a turn two slider on Aaron Farney, then set forth on a mission to run down Thomas and Ballou running one-two.
By mid-race, Ballou was able to hang with Thomas, staying within three car-lengths from the tail of the 9K as the cushion pushed all the way to the concrete at the exits of turns two and four while the two past Action Track winners worked the tail end of lapped traffic. Thomas continuously gapped himself from Ballou by chipping away one car at a time, first getting around the outside of Chapple exiting turn four. As soon as Ballou cleared Chapple, Thomas had regained precious ground once again by diving under Mario Clouser in turn three to pin Ballou, the 2015 USAC champ, behind the trailing car.
With six laps remaining, Windom traded sliders with Farney and fell to fourth where he would remain with four laps to go with the race seemingly out of reach. However, a domino of circumstances befell the front runners to aid Windom's resurgent emergence. First, as Ballou worked on Thomas for the race lead, his right rear tire gave way, sending him to the infield work area for fresh rubber, thus, relegating him to the tail for the lap 27 resumption.
Though standing third in line on the restart behind Thomas and Farney, Windom knew this was the moment of attack to have any chance at victory. Windom dove to the bottom of turn one as the green dropped, disposing of Farney and pulling alongside Thomas before falling back into line in second behind Thomas exiting the second turn.
However, the move would quickly be negated as Chapple slowed to a stop in turn two, sending Windom back to third and forcing him to repeat the exercise once again.
On take two, it appeared to be a carbon copy of the events that had just transpired moments before. Windom dove to the bottom of one, leaving Farney behind as he went toe-to-toe with Thomas before ducking in behind the leader exiting two. That's where he knew his golden opportunity had arrived.
"I just tucked in behind KT and there was a little strip of rubber off turn two you could catch," Windom explained. "I caught that and slid him going into turn three. For the first three-quarters of the race, we weren't the best car, but sometimes on those late-race restarts, you just got to dig deep and make something of it. I knew that was my only shot to get there and I knew there was less than five to go. I knew I had to do something."
Shortly thereafter, on lap 28, second-running Thomas began to slow coming off turn two with, as it turns out, a lack of fuel. That created a bunch up that collected Thomas, the third-place running car of Farney and fourth-running Boespflug who all climbed over each other to varying degrees down the back straightway, yet all remained afloat and continued. Eighth running Shane Cottle wasn't as fortunate, though, and came to a stop while trying to avoid the wreckage to no avail.
On the ensuing restart, Windom broke away while second-running Thomas coasted on fumes to the inside and Boespflug slid by Farney for the runner-up spot. Tyler Courtney and Justin Grant would follow suit on the final lap to take over third and fourth, respectively, as Farney fell to fifth.
Meanwhile, Windom rose head and shoulders above the fray to win by a tick under two seconds over Boespflug, Courtney, Grant and Farney, who gingerly walked away from a nasty-looking barrel-roll flip down the front straightaway underneath the checkered flag after contact with Grant. Farney climbed from the car under his own power, but was transported to the hospital for further observation.
For the second year in a row, Hanford, California's Chad Boespflug finished in the runner-up position behind Windom in the "Hurtubise Classic." This occasion occurred under different circumstances as Boespflug utilized a brand-new crew after shuffling the deck in an attempt to right the ship that had seen its share of choppy waters over the past several weeks in his Dynamics, Inc./Mean Green – PAC Springs/Maxim/Claxton.
"We made some changes over the past couple weeks," Boespflug acknowledges. "We're just trying to get things fun and exciting again. I hired Robert (Brown) and A.J. (Parker) to come help. Things went well tonight right from the start. In hot laps, we didn't have the speed we wanted, but we found something pretty good for qualifying and just continued to progress. It's comforting to work with Robert at such a fast pace to get this thing comfortable. We were actually too good early and really good at the end. The car definitely came to us in the end. It's good to finally run second again after running so terribly the past month and a half or so. It's been pretty up and down to run second, then run bad, then good, then bad."
"Early in the night with a new crew, it can definitely make you tentative, I guess, especially with the tendencies the car has had in the past several races," Boespflug believes. "I tip-toed into it and wasn't as comfortable as I wanted to be early. In qualifying, we made the right changes, got it great and made another good, big change for the heat race. At that point, I had a lot of confidence in what Robert was going to do next. Were we a second-place car? I think we were close, at least third if everything worked out. I'll take it any way I can get it. It's a race to the end, not the middle."
Following a pair of victories in the two most recent series races at Kokomo (Ind.) Speedway in August, Tyler Courtney emerged from his 16th starting position to score a solid third in his TOPP Motorsports/TOPP Performance Race Parts – Custom Pump & Controls/Maxim/Gaerte by TOPP.
"We have a really good racecar," Courtney stated. "I put us behind the eight ball in qualifying. It's not what you want to do at a place like this, especially without cautions. We were mired back there in 10th or 11th. With some luck on those cautions, it really played into our hands. You have to get every spot you can if you want a chance (at the championship) at the end of the year, but it's tough when Chris (Windom) and Justin (Grant) run top-five too."
"We had to run everywhere guys weren't," Courtney said. "I made sure that if I had to wait one more lap to get a better run to make sure I cleared a guy so I don't have to mess with him again after that. On restarts, I made sure to protect myself or, if I got a really good run into one, I'd try to kill a guy's momentum and slide him off into one, then hopefully clear him off of two and get the rubber coming off to propel down the back straight. It was tricky to not blow through it and to make sure not to run over the guy you're sliding because you knew he was going to have a run coming down the hill. Luckily, we were in the right place at the right time. A couple times, guys were banging wheels there, but we came out mostly unscathed. We had a couple dings and dents here and there, but that's racing. Sixteenth to third, coming off two wins and another podium, you can't be disappointed about that."
Contingency award winners Friday night at Terre Haute included Robert Ballou (B & W Auto Mart/ProSource Fast Qualifier), Chris Windom (Simpson Race Products Heat 1 Winner), Kevin Thomas, Jr. (Competition Suspension, Inc. Heat 2 Winner), Chase Stockon (Chalk Stix Heat 3 Winner), Justin Grant (Indy Race Parts Semi Winner), Brady Bacon (KSE Racing Products Hard Charger) and Jarett Andretti (Wilwood Brakes 13th Place Finisher).
——————————–
USAC AMSOIL SPRINT CAR NATIONAL CHAMPIONSHIP RACE RESULTS: September 15, 2017 – Terre Haute, Indiana – Terre Haute Action Track – "Jim Hurtubise Classic"
B & W AUTO MART & PROSOURCE QUALIFYING: 1. Robert Ballou, 12, Ballou-20.477; 2. Justin Grant, 11, McGhee-20.602; 3. Jarett Andretti, 18, Andretti-20.674; 4. Chris Windom, 5, Baldwin-20.873; 5. Aaron Farney, 15F, DCT-20.880; 6. Chad Boespflug, 69, Dynamics-20.953; 7. Scotty Weir, 17G, On The Gass-21.069; 8. Kevin Thomas, Jr., 9K, KT-21.083; 9. Dave Darland, 17GP, Dutcher-21.136; 10. Jon Stanbrough, 81, Stanbrough-21.225; 11. Mario Clouser, 6, MCM-21.238; 12. Chase Stockon, 32, 32 TBI-21.263; 13. Carson Short, 21, RCM-21.307; 14. Shane Cottle, 57, Hazen-21.316; 15. Josh Hodges, 74x, Hodges-21.418; 16. Nate McMillin, 24, McMillin-21.516; 17. Tyler Courtney, 23c, TOPP-21.529; 18. Aric Gentry, 10, Gentry-21,588; 19. Brandon Mattox, 28, Mattox-21.735; 20. C.J. Leary, 30, Leary-21.767; 21. J.J. Hughes, 76, Hughes-21.779; 22. Patrick Budde, 90, Budde-21.982; 23. Isaac Chapple, 52, LNR/Chapple-22.101; 24. Steve Thomas, 20, Thomas-22.404; 25. Kyle Robbins, 17R, Robbins-22.457; 26. Eric Burns, 99, Gasway/Rolison-23.996. (Brady Bacon, 63, Dooling/Hayward-21.986-Time Disallowed).
SIMPSON RACE PRODUCTS FIRST HEAT: (8 laps) 1. Windom, 2. Stanbrough, 3. Ballou, 4. Short, 5. Weir, 6. Mattox, 7. McMillin, 8. Robbins, 9. Budde. 2:51.95
COMPETITION SUSPENSION (CSI) SECOND HEAT: (8 laps) 1. K. Thomas, 2. Courtney, 3. Cottle, 4. Leary, 5. Farney, 6. Grant, 7. Chapple, 8. Clouser, 9. Burns. 2:52.56
CHALK STIX THIRD HEAT: (8 laps) 1. Stockon, 2. Bacon, 3. Boespflug, 4. Darland, 5. Gentry, 6. Hodges, 7. Andretti, 8. Hughes, 9. S. Thomas. 2:56.68
INDY RACE PARTS SEMI: (12 laps) 1. Grant, 2. Hodges, 3. Andretti, 4. Clouser, 5. Chapple. 6. Hughes, 7. Robbins, 8. Mattox. 9. McMillin, 10. Budde, 11. S. Thomas. 12. Burns. 4:34.38
FEATURE: (30 laps) 1. Chris Windom, 2. Chad Boespflug, 3. Tyler Courtney, 4. Justin Grant, 5. Aaron Farney, 6. Chase Stockon, 7. Brady Bacon, 8. Scotty Weir, 9. C.J. Leary, 10. Dave Darland, 11. Jon Stanbrough, 12. Robert Ballou, 13. Jarett Andretti, 14. Josh Hodges, 15. Carson Short, 16. Kyle Robbins, 17. Mario Clouser, 18. Kevin Thomas, Jr., 19. Shane Cottle, 20. J.J. Hughes, 21. Isaac Chapple, 22. Aric Gentry. NT
——————————————
**Farney flipped at the checkered flag.
FEATURE LAP LEADERS: Laps 1-26 K. Thomas, Laps 27-30 Windom.
KSE RACING PRODUCTS HARD CHARGER: Brady Bacon (22nd to 7th)
WILWOOD BRAKES 13TH PLACE FINISHER: Jarett Andretti
NEW USAC AMSOIL SPRINT CAR NATIONAL CHAMPIONSHIP STANDINGS: 1-Grant-1732, 2-Windom-1650, 3-Courtney-1564; 4-Boespflug-1552, 5-K. Thomas-1519, 6-Stockon-1482, 7-Leary-1339, 8-Bacon-1302, 9-Ballou-1217, 10-Andretti-1145.
NEXT USAC AMSOIL SPRINT CAR NATIONAL CHAMPIONSHIP RACE: September 16 – Haubstadt, Indiana – Tri-State Speedway – "Haubstadt Hustler" – Co-sanctioned by MSCS