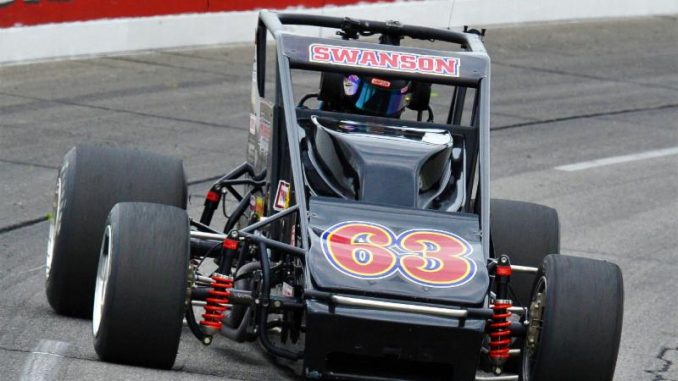 From Richie Murray
BROWNSBURG, In. (May 22, 2018) — Twenty-three USAC Silver Crown Champ Cars and drivers have entered for this Friday's "Dave Steele Carb Night Classic" at Lucas Oil Raceway.
Past winners entered for round four of the Silver Crown season at the .686-mile paved oval include Kingsburg, California's Tanner Swanson, a six-time winner at the track, and two-time winner of the "Carb Night Classic" in 2015 and 2016. Older brother Kody Swanson was last year's winner, which was his fourth win there. Bobby Santos of Franklin, Massachusetts won the most recent Silver Crown appearance at LOR last summer, his fourth win there. Shullsburg, Wisconsin's David Byrne broke through for his first career Silver Crown victory in the summer of 2014.
This year's "Dave Steele Carb Night Classic" features an abundance of bonuses, including an extra $16,000 in lap money generously donated by several sponsors. Among the perks are that every Silver Crown driver will have their free pit pass covered for the event. Additionally, the night gets started with a bang with the driver recording fast time set to take home a sweet $1000 bonus.
The largest potential prize is slated for the main event in which an opportunity will be presented to the drivers starting in the first two rows of the Silver Crown 100-lapper. The option will be given to the pole winner first. He or she can elect to start from the tail of the field. If that driver can win the race, the driver will receive a $5000 bonus tacked onto their winnings for the evening. If the pole sitter declines, the option will be presented to the driver starting 2nd, then 3rd and then 4th.
The "Dave Steele Carb Night Classic" gets underway on Friday, May 25 at Lucas Oil Raceway in Brownsburg, Ind. The pits open at noon while the grandstands open at 2:45pm. Practice begins at 3pm, with qualifying set for 5pm. Main events for the Pro Mazda and USF2000 series begin at 6pm. The Silver Crown main event is slated for an 8:15pm start.
Tickets can be obtained by calling Track Enterprises at 217-764-3200 or at the gate on raceday. A three-day special Superticket for the full week of Indy including the "Tony Hulman Classic" at the Terre Haute Action Track on Wednesday, May 23, the "Hoosier Hundred" at the Indiana State Fairgrounds on Thursday, May 24 and the "Carb Night Classic" at Lucas Oil Raceway on Friday, May 25 is also available at https://usacracing.ticketspice.com/2018-week-of-indy.
The "Dave Steele Carb Night Classic" will be streamed LIVE on http://www.SpeedShiftTV.com/. A day later, you can watch it again, on-demand, at http://www.Loudpedal.TV/.
"DAVE STEELE CARB NIGHT CLASSIC" ENTRY LIST:
02 TANNER SWANSON/Kingsburg, CA (Bowman Racing)
2 PATRICK LAWSON/Edwardsville, IL (Patrick Lawson)
6 KYLE HAMILTON/Danville, IN (Klatt Enterprises)
7 (R) KYLE ROBBINS/New Castle, IN (KR Racing)
16 AUSTIN NEMIRE/Sylvania, OH (Nemire-Lesko Racing)
17 CHRIS WINDOM/Canton, IL (Gene Nolen Racing)
18 (R) TRAVIS WELPOTT/Pendleton, IN (Welpott Racing)
20 JERRY COONS, JR./Tucson, AZ (Gene Nolen Racing)
21 ERIC GORDON/Greenfield, IN (Armstrong Racing)
22 BOBBY SANTOS/Franklin, MA (DJ Racing)
26 AARON PIERCE/Muncie, IN (Sam Pierce)
32 DAVE DARLAND/Lincoln, IN (Williams & Wright Racing)
39 MATT GOODNIGHT/Winchester, IN (Goodnight Racing)
40 DAVID BYRNE/Shullsburg, WI (Byrne Racing)
60 (R) CODY GERHARDT/Fresno, CA (Cody Gerhardt)
63 KODY SWANSON/Kingsburg, CA (DePalma Motorsports)
66 BILL ROSE/Plainfield, IN (Bill Rose Racing)
80 TONI BREIDINGER/Hillsborough, CA (Breidinger Racing)
91 JUSTIN GRANT/Ione, CA (Hemelgarn Racing)
92 (R) JIM ANDERSON/Joliet, IL (Gene Kazmark)
96 (R) AUSTIN BLAIR/Fairview Heights, IL (Blair Racing)
124 (R) MIKE HAGGENBOTTOM/Levittown, PA (Haggenbottom Racing)
131 (R) DEREK BISCHAK/Angola, IN (Derek Bischak)
(R) represents a USAC Silver Crown Champ Car Series Rookie of the Year contender.