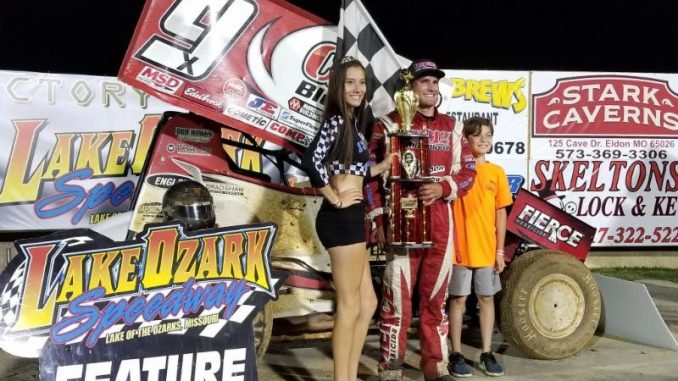 From Bryan Hulbert
ELDON, Mo. (May 25, 2018) – Becoming the 74th driver to roll into Victory Lane with the Speedway Motors ASCS Warrior Region presented by Impact Signs, Awnings, and Wraps, Paul Nienhiser picked up the win Friday night to opening the Inaugural Spring 360 Nationals aboard the CAM2 Blue Blood/Mason Sound No. 9x.
Chasing Jay Russell the first four laps, the No. 76j suddenly turned to the infield with mechanical issues. Handing the lead by Zach Daum, the No. 5d set the pace until Lap 23 when Nienhiser was able to complete the pass. Able to pull away from Daum, the Chapin, Ill racer crossed 2.260 seconds ahead of Daum's No. 5d.
Rolling through the field from 10th, Washington's Seth Bergman made it to the show position with Brian Bell following from ninth. Coming from eighth, Oklahoma's Wayne Johnson made up the top-five. Tim Crawley was sixth with Austin Alumbaugh from 12th to finish seventh. Curtis Boyer, Kyle Bellm, and Miles Paulus complete the top-ten.
The Inaugural Spring 360 Nationals at Lake Ozark Speedway continues Saturday, May 26 with a $4,000 winner's check on the line. If Nienhiser can win, he will collect a $5,000 bonus.
Saturday, May 26 at Lake Ozark Speedway opens at 3:00 P.M. with Hot Laps at 6:30 P.M. (CT). Lucas Oil POWRi War Sprint Cars will also be in action. Admission is $20. Senior and Military get in for $17 with kids 6-12 admitted for $5. Under the age of six is free into the grandstands.
Lake Ozark Speedway is located at 50 Twiggy Ln. in Eldon, Mo. More information on the track can be found online at http://www.lakeozarkspeedway.net or by calling (573) 418-0565.
For other news, notes, and information on the American Sprint Car Series, from the National Tour to any of the Regional Tours that make up the over 150 across the ASCS Nation in 2018, log onto http://www.ascsracing.com, follow on Facebook, on Instagram, and on Twitter (@LucasOilASCS).
Race Results:
ASCS Warrior Region
Lake Ozark Speedway – Eldon, Mo
Inaugural Spring 360 Nationals
Friday, May 25, 2018
Car Count: 24
Heat 1 (8 Laps): 1. 9X-Paul Nienhiser, [2]; 2. 5D-Zach Daum, [1]; 3. 14-Randy Martin, [3]; 4. 21-Miles Paulus, [5]; 5. 6-Bryan Grimes, [7]; 6. 6A-Aidan Roosevans, [8]; 7. 84-Brandon Hanks, [6]; 8. 22-Nathan Benson, [4]
Heat 2 (8 Laps): 1. 0-Taylor Walton, [1]; 2. 2C-Wayne Johnson, [2]; 3. 33-Austin Alumbaugh, [3]; 4. 1X-Tim Crawley, [7]; 5. 23-Seth Bergman, [8]; 6. 85-Forrest Sutherland, [5]; 7. 3-Ayrton Gennetten, [6]; 8. 18X-Nathan Ryun, [4]
Heat 3 (8 Laps): 1. 14K-Kyle Bellm, [1]; 2. 76-Jay Russell, [2]; 3. 72-Curtis Boyer, [5]; 4. 23B-Brian Bell, [6]; 5. 37H-Matthew Howard, [4]; 6. 49B-Ben Brown, [3]; 7. 1P-Curtis Evans, [7]; 8. 4-Evan Martin, [8]
A Feature 30 Laps): 1. 9X-Paul Nienhiser [3]; 2. 5D-Zach Daum [1]; 3. 23-Seth Bergman [10]; 4. 23B-Brian Bell [9]; 5. 2C-Wayne Johnson [8]; 6. 1X-Tim Crawley [7]; 7. 33-Austin Alumbaugh [12]; 8. 72-Curtis Boyer [4]; 9. 14K-Kyle Bellm [5]; 10. 21-Miles Paulus [13]; 11. 0-Taylor Walton [6]; 12. 6A-Aidan Roosevans [15]; 13. 4-Evan Martin [22]; 14. 85-Forrest Sutherland [17]; 15. 22-Nathan Benson [23]; 16. 18X-Nathan Ryun [24]; 17. (DNF) 14-Randy Martin [11]; 18. (DNF) 49B-Ben Brown [18]; 19. (DNF) 37H-Matthew Howard [16]; 20. (DNF) 3-Ayrton Gennetten [21]; 21. (DNF) 6-Bryan Grimes [14]; 22. (DNF) 84-Brandon Hanks [20]; 23. (DNF) 76-Jay Russell [2]; 24. (DNF) 1P-Curtis Evans, [19]
Winged 305 Sprint Cars
Feature:
Feature:
1. 88-James Kinder
2. 55-Jack Potter
3. 27J-Mike Schouten
4. 11-Frank Rogers
5. 00-P.J. Grimes
6. 93-Michael Moore