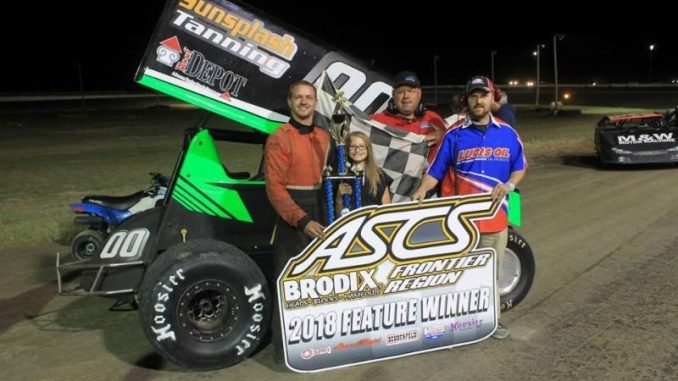 From Bryan Hulbert
BILLINGS, Mont. (July 14, 2018) – Taking the Roger Cummings owned No. 00 to Victory Lane for the second night in a row, Washington's J.J. Hickle topped action at Big Sky Speedway with the Brodix ASCS Frontier Region.
Quickly into the lead, Hickle had two moments in traffic that nearly brought his momentum to a screeching halt as Skylar Gee breathed down his neck for the race lead. Able to fend off the Strong Crane Service No. 99, the win was worth $2,012 in honor of Harvey Ostermiller.
Skylar Gee would hold on for second with Tony Bruce, Jr. coming from eighth to third. Kelly Miller in tow would have David Hoiness to round out the top-five.
Joe Perry grabbed sixth with Seth Bergman having to dig from the 20th starting spot to seventh after mechanical issues sidelined the No. 23 during his Heat Race. Anthony Farnsworth, Kory Wermling, and Trever Kirkland completed the top-ten.
Dave and Sue Weiss from Gallatin Speedway awarded $100 to the driver who finished 12th. That went to Damon McCune. They also gave $100 as a Hard Luck Award with Travis Reber going over to earn a little extra cash.
Next for the Brodix ASCS Frontier Region is a return to Black Hills Speedway on Friday, July 27 and Gillette Thunder Speedway on Saturday, July 28.
For other news, notes, and information on the American Sprint Car Series, from the National Tour to any of the Regional Tours that make up the over 150 across the ASCS Nation in 2018, log onto http://www.ascsracing.com, follow on Facebook, on Instagram, and on Twitter (@LucasOilASCS).
Race Results:
ASCS Frontier Region
Big Sky Speedway – Billings, Mont.
Saturday, July 14, 2018
Heat 1 (8 Laps): 1. 99-Skylar Gee, [2]; 2. 28-Joe Perry, [3]; 3. 9K-Kory Wermling, [1]; 4. 10-Anthony Farnsworth, [6]; 5. 77-Damon McCune, [4]; 6. 37-Trever Kirkland, [7]; 7. 4-Bill Carey, [5]; 8. 21-Blayne Brink, [8]; 9. 56-Shad Petersen, [9]; (DNS) 86-Zac Taylor,
Heat 2 (8 Laps): 1. 00-J.J. Hickle, [5]; 2. 2JR-Kelly Miller, [2]; 3. 27DD-David Hoiness, [1]; 4. 12H-Tony Bruce Jr, [8]; 5. 33-Robert DeHaan, [3]; 6. 88-Travis Reber, [4]; 7. 35M-Cody Masse, [10]; 8. 2-James Setters, [6]; 9. 2X-Mike Manwill, [7]; (DNS) 23-Seth Bergman,
A Feature (25 Laps): 1. 00-J.J. Hickle, [2]; 2. 99-Skylar Gee, [4]; 3. 12H-Tony Bruce Jr, [8]; 4. 2JR-Kelly Miller, [7]; 5. 27DD-David Hoiness, [6]; 6. 28-Joe Perry, [3]; 7. 23-Seth Bergman, [20]; 8. 10-Anthony Farnsworth, [1]; 9. 9K-Kory Wermling, [5]; 10. 37-Trever Kirkland, [10]; 11. 86-Zac Taylor, [19]; 12. 77-Damon McCune, [9]; 13. 35M-Cody Masse, [12]; 14. 2-James Setters, [16]; 15. 21-Blayne Brink, [15]; 16. 4-Bill Carey, [14]; 17. 33-Robert DeHaan, [11]; 18. 56-Shad Petersen, [17]; 19. 2X-Mike Manwill, [18]; 20. (DNF) 88-Travis Reber, [13]