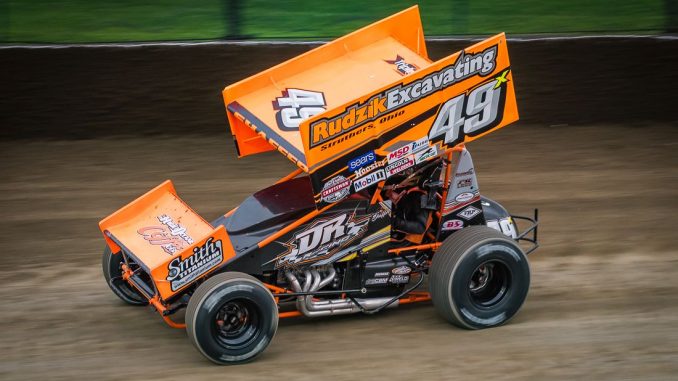 From Tyler Altmeyer
ORRVILLE, Ohio (September 2, 2018) – An emotional victory for Demyan-Rudzik Racing crew chief, Cody Jacobs, the 'Steel City Outlaw' Tim Shaffer picked up right where he left off two days prior and earned his second Arctic Cat All Star Circuit of Champions presented by Mobil 1 victory in three starts, this time earning the annual Pete Jacobs Memorial title at Wayne County Speedway worth $10,000.
Dominating the feature field once taking command for the first time on lap 18 of 35, the Aliquippa, Pa., native earned his 64th-career All Star Circuit of Champions victory from the outside of row four, battling his way into the top three as early as lap eight, eventually crossing under the final checkers ahead of the 'Kunkletown Kid' Ryan Smith and rising star, Gio Scelzi. The win was Shaffer's third of the 2018 season during All Star competition.
"Man, what an awesome race," an excited Tim Shaffer said in Wayne County Speedway victory lane. "This place has always been kinda tough for me, but today being Cody's [Jacobs] birthday, and this race honoring his great-grandfather, I really wanted to win it. This car was just awesome and I really drove the wheels off of it."
"We were really close last year and ran second," Cody Jacobs added, crew chief for the Demyan-Rudzik entry. "Like I said earlier tonight, this race isn't just about the $10,000. I'm really happy to get it for my family. We're having a great year and we have some great people behind us. Everyone seems to be really working together and they are giving us great equipment. I believe I'm working with one of the best in the world and as long as I am able to do my job, I think we'll always be OK."
Tim Shaffer's path to victory lane was impressive. Although the first five laps were relatively quiet for the former All Star champion, Shaffer's first big move of the evening occurred just after a lap six restart, actually picking up a pair of positions on lap eight that propelled Shaffer from fifth to third around Aaron Reutzel and Cap Henry.
Race leader and pole-sitter Ryan Smith, who survived an early duel with Aaron Reutzel for the top spot on lap three, escaped to a near-three second lead after the lap six caution. Although he seemed invincible out front, lapped traffic, which came into play for the first time with 12 laps in the books, proved to be Smith's demise, allowing Gio Scelzi, who forced his way to second after the lap six caution, and Shaffer to close the gap in a hurry.
By lap 16, Scelzi, aboard the Indy Race Parts No. 71, was right on the tail tank of Smith with Shaffer in tow. Before caution flags could appear for the second time on lap 17, Shaffer had already worked his away around Scelzi to clinch the runner-up spot, thus setting up a restart with the 'Steel City Outlaw' right in Smith's rearview mirror.
When green flag action returned, Shaffer was able to keep pace with Smith for the entire circuit, eventually setting up his winning move on lap 18. Using the turn two cushion, Shaffer got a great run down the backstretch and forced his way underneath Smith at the entrance of turn three. The move stuck, soon beating Smith in a drag race back to the flagstand to complete the 18th circuit.
Although the main event was halted on three more occasions for cautions on laps 20, 21, and 25, two of which for stoppages and ultimately an open red, Shaffer remained untouchable at the front of the field, extending his advantage to well over two seconds, twice. The main event's final caution on lap 25 gave Shaffer a clear track and clean air to work with for the final 11 circuits. Although the leaders reached traffic again on lap 31, Shaffer proved to be too strong, never faltering and crossing under the final checkers by a comfortable margin of victory.
"The cautions do help a lot when they play into your favor, but we were good in dirty air, too," Shaffer continued. "We've been really good all weekend. We kinda stumbled upon some things and they seem to be really working well for this RPM Chassis. Any win is huge right now. They seem to be getting harder and harder to get. We have some big money races coming up. Hopefully we can put ourselves in position and be up front."
The Arctic Cat All Star Circuit of Champions presented by Mobil 1 will continue the month of September with a visit to Port Royal Speedway in Port Royal, Pennsylvania. The 'Speed Palace' will host the traveling All Stars for two, full nights of competition beginning with the $5,000-to-win, Night Before The Tuscarora 50 program on Friday, September 7. The weekend will conclude with the 51st annual Tuscarora 50 awarding a $51,000 top prize on Saturday, September 8. Saturday's total purse exceeds $100,000.
More news and notes regarding the 51st edition of the Tuscarora 50 at Port Royal Speedway will be released in the near future. Fans are encouraged to stay alert online at www.allstartsprint.com, as well as on all of the available social media networks.
Contingency Awards/Results: Wayne County Speedway – September 2, 2018:
Pete Jacobs Memorial
EMi Driver's Meeting: 35 entrants
State Water Heaters Warm-Ups: Tim Shaffer – 15.120 seconds
Lincoln Electric Fast Qualifier: Tim Shaffer – 15.043 seconds
Ford Performance Heat #1: Lee Jacobs
All Pro Aluminum Cylinder Heads Heat #2: Ryan Smith
Hunt Brothers Pizza Heat #3: Aaron Reutzel
Mobil 1 Heat #4: Hunter Schuerenberg
JE Pistons Dash #1: Ryan Smith
Wix Filters Dash #2: Aaron Reutzel
Classic Ink USA B-Main: George Hobaugh
Daido Engine Bearings Main Event Winner: Tim Shaffer
MSD Performance Hard Charger Award: Brandon Spithaler (+12)
(Lincoln Electric, Daido Engine Bearings, MSD Performance: Need decal to qualify for contingency award)
Qualifying
Group (A)
1. 11n-Parker Price-Miller, 15.254; 2. 4L-Cap Henry, 15.322; 3. 81-Lee Jacobs, 15.368; 4. 97-Broc Martin, 15.469; 5. A79-Brandon Wimmer, 15.478; 6. 3-Jac Haudenschild, 15.619; 7. 22-Brandon Spithaler, 15.798; 8. 9-Dean Jacobs, 15.821; 9. 9M-Jordan Ryan, 15.911
Group (B)
1. 22C-Cole Duncan, 15.141; 2. 5T-Travis Philo, 15.364; 3. 57X-Andrew Palker, 15.416; 4. 11-Ryan Smith, 15.458; 5. 7K-Cale Conley, 15.532; 6. C1-Clay Riney, 15.633; 7. 38K-Trey Jacobs, 15.773; 8. 35-Tyler Esh, 15.783; 9. 23JR-Jack Sodeman Jr., 15.921
Group (C)
1. 71-Gio Scelzi, 15.166; 2. 13-Paul McMahan, 15.319; 3. 87-Aaron Reutzel, 15.465; 4. 70-Dave Blaney, 15.474; 5. 40-George Hobaugh, 15.504; 6. 4-Brock Zearfoss, 15.504; 7. 70M-Henry Malcuit, 16.109; 8. 4B-Steve Butler, 16.314; 9. 4K-Kris Davis, NT
Group (D)
1. 49x-Tim Shaffer, 15.043; 2. 3G-Carson Macedo, 15.381; 3. 10H-Chad Kemenah, 15.406; 4. 97G-Hunter Schuerenberg, 15.462; 5. 5M-Max Stambaugh, 15.553; 6. 16-Danny Mumaw, 15.656; 7. 8M-TJ Michael, 15.877; 8. 23-Nick Patterson, 16.111
Heat #1 – Group (A) (8 Laps) – Top 5 Transfer
1. 81-Lee Jacobs [2]; 2. 4L-Cap Henry [3]; 3. 11N-Parker Price-Miller [4]; 4. 3-Jac Haudenschild [6]; 5. A79-Brandon Wimmer [5]; 6. 9M-Jordan Ryan [9]; 7. 97-Broc Martin [1]; 8. 22-Brandon Spithaler [7]; 9. 9-Dean Jacobs [8]
Heat #2 – Group (B) (8 Laps) – Top 5 Transfer
1. 11-Ryan Smith [1]; 2. 5T-Travis Philo [3]; 3. 57X-Andrew Palker [2]; 4. 22C-Cole Duncan [4]; 5. 7K-Cale Conley [5]; 6. 38K-Trey Jacobs [7]; 7. 23JR-Jack Sodeman Jr. [9]; 8. C1-Clay Riney [6]; 9. 35-Tyler Esh [8]
Heat #3 – Group (C) (8 Laps) – Top 5 Transfer
1. 87-Aaron Reutzel [2]; 2. 71-Gio Scelzi [4]; 3. 70-Dave Blaney [1]; 4. 13-Paul McMahan [3]; 5. 4-Brock Zearfoss [6]; 6. 40-George Hobaugh [5]; 7. 70M-Henry Malcuit [7]; 8. 4B-Steve Butler [8]
Heat #4 – Group (D) (8 Laps) – Top 5 Transfer
1. 97G-Hunter Schuerenberg [1]; 2. 10H-Chad Kemenah [2]; 3. 49X-Tim Shaffer [4]; 4. 3G-Carson Macedo [3]; 5. 5M-Max Stambaugh [5]; 6. 16-Danny Mumaw [6]; 7. 8M-TJ Michael [7]; 8. 23-Nick Patterson [8]
Dash #1 (4 Laps)
1. 11-Ryan Smith [1]; 2. 4L-Cap Henry [2]; 3. 97G-Hunter Schuerenberg [3]; 4. 5T-Travis Philo [4]; 5. 22C-Cole Duncan [5]
Dash #2 (4 Laps)
1. 87-Aaron Reutzel [1]; 2. 71-Gio Scelzi [3]; 3. 10H-Chad Kemenah [2]; 4. 49X-Tim Shaffer [5]; 5. 81-Lee Jacobs [4]
B-Main (12 Laps) – Top 4 Transfer
1. 40-George Hobaugh [2]; 2. 97-Broc Martin [1]; 3. 8M-TJ Michael [6]; 4. 22-Brandon Spithaler [10]; 5. 16-Danny Mumaw [3]; 6. 9-Dean Jacobs [14]; 7. C1-Clay Riney [9]; 8. 23-Nick Patterson [11]; 9. 9M-Jordan Ryan [5]; 10. 38K-Trey Jacobs [4]; 11. 4B-Steve Butler [12]; 12. 23JR-Jack Sodeman Jr. [7]; 13. 70M-Henry Malcuit [8]; 14. 35-Tyler Esh [13]; 15. 4K-Kris Davis [15]
A-Main (35 Laps)
1. 49X-Tim Shaffer [8]; 2. 11-Ryan Smith [1]; 3. 71-Gio Scelzi [4]; 4. 4L-Cap Henry [3]; 5. 87-Aaron Reutzel [2]; 6. 10H-Chad Kemenah [6]; 7. 97G-Hunter Schuerenberg [5]; 8. 3G-Carson Macedo [15]; 9. 22C-Cole Duncan [9]; 10. 13-Paul McMahan [14]; 11. 7K-Cale Conley [19]; 12. 22-Brandon Spithaler [24]; 13. 8M-TJ Michael [23]; 14. 5M-Max Stambaugh [20]; 15. 70-Dave Blaney [13]; 16. 11N-Parker Price-Miller [11]; 17. 9M-Jordan Ryan [25]; 18. 81-Lee Jacobs [10]; 19. 4-Brock Zearfoss [18]; 20. 57X-Andrew Palker [12]; 21. 97-Broc Martin [22]; 22. 5T-Travis Philo [7]; 23. A79-Brandon Wimmer [17]; 24. 40-George Hobaugh [21]; 25. 3-Jac Haudenschild [16] Lap Leaders: Ryan Smith (1), Aaron Reutzel (2), Ryan Smith (3-17), Tim Shaffer (18-35)
All Star Circuit of Champions Driver Standings: (after Wayne County Speedway on 9/2/2018)
1. Aaron Reutzel – 4818
2. Carson Macedo – 4804
3. Chad Kemenah – 4724
4. Paul McMahan – 4554
5. Dave Blaney – 4430
6. Cale Conley – 4190
7. Jac Haudenschild – 3952
8. Brandon Spithaler – 3914
9. Parker Price-Miller – 3848
10. Tyler Esh – 3648