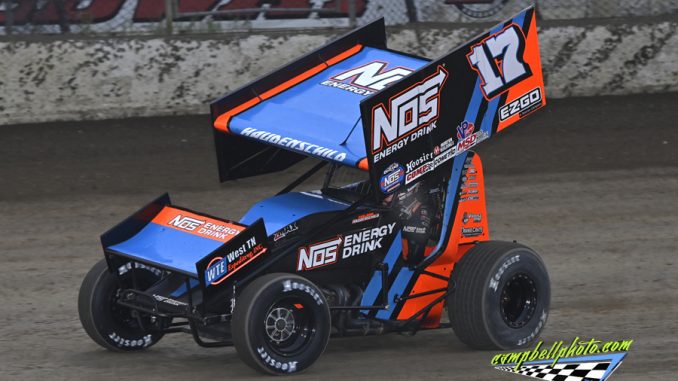 By T.J. Buffenbarger
ROSSBURG, Ohio (May 8, 2021) – Sheldon Haudenschild continued his family's legacy at Eldora Speedway winning World of Outlaws NOS Energy Drink Sprint Car Series feature during #letsracetwo Saturday night in spectacular fashion.
Haudenschild ran down Donny Schatz in the closing moments of the main event. Haudenschild used the high line of the racetrack to pass Schatz with two laps to go in turns three and four, denying Schatz the 300th World of Outlaws victory of his career.
The victory was Haudenschild's fourth of the 2021 season, and first World of Outlaws win of his career at Eldora.
"This has been on my list since 2017. We had a couple of good runs in the 93 (Haudenschild's family-owned car) and the 17. Its little different having podiums and top five finishes here compared to winning them. It's a lot harder and you've got to be perfect."
Haudenschild learned early by watching what Schatz was doing and took advantage of running second to be able to discover how fast the top lane was becoming late in the main event.
"Donny is the best in the business, and he schooled me early and I just got to watch him a little bit," Haudenschild said about the early stages of the main event. "Running second in these races is the place to be sometimes so you can see what is going on."
Ian Madsen and Giovanni Scelzi started on the front row for the 30-lap main event. Madsen and Scelzi exchanged the lead on the first lap with Madsen ending up front during the opening circuit.
The red flag appeared early when Sheldon's father Jac got upside down between turns one and two. Haudenschild walked away from the incident under his own power.
Madsen chose the inside line for the double file restart and was immediately under fire from Haudenschild for the lead. After a caution or Parker Price-Miller stopped in turn four Haudenschild found himself under fire from Schatz.
Schatz methodically worked the bottom of the track to take the lead through turns three and four on lap eight.
Two laps later the second red flag of the race appeared when Scelzi hit the wall in turn four and collected Carson Macedo, who had nowhere else to go getting upside down in the incident. Both drivers walked away from their cars but were unable to continue.
After an exchange of the lead with Haudenschild during the restart, Schatz began to pull away and appeared to be headed towards the long anticipated 300th World of Outlaws victory of his career, but Haudenschild had other ideas.
Over the final 10 laps Haudenschild chipped away at Schatz's lead. Coming off turn two with on lap 28 Haudenschild pulled alongside Schatz for the lead and drove around him off turn four coming to the white flag. Haudenschild drove away over the final circuit for the victory.
Schatz dropped second spot to Logan Schuchart, who started 21st, on the final circuit while Schatz held on for the final podium position. Ian Madsen and Schuchart's teammate Jacob Allen rounded out the top five.
Haudenschild credited his team for the victory, hoping that his current group can stay together to rival the success of some of the longer tenured combinations on the circuit.
"I think as long as we can keep this team together. You look at the 15, the 39, they have 15-20 years together as a team. That is what counts and gets you championships. If we can keep this group of guys together for a long period of time that's what will build a lot of success."
While the May feature win was nice, Haudenschild and his team are focused on the big races coming up in July at Eldora and the potential of two $175,000 paydays.
"This is right at the top of the list for sure. We wanted to get a win out of the way here. There is a big of July (at Eldora), and that is what we are focused on and working towards."
World of Outlaws NOS Energy Drink Sprint Car Series
Eldora Speedway
Rossburg, Ohio
Saturday May 8, 2021
Qualifying:
1. 2-David Gravel, 12.730
2. 9-James McFadden, 12.866
3. 83-Aaron Reutzel, 12.884
4. 15-Donny Schatz, 12.887
5. 21-Brian Brown, 12.906
6. 39-Daryn Pittman, 12.922
7. 11-Ian Madsen, 12.926
8. 2C-Wayne Johnson, 12.931
9. 49-Brad Sweet, 12.962
10. 18-Giovanni Scelzi, 13.004
11. 17-Sheldon Haudenschild, 13.023
12. 19-Parker Price-Miller, 13.034
13. 14-Kerry Madsen, 13.306
14. 26-Cory Eliason, 13.307
15. 5-Spencer Bayston, 13.040
16. 1A-Jacob Allen, 13.064
17. 7S-Jason Sides, 13.091
18. 41-Carson Macedo, 13.122
19. 15H-Sam Hafertepe Jr, 13.141
20. 13-Justin Peck, 13.186
21. 22-Jac Haudenschild, 13.188
22. 7BC-Tyler Courtney, 13.203
23. 10-Zeb Wise, 13.217
24. 11K-Kraig Kisner, 13.246
25. 1S-Logan Schuchart, 13.295
26. 97-Cole Duncan, 13.302
27. 35-Zach Hampton, 13.334
28. 24-Rico Abreu, 13.379
29. 19P-Paige Polyak, 13.384
30. W20-Greg Wilson, 13.460
31. 11N-Harli White, 13.468
32. 19M-Brent Marks, 13.494
33. 49D-Shawn Dancer, 13.552
34. 18X-Cole Macedo, 13.582
35. 20G-Noah Gass, 13.754
36. 18S-Bryce Schmitt, 14.471
37. 3Z-Brock Zearfoss, NT
Heat Race #1 (8 Laps):
1. 2-David Gravel
2. 49-Brad Sweet
3. 21-Brian Brown
4. 22-Jac Haudenschild[
5. 14-Kerry madsen
6. 1S-Logan Schuchart
7. 7S-Jason Sides
8. 49D-Shawn Dancer
DNS: 3Z-Brock Zearfoss
DNS: 19P-Paige Polyak
Heat Race #2 (8 Laps):
1. 18-Giovanni Scelzi
2. 41-Carson Macedo
3. 9-James McFadden
4. 7BC-Tyler Courtney
5. 26-Cory Eliason
6. W20-Greg Wilson
7. 97-Cole Duncan
8. 18X-Cole Macedo
9. 39-Daryn Pittman
Heat Race #3 (8 laps):
1. 11-Ian Madsen
2. 17-Sheldon Haudenschild
3. 83-Aaron Reutzel
4. 5-Spencer Bayston
5. 15H-Sam Hafertepe Jr,
6. 10-Zeb Wise
7.20G-Noah gass
8. 11N-Harli White
9. 35-Zach Hampton
Heat Race #4 (8 laps):
1. 15-Donny Schatz
2. 1A-Jacob Allen
3. 11K-Kraig Kinser
4. 2C-Wayne Johnson
5. 19M-Brent Marks
6. 24-Rico Abreu
7. 19-Parker Price-Miller
8. 13-Justin Peck
9. 18S-Bryce Schmitt
Dash (6 Laps):
1. 11-Ian Madsen
2. 18-Giovanni Scelzi
3. 1A-Jacob Allen
4. 17-Sheldon Haudenschild
5. 2-David Gravel
6. 41-Carson Macedo
7. 15-Donny Schatz
8. 49-Brad Sweet
Last Chance Showdown (12 Laps):
1. 1S-Logan Schuchart
2. 10-Zeb Wise
3. 19-Parker Price-Miller
4. 24-Rico Abreu
5. W20-Greg Wilson
6. 3Z-Brock Zearfoss
7. 7S-Jason Sides
8. 20G-Noah Gass
9. 13-Justin Peck
10. 18X-Cole Macedo
11. 11N-Harli White
12. 49D-Shawn Dancer
13. 18S-Bryce Schmitt
14. 97-Cole Duncan
15. 39-Daryn Pittman
16. 35-Zach Hampton
17. 19P-Paige Polyak
A-Main (30 Laps):
1. 17-Sheldon Haudenschild
2. 1S-Logan Schuchart
3. 15-Donny Schatz
4. 11-Ian Madsen
5. 1A-Jacob Allen
6. 21-Brian Brown
7. 2-David Gravel
8. 83-Aaron Reutzel
9. 7BC-Tyler Courtney
10. 19-Parker Price-Miller
11. 49-Brad Sweet
12. 3Z-Brock Zearfoss
13. 14-Kerry Madsen
14. 9-James McFadden
15. 24-Rico Abreu
16. 5-Spencer Bayston
17. 15H-Sam Hafertepe, Jr.
18. 19M-Brent MARKS
19. 18-Giovanni Scelzi
20. 41-Carson Macedo
21. 10-Zeb Wise
22. 26-Cory Eliason
23. 11K-Kraig Kinser
24. 22-Jac Haudenschild.