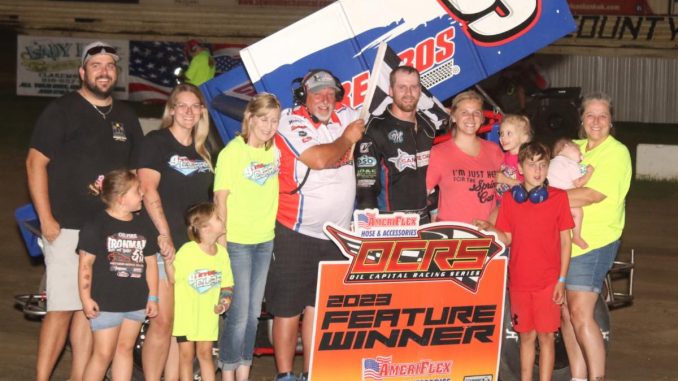 By John Rittenoure
KELLYVILLE, Okla. (July 15, 2023) – Kyle Clark wired the field becoming the eighth different AmeriFlex Hose & Accessories OCRS Sprint Car winner of the season Saturday at Creek County Speedway.
A total of 37 competitors checked in for the first race of the season at the Kellyville, Oklahoma oval and Clark led all 30 laps on the way to his 6th career OCRS victory.
Clark was chased by three-time champion Sean McClelland. McClelland moved into second on lap 4 but could not catch Clark. Fred Mattox started 11th and raced into third on lap 23. Series points leader Danny Wood came from 10th starting to fourth on lap 26 and three-time winner Rees Moran charged from 16th to round out the top five.
Joe Bob Lee won the first of two B mains earning him a A main starting spot where he climbs to a 9th place finish. Moran won the 2nd B main.
Kinzer Edwards won the opening heat race in his first start of the season. Clark, Johnny Kent, Casey Wills and Corey McGehee also won heats.
AmeriFlex Hose & Accessories OCRS Sprint Car Results
Creek County Speedway – Kellyville, Oklahoma
July 15, 2023
AmeriFlex Hose Accessories A Feature 1 (30 Laps): 1. 9$-Kyle Clark[2]; 2. 1-Sean McClelland[3]; 3. 26M-Fred Mattox[11]; 4. 55W-Danny Wood[10]; 5. 22M-Rees Moran[16]; 6. 55-Johnny Kent[4]; 7. 28-Joe Wood Jr[20]; 8. 7F-Kinzer Edwards[9]; 9. 5-Joe Bob Lee[15]; 10. 1T-Joshua Tyre[18]; 11. 38-Jimmy Forrester[17]; 12. 31-Casey Wills[1]; 13. 29-Baron Silva[13]; 14. 8R-Ryker Pace[19]; 15. 8-Alex Sewell[5]; 16. 50Z-Zach Chappell[14]; 17. 17E-Blake Edwards[8]; 18. 55M-Corey McGehee[6]; 19. 20S-Sheldon Barksdale[12]; 20. 6-Cody Carter[7]
Hoosier Racing Tire B Feature 1 (12 Laps): 1. 5-Joe Bob Lee[1]; 2. 38-Jimmy Forrester[3]; 3. 8R-Ryker Pace[12]; 4. 08E-Elizabeth Phillips[4]; 5. 8X-Austin Shores[11]; 6. 2L-Brandon Leland[7]; 7. 17-Wout Hoffmans[8]; 8. 33-Justin Patocka[9]; 9. 85-Gage Winters[10]; 10. 22RL-Gage Laney[5]; 11. 9K-Kody Jenkins[6]; 12. 21H-Jared Higgins[2]
Smileys B Feature 2 (12 Laps): 1. 22M-Rees Moran[7]; 2. 1T-Joshua Tyre[1]; 3. 28-Joe Wood Jr[10]; 4. 5$-Danny Smith[3]; 5. 12M-Mitchell Barros[6]; 6. 22T-Frank Taft[2]; 7. 69-Greg York[4]; 8. 22C-Charlie Crumpton[5]; 9. 45-Luke May[8]; 10. 9-Emilio Hoover[9]; 11. 39-Kimberly Tyre[11]
Schure Built Suspensions Heat 1 (8 Laps): 1. 7F-Kinzer Edwards[1]; 2. 8-Alex Sewell[4]; 3. 55W-Danny Wood[5]; 4. 1T-Joshua Tyre[6]; 5. 22C-Charlie Crumpton[3]; 6. 22RL-Gage Laney[7]; 7. 45-Luke May[8]; 8. 8R-Ryker Pace[2]
Lightning Wings Powder Coating Heat 2 (8 Laps): 1. 9$-Kyle Clark[2]; 2. 17E-Blake Edwards[4]; 3. 26M-Fred Mattox[5]; 4. 69-Greg York[1]; 5. 08E-Elizabeth Phillips[6]; 6. 17-Wout Hoffmans[3]; 7. 33-Justin Patocka[8]; 8. 39-Kimberly Tyre[7]
Smith Titanium Heat 3 (8 Laps): 1. 55-Johnny Kent[2]; 2. 5-Joe Bob Lee[1]; 3. 20S-Sheldon Barksdale[5]; 4. 5$-Danny Smith[3]; 5. 38-Jimmy Forrester[7]; 6. 2L-Brandon Leland[6]; 7. 85-Gage Winters[4]
DSO Heat 4 (8 Laps): 1. 31-Casey Wills[4]; 2. 1-Sean McClelland[6]; 3. 29-Baron Silva[5]; 4. 50Z-Zach Chappell[7]; 5. 9K-Kody Jenkins[3]; 6. 9-Emilio Hoover[1]; 7. 8X-Austin Shores[2]
Heat 5 (8 Laps): 1. 55M-Corey McGehee[2]; 2. 6-Cody Carter[7]; 3. 22T-Frank Taft[1]; 4. 21H-Jared Higgins[6]; 5. 12M-Mitchell Barros[3]; 6. 22M-Rees Moran[5]; 7. 28-Joe Wood Jr[4]
Lap Leaders: Kyle Clark 1-30
Margin of Victory: 3.832
D&G Contracting Hard Charger: Joe Wood, Jr. +13