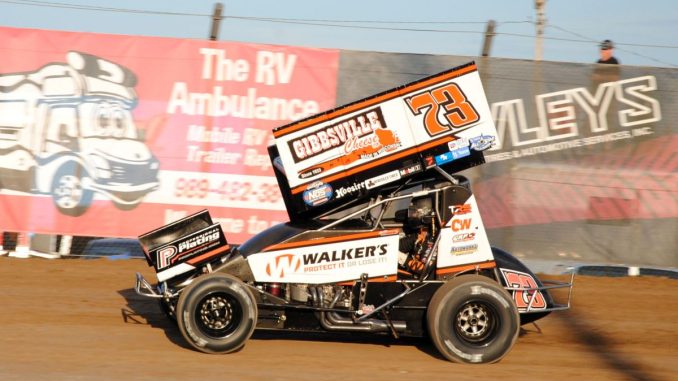 BEAVER DAM, Wi. (September 1, 2023) — Scotty Theil won the Bumper to Bumper Interstate Racing Association portion of the Harry Neitzel Tribute Friday at the Dodge County Fairgrounds. Thiel moved up from fifth starting position for his first feature victory of the 2023 season.
Brenham Crouch, Bill Balog, Jordan Goldesberry, and Joel Myers Jr. rounded out the top five.
Brandon Berth won the Midwest Sprint Car Association feature from the pole position over eighth starting Brandon McMullen. Scotty Neitzel charged from 14th to round out the podium.
Harry Neitzel Tribute
Dodge County Fairgrounds Speedway
Beaver Dam, Wisconsin
Friday, September 1, 2023
Bumper to Bumper Interstate Racing Association
Qualifying
1. 17B-Bill Balog, 16.291[4]
2. 73-Scotty Thiel, 16.447[9]
3. 1-Brenham Crouch, 16.756[17]
4. 10W-Mike Reinke, 16.868[21]
5. 9K-Kyle Schuett, 16.872[1]
6. 49-Josh Schneiderman, 16.884[20]
7. 65-Jordan Goldesberry, 16.915[7]
8. 47-Todd King, 16.940[15]
9. 25T-Travis Arenz, 17.002[8]
10. 25-Danny Schlafer, 17.019[22]
11. 2W-Scott Neitzel, 17.023[3]
12. 46JR-Joel Myers Jr, 17.054[13]
13. 3N-Jake Neuman, 17.078[12]
14. 87A-Austin Hartmann, 17.088[18]
15. 23-Russel Borland, 17.096[5]
16. 5J-Jeremy Schultz, 17.183[14]
17. U2-Jack Vanderboom, 17.245[2]
18. 19J-Jett Mann, 17.263[6]
19. 68-Dave Uttech, 17.340[16]
20. 79-Ian Madsen, 17.342[19]
21. 26-Tyler Tischendorf, 17.516[10]
22. 39V-William Huck, 19.778[23]
23. 24-Scott Conger[11]
Heat Race #1 (8 Laps)
1. 25-Danny Schlafer[1]
2. 65-Jordan Goldesberry[2]
3. 17B-Bill Balog[4]
4. 5J-Jeremy Schultz[6]
5. 10W-Mike Reinke[3]
6. 3N-Jake Neuman[5]
7. 68-Dave Uttech[7]
8. 39V-William Huck[8]
Heat Race #2 (8 Laps)
1. 73-Scotty Thiel[4]
2. 2W-Scott Neitzel[1]
3. 47-Todd King[2]
4. 9K-Kyle Schuett[3]
5. 87A-Austin Hartmann[5]
6. 79-Ian Madsen[7]
7. U2-Jack Vanderboom[6]
DNS: 24-Scott Conger
Heat Race #3 (8 Laps)
1. 46JR-Joel Myers Jr[1]
2. 1-Brenham Crouch[4]
3. 49-Josh Schneiderman[3]
4. 23-Russel Borland[5]
5. 19J-Jett Mann[6]
6. 26-Tyler Tischendorf[7]
7. 25T-Travis Arenz[2]
Dash #1 (4 Laps)
1. 1-Brenham Crouch[1]
2. 17B-Bill Balog[3]
3. 73-Scotty Thiel[5]
4. 46JR-Joel Myers Jr[2]
5. 47-Todd King[4]
Dash #2 (4 Laps)
1. 65-Jordan Goldesberry[2]
2. 49-Josh Schneiderman[1]
3. 25-Danny Schlafer[4]
4. 10W-Mike Reinke[3]
5. 9K-Kyle Schuett[5]
A-Main (20 Laps)
1. 73-Scotty Thiel[5]
2. 1-Brenham Crouch[1]
3. 17B-Bill Balog[3]
4. 65-Jordan Goldesberry[2]
5. 46JR-Joel Myers Jr[7]
6. 49-Josh Schneiderman[4]
7. 10W-Mike Reinke[8]
8. 79-Ian Madsen[17]
9. 9K-Kyle Schuett[10]
10. 47-Todd King[9]
11. 23-Russel Borland[12]
12. 5J-Jeremy Schultz[13]
13. 2W-Scott Neitzel[11]
14. 25T-Travis Arenz[22]
15. 3N-Jake Neuman[16]
16. U2-Jack Vanderboom[18]
17. 19J-Jett Mann[15]
18. 87A-Austin Hartmann[14]
19. 25-Danny Schlafer[6]
20. 68-Dave Uttech[19]
21. 26-Tyler Tischendorf[20]
22. 39V-William Huck[21]
23. 24-Scott Conger[23]
Midwest Sprint Car Association
Qualifying
1. 98-Brandon McMullen, 19.341[5]
2. 51-Chris Larson, 19.553[7]
3. 21H-TJ Haddy, 19.631[1]
4. 69-Bill Taylor, 19.658[9]
5. 68-Josh Bilicki, 19.694[6]
6. 85J-Logan Julien, 19.723[4]
7. 69S-TJ Smith, 19.776[10]
8. 11-Tony Wondra, 19.876[3]
9. 42-Brett Peterson, 20.314[8]
10. 7-Scott Neitzel, 20.324[2]
Qualifying 2
1. 35-Ben Schmidt, 19.395[3]
2. 4-Alex Pokorski, 19.406[8]
3. 63K-Kevin Karnitz, 19.638[2]
4. 6K-Kurt Davis, 19.641[9]
5. 22B-Brandon Berth, 19.649[4]
6. 66T-Tristan Koenings, 19.756[5]
7. 53A-Paul Pokorski, 19.779[1]
8. 08-Katelyn Krebsbach, 19.881[7]
9. 12P-JJ Pagel, 20.979[6]
Heat Race #1 (8 Laps)
1. 21H-TJ Haddy[2]
2. 98-Brandon McMullen[4]
3. 69-Bill Taylor[1]
4. 51-Chris Larson[3]
5. 11-Tony Wondra[8]
6. 85J-Logan Julien[6]
7. 42-Brett Peterson[9]
8. 7-Scott Neitzel[10]
9. 69S-TJ Smith[7]
10. 68-Josh Bilicki[5]
Heat Race #2 (8 Laps)
1. 35-Ben Schmidt[4]
2. 63K-Kevin Karnitz[2]
3. 6K-Kurt Davis[1]
4. 4-Alex Pokorski[3]
5. 22B-Brandon Berth[5]
6. 66T-Tristan Koenings[6]
7. 53A-Paul Pokorski[7]
8. 08-Katelyn Krebsbach[8]
9. 12P-JJ Pagel[9]
A-Main (20 Laps)
1. 22B-Brandon Berth[1]
2. 98-Brandon McMullen[8]
3. 7-Scott Neitzel[14]
4. 4-Alex Pokorski[2]
5. 11-Tony Wondra[6]
6. 63K-Kevin Karnitz[7]
7. 53A-Paul Pokorski[15]
8. 69-Bill Taylor[5]
9. 69S-TJ Smith[18]
10. 51-Chris Larson[3]
11. 68-Josh Bilicki[19]
12. 12P-JJ Pagel[17]
13. 08-Katelyn Krebsbach[16]
14. 85J-Logan Julien[12]
15. 6K-Kurt Davis[4]
16. 21H-TJ Haddy[9]
17. 42-Brett Peterson[11]
18. 35-Ben Schmidt[10]
19. 66T-Tristan Koenings[13]