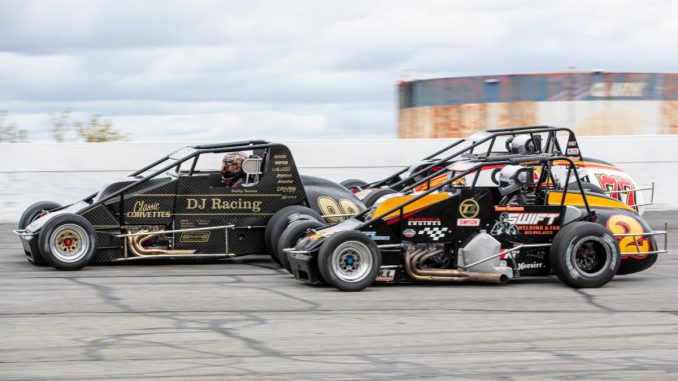 From USAC
Brownsburg, Indiana (October 15, 2023)………Familiar territory and new found glory was uncovered during Sunday's rain-postponed Howard Companies Championship Saturday/Sunday USAC Silver Crown finale at Lucas Oil Indianapolis Raceway Park.
For Tanner Swanson, it was business as usual at the .686-mile paved oval as he took over the lead from older brother Kody Swanson on lap 24, then led the remaining 77 laps to earn a record eighth career USAC Silver Crown victory at IRP, which ranks number one all-time.
For Logan Seavey, after two consecutive seasons of close encounters with the USAC Silver Crown championship, on this afternoon, the third time was finally the charm. Seavey finished sixth in the 100-lapper to secure the crown for the first time in his career, five years removed from a USAC National Midget title in 2018.
Tanner (Kingsburg, Calif.) piloted his Bowman Racing/Swift Fab & Welding/Beast/Kistler Chevy to a second consecutive season finale victory at IRP. His 10th overall win in his USAC Silver Crown career moved him to 11th on the all-time list alongside past series champions Gary Bettenhausen and Mike Bliss.
Nine of Tanner's 10 series triumphs have come with the Bowman Racing team who tabbed Tanner as their driver a decade ago. As it turned out, the pairing of a part-time USAC Silver Crown driver and a part-time USAC Silver Crown entrant was a perfect match for full-time success.
"This team is awesome," Tanner exclaimed. "When we started running for them, this team hadn't won a Crown race. Now we've won eight of them here and one at Gateway. It's been an awesome run, and who would've thought when Kody and I were 12 and 9 years old in Junior Sprints that we'd be racing on this stage and competitively?"
The winningest brothers in USAC Silver Crown history shared the lead during the first quarter of the event. Third-starting Tanner found himself shuffled back to fifth on the opening lap while pole sitter Kody burst out to lead lap one.
Kody played a key role in the title fight entering IRP, trailing Seavey by 16 points in the standings. Kody shaved three markers off Seavey's advantage by virtue of capturing the pole during Saturday's Honest Abe Roofing qualifying session and was keen on grabbing three more bonus points for the most laps led on Sunday in addition to 70 more for winning the main event.
It appeared to be Kody's day for a substantial period of time as he rushed out to a four to five car length lead over outside front row starter Bobby Santos. Meanwhile, fifth-starting Seavey nearly had an all-out fracas on the opening lap, which sent him into a brief tailspin back to ninth.
"I got a really bad start," explained Seavey, driver of the Rice Motorsports-Abacus Racing/DiaEdge Mitsubishi Materials – STIDA.com – CG CPAs/Beast/Felker Chevy. "I ran in the back of Tanner there and about crashed and lost a bunch of track position. By the time I got back to where I needed to be, the leaders were gone, so I just rode around and knew that if I tried to run them down, I'd kill my car. So, I just rode around waiting for a yellow."
Tanner too found himself in the same boat as Seavey, dropping back to fifth before steadily moving his way forward to fourth past C.J. Leary on lap 11, then by Justin Grant for third on the 15th go around.
By lap 24, Kody's car was becoming extremely tight in the turns, allowing Santos and Tanner to pull right to the tail of Kody. By turn two, Santos took his shot, driving under Kody to take the lead for about a five second stretch before Tanner pulled off a two-for-one deal by blazing past the inside of both Kody and Santos on the back straightaway to take over the point. It was a fantastic and prompt recovery for Tanner after the early hardship.
"We had such a terrible start, but it kind of ended up being nice," Tanner revealed. "I got to sit there behind C.J. for a little bit and got to see how he was handling, then got to see Justin, then got to Bobby and Kody. I saw that I had a little bit better car than Bobby and knew that I was going to have time. It's hard to pass around this place and those two guys are the best there is at it. We were lucky to double up and get both of them at the same time."
In the ensuing laps, Kody's handling issues became undeniable as he fell dramatically off the pace, and on lap 26, he kissed the outside wall between turns one and two with his right-side tires, dropping him back to fifth, 10 seconds out of the lead, and just one spot ahead of Seavey in sixth, which positioned Seavey back into the driver's seat of the championship.
When 14th running Trey Burke's car went up in smoke on the 44th lap to bring out the first caution of the event, Kody dipped into pit lane under yellow to allow the Doran-Binks Racing crew to make an air pressure adjustment on the right rear tire. Kody returned to the track just in the nick of time to beat the pace truck and remain on the lead lap, but ducked back into the pits a lap later as the crew went right back to work on the right rear.
Returning to the field in the 11th spot at the tail end of the lead lap, Kody soon found himself in serious trouble on the lap 54 restart. Entering the low side of turn one, Kody's left front wheel locked up, sending a smoke signal into the crisp, cool air and right into the path of oncoming Derek Bischak. As a result, Bischak slammed the wall and received significant front-end damage that knocked him out of the race, while Swanson bounced off the wall and kept going.
Seavey, now running fifth at the midway point, felt as comfortable as he had all day, but he also knew he couldn't allow himself to be that comfortable, knowing that Kody was still back there on the lead lap despite his recent struggle. Seavey gained fourth on lap 63 when he charged around the outside of Leary in turns three and four. Of utmost importance, the fourth spot was crucial to Seavey and ingrained in his mind throughout the day, knowing that if he finished there, he would clinch the title regardless of where Kody finished.
In the meantime, Kody had changed up his line to more of a lower entry on each end of the racetrack. He utilized the new path to race his way by Dakoda Armstrong, Kyle O'Gara, Kaylee Bryson, Mario Clouser and Davey Hamilton Jr. in quick succession to climb his way up from 11th to 6th in an 11-lap span by lap 73.
By that point, race leader Tanner had the field covered to the tune of more than four seconds, but the battle raged on for fourth, fifth and sixth between Seavey, Leary and Kody who were all in Blue Angels formation under a blanket, which many needed on this day due to the cool temperatures. Leary swiped fourth from Seavey on lap 83, but Seavey remained tight on Leary's bumper all while Kody kept poking his nose along the side of Seavey lap after lap as they split around the lapped car of Travis Welpott with just 13 laps to go in a particularly close encounter of the third turn kind.
While Tanner Swanson's lead ballooned to seven seconds at the front of the field with less than 10 laps remaining, Kody Swanson was throwing everything he had in the tank at Seavey to work his way up another spot. Instead, with three to go, Kody grabbed two more as he darted around the outside of Seavey in turn three, then cut to the inside of Leary off turn four to go sixth to fourth in one fell swoop.
It was there in that moment that Seavey conceded the spot and fell into line, essentially saying "no más," as he fell into line and finished the last couple laps sans stress for himself, his spotter and the entire crew.
"I saved my stuff to make sure I had a little bit there in the end if (Kody) came back through," Seavey said of his plan after Kody pitted at mid-race. "I was able to hold him off as long as I needed to but then had to settle in those last few and make sure we finished. It sucks a little bit because I feel like this is the best we've ever been here and I'd like to go race up there with the guys up front, but there comes a point when you've got to look at the big picture and settle in there and finish the race."
Tanner finished off a dominant victory by a whopping 9.799 second margin over Bobby Santos, Justin Grant, Kody Swanson and C.J. Leary. Logan Seavey came home sixth to win the championship by a seven-point margin over Kody, making it the eighth closest USAC Silver Crown points race in the 53-year history of the series.
Additionally, Seavey provided his Rice Motorsports-Abacus Racing team the series entrant title for 2023. For Rice, it's his second Silver Crown entrant title after also scoring in 2021 while Abacus earned its first, and very well could soon double up with Seavey as they both currently lead the USAC NOS Energy Drink Midget National Championship standings.
Furthermore, Russ Gamester (Peru, Ind.) set an all-time record on Sunday at IRP with his 213th career series start dating back to 1989. Gamester now owns the record for most career series starts, breaking a tie he had held with Brian Tyler.
===============
USAC SILVER CROWN NATIONAL CHAMPIONSHIP RACE RESULTS: October 14-15, 2023 – Lucas Oil Indianapolis Raceway Park – Brownsburg, Indiana – .686-Mile Paved Oval – Howard Companies Championship Saturday & Sunday
HONEST ABE ROOFING QUALIFYING: 1. Kody Swanson, 77, Doran/Binks-20.838; 2. Bobby Santos, 98, DJ-20.845; 3. Tanner Swanson, 2, Bowman-20.914; 4. Justin Grant, 91, Hemelgarn-20.958; 5. Logan Seavey, 22, Rice/Abacus-20.969; 6. Mario Clouser, 92, Kazmark-21.187; 7. Russ Gamester, 51, Gamester-21.193; 8. C.J. Leary, 6, Klatt-21.257; 9. Davey Hamilton Jr., 19, Legacy-21.403; 10. Kyle O'Gara, 67, SFHR-21.449; 11. Kaylee Bryson, 26, Pierce-21.530; 12. Dakoda Armstrong, 5, C & A-21.664; 13. Derek Bischak, 131, Bischak-21.674; 14. Kyle Robbins, 7, KR-21.676; 15. Tanner Berryhill, 14, Hamilton/SRG-21.776; 16. Trey Burke, 11, Hamilton/SRG-21.859; 17. Kyle Steffens, 08, Steffens-21.975; 18. Bryan Gossel, 06, Gossel-22.115; 19. Gregg Cory, 32, Williams-22.301; 20. Trey Osborne, 81, BCR-22.379; 21. Travis Welpott, 18, Welpott-24.321; 22. Tom Paterson, 111, Paterson-NT; 23. Dave Berkheimer, 31, Berkheimer-NT; 24. Mike McVetta, 94, RAM-NT; 25. Taylor Ferns, 555, Ferns-NT
FEATURE: (100 laps, starting positions in parentheses) 1. Tanner Swanson (3), 2. Bobby Santos (2), 3. Justin Grant (4), 4. Kody Swanson (1), 5. C.J. Leary (8), 6. Logan Seavey (5), 7. Kaylee Bryson (11), 8. Davey Hamilton Jr. (9), 9. Mario Clouser (6), 10. Dakoda Armstrong (12), 11. Kyle O'Gara (10), 12. Trey Osborne (19), 13. Kyle Steffens (16), 14. Bryan Gossel (17), 15. Travis Welpott (20), 16. Gregg Cory (18), 17. Derek Bischak (13), 18. Trey Burke (15), 19. Russ Gamester (7), 20. Tanner Berryhill (14), 21. Tom Paterson (21). 44:04.426
FEATURE LAP LEADERS: Laps 1-23 Kody Swanson, Laps 24-100 Tanner Swanson.
FINAL USAC SILVER CROWN NATIONAL CHAMPIONSHIP POINTS: 1-Logan Seavey-676, 2-Kody Swanson-669, 3-Justin Grant-561, 4-C.J. Leary-462, 5-Kaylee Bryson-447, 6-Mario Clouser-441, 7-Taylor Ferns-399, 8-Bobby Santos-382, 9-Matt Westfall-382, 10-Trey Burke-334.
OVERALL PROSOURCE PASSING MASTER POINTS: 1-Daison Pursley-186, 2-Logan Seavey-144, 3-Justin Grant-120, 4-Emerson Axsom-117, 5-Shane Cottle-106, 6-Matt Westfall-105, 7-Robert Ballou-100, 8-Chase Stockon-95, 9-Brady Bacon-92, 10-Mitchel Moles-85.
CONTINGENCY AWARD WINNERS:
Dirt Draft Practice Fastest Driver: Bobby Santos (20.665)
Honest Abe Roofing Fast Qualifier: Kody Swanson (20.838)
Green APU Green Flag Challenge First Lap Leader: Kody Swanson
Hard Charger: Trey Osborne (19th to 12th)