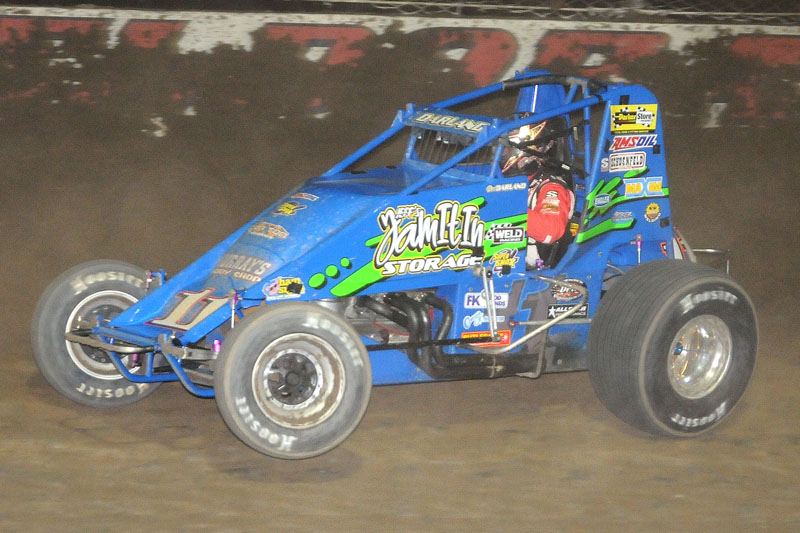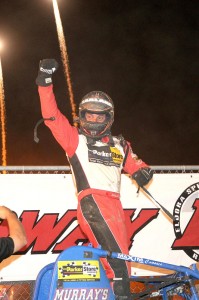 By T.J. Buffenbarger, results from Dick Jordan
New Weston, OH – (July 28, 2012) — Dave Darland won the 50th anniversary AMSOIL USAC National Sprint Car Series feature Saturday night at Eldora Speedway. Darland took the lead from Bryan Clauson and held off the field during a restart with four laps to go for the victory and the $10,500 payoff.
"I have to thank the crowd for the great response; I love Eldora, and love racing here. Jeff Walker and the crew gave me a great race car," said Darland. "We got to going good after a few laps, had a great race car, and the track preparation tonight was great and the track was fast."
Coleman Gulick and Darland started on the front row for the 50-lap feature event. Gulick led the first three laps. Darland and Clauson battled for second on lap one before Clauson got a run on the low side to take the position. On lap four Clauson used that same line to take the lead off turn four. Gulick used his momentum to take the spot down the back stretch, but Gulick bobbled in turns three and four and allowed Clauson to take the lead. Darland disposed of Clauson on lap six and set sail after Clauson.
By lap 16 Clauson encountered heavy traffic and Darland rapidly closed in. On lap 23 Darland made his move driving to the inside of Clauson to take the lead through turns one and two. Darland opened up some distance between himself and Clauson until Gulick stopped on the front stretch in a cloud of smoke, bringing out the caution flag. At that point USAC officials threw the red flag for teams to top off fuel. During the red flag Thomas Meseraull and Hunter Schuerenberg changed tires and went to the tail of the field.
During the restart Clauson dove to the inside of Darland going into turn one but could not make the pass. The green was short lived though as Tracy Hines, who was running in the top five, jumped the cushion and made a tremendous save to keep his car out of the wall. In the process Hines packed his right rear with mud and slowed to a stop on the front stretch to bring out the caution flag. Hines went to the pit area to make repairs and was able to make the restart. Bud Kaeding, who was also running up front at the time, went pit side with a mechanical issue.
Up front Darland continued to lead Clauson, but behind them Robert Ballou was making an inspired drive to the front of the field after starting last in the B-Main. Ballou battled his way into the top five racing with Hagen and 20th starting Chase Stockton for fifth. Ballou moved into fifth using the cushion on lap 34. By lap 38 Ballou had moved into fourth and disposed of Jon Stanbrough for third coming off turn four when Stanbrough got sideways.
As the laps wound down Clauson began realing in Darland while Ballou was a sraightaway behind. Then with four laps to go Ballou's run ended as he lost power going down the back stretch, bringin out the caution flag. During the restart Darland's motored away and took the victory over Clauson, Stanbrough, Stockon, and Meseraull recovering from his tire change.
Justin Grant was the fastest qualifier turning a lap of 15.508 seconds at an average speed of 116.069 miles per hour around the high banked half-mile oval. After qualifications Grant spun the Eldora, "Wheel of Misfortune" with the wheel stopping on a full field invert for the heat race events. Stanbrough, Darland, Clauson, and Gulick won the heat race events. Damion Gardner won the B-Main event.
In the Engine Pro NRA Sprint Invaders under card Tony Stewart took the lead from Kyle Sauder in traffic with two laps to go to win the non-stop 20-lap feature event. Randy Hannagan was the fastest qualifier for the Engine Pro NRA Sprint Invaders and won the first heat race. Tony Stewart and Devon Dobbie also won heat race events.
"I started to figure out how to get through the bumps and caught the cushion," said Stewart. "The tTop three got away from us the first couple of laps, slid the wing back, and got the car snugged up." "Its always cool to win here, probably the last thing I'm going to win all weekend. Thank the fans. Who was more fun to watch, Darland or Ballou, what an awesome 50 laps race. I can't wait to see them do it again."
Summer Sprint Car Shootout presented by NAPA Auto Parts
AMSOIL USAC National Sprint Car Series and Engine Pro National Racing Alliance Sprint Invaders
Eldora Speedway – New Weston, OH
Saturday July 28th, 2012
AMSOIL USAC National Sprint Car Series Results
AMSOIL USAC NATIONAL SPRINT CAR RACE RESULTS: July 28, 2012 – Rossburg, Ohio – Eldora Speedway – NAPA Auto Parts "Summer Sprint Car Shootout"
QUALIFYING: 1. Justin Grant, 40, Hery-15.508; 2. Tracy Hines, 4, Hines-15.526; 3. Darren Hagen, 69, Dynamics-15.703; 4. Bobby East, 5E, East-15.714; 5. Daron Clayton, 92, Clayton-15.718; 6. Landon Simon, 45, Simon-15.752; 7. Chase Stockon, 32, Stockon-15.755; 8. Jerry Coons Jr., 71p, Phillips-15.759; 9. Levi Jones, 20, Stewart/Curb-Agajanian-15.760; 10. Bryan Clauson, 7, CTR/BCI/Curb-Agajanian-15.778; 11. Damion Gardner, 71, DG-15.820; 12. Bud Kaeding, 29, BK-15.891; 13. Hunter Schuerenberg, 35, Byram-15.941; 14. Kevin Thomas Jr., 9k, Black Jack-15.979; 15. Thomas Meseraull, 5, Baldwin-16.008; 16. Mike Brecht, 9x, SC-16.017; 17. Kody Swanson, 19, Slinkard-16.018; 18. Matt Westfall, 54, Westfall-16.031; 19. Robert Ballou, 81, MPHG-16.038; 20. Coleman Gulick, 14, Gulick-16.052; 21. Jon Stanbrough, 21x, Roberts/Tate-16.071; 22. Dallas Hewitt, 2m, Marshall-16.143; 23. Dave Darland, 11, Walker-16.241; 24. C.J. Leary, 30, Leary-16.255; 25. Joe Bares, 19x, Test-16.276; 26. Sheldon
Haudenschild, 93, Haudenschild-16.339; 27. Scotty Weir, 22s, Simon-16.339; 28. Brandon Whited, 15, Whited-16.360; 29. Todd Kane, 78, Kane-16.390; 30. Mike Miller, 82, Miller-16.507; 31. Dustin Smith, 37, Conaway-16.694; 32. Brandon Ferguson, 15x, Ferguson-16.946; 33. Mark Cassella, 91, Gagliardi-16.967; 34. Derek Hastings, 32m, Marshall-17.175; 35. Lewie Christian, 8, Christian-17.411; 36. Tom Rhoades, 31m, Marshall-NT.
FIRST HEAT: (10 laps) 1. Stanbrough, 2. Schuerenberg, 3. Grant, 4. Jones, 5. Kane, 6. Swanson, 7. Bares, 8. Clayton, 9. Cassella. 2:12.43
SECOND HEAT: (10 laps) 1. Clauson, 2. Hines, 3. Miller, 4. Thomas, 5. Hewitt, 6. Hastings, 7. Simon, 8. Haudenschild, 9. Westfall. 2:13.02
THIRD HEAT: (10 laps) 1. Darland, 2. Meseraull, 3. Hagen, 4. Smith, 5. Gardner, 6. Weir, 7. Stockon, 8. Christian, 9. Ballou. NT
FOURTH HEAT: (10 laps) 1. Gulick, 2. Kaeding, 3. Coons, 4. Leary, 5. East, 6. Brecht, 7. Rhoades, 8. Ferguson, 9. Whited. NT
B MAIN: (12 laps) 1. Gardner, 2. Stockon, 3. Weir, 4. Hewitt, 5. Ballou, 6. Simon, 7. Westfall, 8. Haudenschild, 9. Bares, 10. Hastings, 11. Ferguson, 12. Cassella, 13. Christian, 14. Rhoades, 15. Brecht, 16. Kane, 17. Swanson. NT
FEATURE: (50 laps) 1. Dave Darland, 2. Bryan Clauson, 3. Jon Stanbrough, 4. Chase Stockon, 5. Thomas Meseraull, 6. Darren Hagen, 7. Dustin Smith, 8. Damion Gardner, 9. Levi Jones, 10. Tracy Hines, 11. Jerry Coons Jr., 12. Scotty Weir, 13. C.J. Leary, 14. Dallas Hewitt, 15. Robert Ballou, 16. Hunter Schuerenberg, 17. Justin Grant, 18. Bud Kaeding, 19. Coleman Gulick, 20. Kevin Thomas Jr., 21. Mike Miller, 22. Bobby East, 23. Daron Clayton. NT
——————————–
**Whited flipped during the fourth heat. K.Swanson flipped during the B Main. Brecht flipped during the B Main.
FEATURE LAP LEADERS: Laps 1-3 Gulick, Laps 4-22 Clauson, Laps 23-50 Darland.
NEW AMSOIL NATIONAL SPRINT POINTS: 1-Stanbrough-1,198, 2-Jones-1,192, 3-Darland-1,115, 4-Clauson-1,012, 5-Gardner-1,010, 6-Hines-945, 7-Schuerenberg-893, 8-Ballou-884, 9-Thomas-877, 10-Stockon-876.
NEXT AMSOIL NATIONAL SPRINT RACE: August 3 – Eagle (NE) Raceway
Photo Gallery