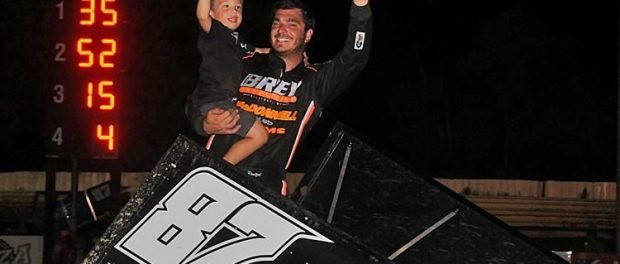 n Hulbert
SAPULPA, Okla. (June 15, 2017) — Aaron Reutzel was untouchable on Thursday night, earning his second Lucas Oil American Sprint Car Series National Tour presented by the MAVTV Motorsports Network A-Feature win of the 2017 season.
Winning at Creek County Speedway in Round 5 of the 2017 ASCS Sizzlin' Summer Speedweek, the win is Aaron's first National Tour triumph at the Oklahoma quarter-mile in the tour's 24th visit since 1994.
"Carson told me today he wanted to stand on the wing, so when we went up the pill draw, I told him to get us the number one and I think I can get us up there," said Reutzel with a smile as his son stood jubilant in Victory Lane at his side.
Winning the drag race to the first turn, the start would take a repeat as three cars stacked up off the fourth turn. Beating out Seth Bergman again, Reutzel stuck the left side tires of his Dissolvalloy No. 87 on the hub as the field slowed again with a single lap complete.
Quickly building his lead, Aaron found the back of the field on the 10th rotation. Picking his way around slower cars, the 2015 Lucas Oil ASCS National Tour Champion took in a few observations of where other cars were running.
"I was watching a couple of cars. Mainly Josh [Baughman] was trying to rip the top and I know if anyone can do it, he can, and he really couldn't make it work so I knew there was no way those guys were going to pass me."
Keeping his advantage at least 7-10 car lengths, despite a caution on Lap 16, things looked like they could turn interesting as the race closed again on Lap 21 for Sam Hafertepe who spun to a stop in the first turn.
With Seth Bergman on his rear bumper, Aaron had to hit his marks perfectly; which he did to eventually cross 1.224 seconds ahead of the Corridor Electric No. 23.
"I knew the start was going to crucial to who was going to win this race. I've been in that situation before and got the upper hand, but this time Aaron got the start. The bottom was where you needed to be so I just had to stay with him and do the best I could," said Seth of the runner-up result.
Getting back on the front stretch for the third time in 2017, South Dakota's Justin Henderson breathed new life into his season, "To say it's been a disappointing start to Speedweek would be an understatement, and my team owner would second that so it feels good to get on the podium and see somewhat of a check."
New York's Jason Barney posted his best finish of the weekend with a fourth place result with Sean McClelland fifth. Dustin Morgan rolled across the line sixth with Tennessee's Justin Webb seventh. Advancing 10 spots for he CP-Carrillo Hard Charger of the Night, Wayne Johnson was eighth with Matt Covington ninth from 14th. Johnny Herrera made up the top-ten in the No. 45x.
A field of 37 assembled at the Creek County Speedway on Thursday night with five Heat Races topped by Justin Henderson, Sam Hafertepe, Jr., Sean McClelland, Jason Barney, and Seth Bergman. B-Main wins went to Skylar Gee and Wayne Johnson. Provisional starts were used by Blake Hahn and Kyle Bellm. A regional provisional went to Jared Sewell.
On to Round 6 of Speedweek, the series heads for Moberly, Mo. and the high-banked Randolph County Raceway. Hot Laps begin at 7:30 P.M. (CDT). For continued updates on the American Sprint Car Series, from the National Tour to any of the seven regional tours that make up the over 150 races across the ASCS Nation, log onto http://www.ascsracing.com.
Race Results:
Lucas Oil ASCS National Tour
ASCS Red River Region
Creek County Speedway – Sapulpa, Okla.
Thursday, June 15, 2017
Speedweek Round 5
Car Count: 37
Pizza Express of Oklahoma Heat Races: (Top 16 in Passing Points advance to the A-Feature)
Heat 1 (8 Laps): 1. 1-Justin Henderson, [1]; 2. 87-Aaron Reutzel, [3]; 3. 95-Matt Covington, [4]; 4. 58-Gary Floyd, [2]; 5. 17-Josh Baughman, [6]; 6. 8M-Kade Morton, [5]; 7. 31-Casey Willis, [8]; 8. 85-Forrest Sutherland, [7]
Heat 2 (8 Laps): 1. 15H-Sam Hafertepe Jr, [1]; 2. 17G-Channin Tankersley, [3]; 3. 20G-Jake Greider, [2]; 4. 86-Tony Bruce Jr, [5]; 5. 14K-Kyle Bellm, [6]; 6. 2-Mickey Walker, [7]; 7. 52-Blake Hahn, [8]; 8. 41A-Andee Beierle, [4]
Heat 3 (8 Laps): 1. 1S-Sean McClelland, [2]; 2. 84B-Scott Bogucki, [1]; 3. 93-Dustin Morgan, [5]; 4. 9$-Kyle Clark, [4]; 5. 99-Skylar Gee, [7]; 6. 44-Jared Sewell, [3]; 7. 3-Brian Gramm, [6]
Heat 4 (8 Laps): 1. 87B-Jason Barney, [2]; 2. 11X-John Carney II, [1]; 3. 31W-Justin Webb, [6]; 4. 45X-Johnny Herrera, [7]; 5. 8-Alex Sewell, [5]; 6. 26M-Fred Mattox, [3]; 7. (DNF) 54-Will Scribner, [4]
Heat 5 (8 Laps): 1. 23-Seth Bergman, [1]; 2. 7M-Chance Morton, [2]; 3. 03-Joe Wood Jr, [4]; 4. 17W-Harli White, [6]; 5. 2C-Wayne Johnson, [7]; 6. 11M-Jason McDougal, [5]; 7. 911-Waylon Weaver, [3]
BMRS B-Main (Top 3 from each advance to the A-Feature):
B Feature 1 (12 Laps): 1. 99-Skylar Gee, [2]; 2. 8-Alex Sewell, [5]; 3. 9$-Kyle Clark, [3]; 4. 44-Jared Sewell, [8]; 5. 20G-Jake Greider, [1]; 6. 8M-Kade Morton, [6]; 7. 31-Casey Willis, [7]; 8. 3-Brian Gramm, [9]; 9. 911-Waylon Weaver, [10]; 10. 41A-Andee Beierle, [11]; 11. (DNF) 14K-Kyle Bellm, [4]
B Feature 2 (12 Laps): 1. 2C-Wayne Johnson, [2]; 2. 86-Tony Bruce Jr, [1]; 3. 17-Josh Baughman, [3]; 4. 2-Mickey Walker, [5]; 5. 52-Blake Hahn, [7]; 6. 26M-Fred Mattox, [8]; 7. 85-Forrest Sutherland, [10]; 8. (DNF) 58-Gary Floyd, [4]; 9. (DNF) 11M-Jason McDougal, [6]; 10. (DNF) 54-Will Scribner, [9]
Protect the Harvest A-Feature:
A Feature (25 Laps): 1. 87-Aaron Reutzel, [1]; 2. 23-Seth Bergman, [2]; 3. 1-Justin Henderson, [7]; 4. 87B-Jason Barney, [3]; 5. 1S-Sean McClelland, [5]; 6. 93-Dustin Morgan, [9]; 7. 31W-Justin Webb, [4]; 8. 2C-Wayne Johnson, [18]; 9. 95-Matt Covington, [14]; 10. 45X-Johnny Herrera, [10]; 11. 8-Alex Sewell, [19]; 12. 86-Tony Bruce Jr, [20]; 13. 17W-Harli White, [16]; 14. 84B-Scott Bogucki, [12]; 15. 15H-Sam Hafertepe Jr, [8]; 16. 99-Skylar Gee, [17]; 17. 17-Josh Baughman, [22]; 18. 52-Blake Hahn, [23]; 19. 9$-Kyle Clark, [21]; 20. 17G-Channin Tankersley, [6]; 21. 44-Jared Sewell, [25]; 22. 03-Joe Wood Jr, [15]; 23. 11X-John Carney II, [13]; 24. 7M-Chance Morton, [11]; 25. 14K-Kyle Bellm, [24]
Lap Leader(s): Aaron Reutzel 1-25
CP-Carrillo Hard Charger: Wayne Johnson +10
FSR High Point Driver: Sean McClelland
Provisional(s): Blake Hahn; Kyle Bellm; Jared Sewell (Regional)