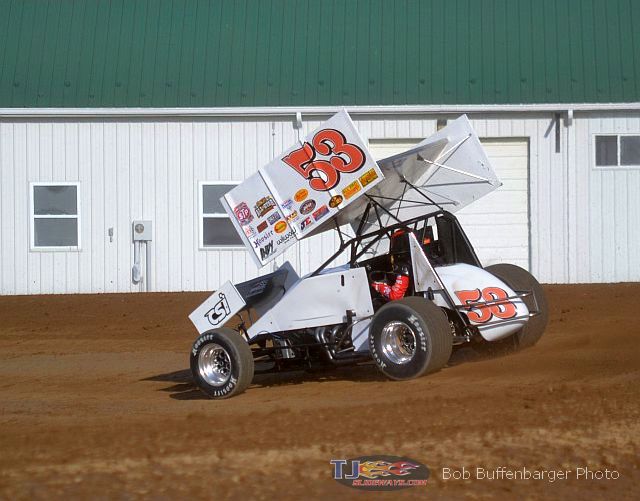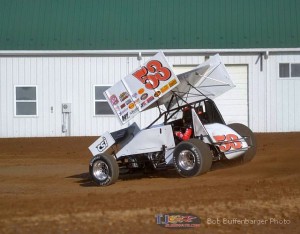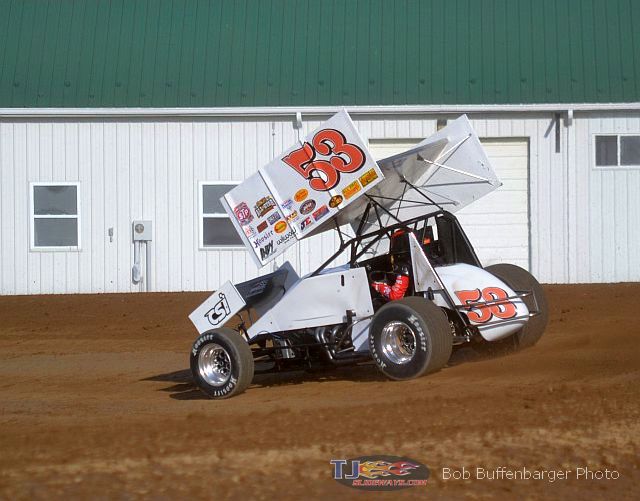 From Chris Dollack
Jacksonville, IL — (May 7, 2014) —  Christopher Bell, a 19-year-old rising star from Oklahoma, held off champions Daryn Pittman and Donny Schatz in front of sold-out grandstands on Wednesday night at Jacksonville Speedway to earn the first World of Outlaws STP Sprint Car Series victory of his career.
On one of the smallest, most unique venues the Outlaws will see this season, Bell was masterful as he weaved through constant traffic after getting the jump on the initial green flag in the 40-lap A-main at Jacksonville's quarter-mile oval.
In a race slowed by three cautions, Bell, of Norman, Okla., was near perfect on each restart as he worked the high side of the track while behind him cars scattered high and low trying to catch him.
Midway through the main event, Bell was in heavy traffic, trying to work through the pack on the top of the track as Pittman and Schatz moved to the bottom in an effort to sneak through. By lap 25, though, the leaders cleared the lapped cars and again Bell started to pull away.
A final caution with 10 to go reset the field and gave Bell clear track in his Fox Racing #53, which he used to power to victory by .976 over runner-up Pittman and third-place finishing Schatz. Pittman's Kasey Kahne Racing teammates, Brad Sweet and Cody Darrah, rounded out the top five.
"It's a dream come true," Bell said. "It's been such an up-and-down year for me, especially in this 53 car. We've been really good, but we've also been really bad. Last week we went to Eldora and we were terrible. We were fortunate to make the show but we were lapped traffic both nights. To come here and get a win, that's somethinan g special. It's always been a lifelong dream to be able to win Outlaw race so it's a special night I'll never forget."
It also wasn't lost on Bell that Pittman, a fellow Oklahoman, was trying to chase him down in the Great Clips #9 car.
"Daryn has been somebody I've really looked up to, one of my favorite Outlaw guys, so to be able to run first to him and Donny Schatz, all these guys are the best in the world, it's an honor to be able to race with them let alone be able to compete with them and run up front."
Warm temperatures and a steady wind combined with 900-horsepower motors on a short quarter-mile finally caught up with the racing surface toward the end of the 40-lapper, but the leaders had no choice but to continue battling through constant traffic.
"Once we got to lapped cars, Chris drove on the outside of them, trying to get by a couple," said Pittman, the defending series champion from Owasso, Okla. "He was way faster five laps before he got to them, then by the time he got to them they were running the same pace. I kind of got down there before he did. I'm sure he knew it was there, but he was still trying to get by some lapped cars.
"Hats off to him, obviously he's an extremely talented young kid and not too bad for a couple of Oklahoma boys tonight. I'm pretty proud to run second to him. It's no surprise to anybody in the pits that he was going to win an Outlaw show, if not this year then really soon."
Schatz's Tony Stewart Racing STP/Armor All #15 car was strong all night in the low groove. He set quick time to get things rolling, but a six-car inversion in the dash forced him to race to the front, where he earned the outside pole for the feature. Pittman slipped ahead of Schatz on a wild start and the two tried to catch Bell the rest of the night.
"We were good through the middle and the bottom and I wasn't going to get up and toy with the fence," said Schatz, a five-time champion from Fargo, N.D. "I knew I couldn't run 40 laps without hitting it so I had to be smarter than that. … We kind of found the rubber first but we were in the right spot at the wrong time. Those guys found it, too, under yellow."
While Bell and Pittman tried the high line early on, Schatz was working the bottom groove in an effort to close the gap in traffic.
"If they're running around the top I don't know how I'm going to pass them on the top so I have to move around on the racetrack," Schatz said. "It seemed to be the preferred line to be up there all night so I was trying to make something else work. It was good at certain points of the night but it wasn't good enough for the win."
The World of Outlaws STP Sprint Car Series is back in action Friday night at Wilmot (Wis.) Raceway and on Saturday at Tri-State Speedway in Haubstadt, Ind.
JACKSONVILLE SPEEDWAY NOTEBOOK – Donny Schatz was the fastest qualifier around the high-banked, quarter-mile Jacksonville Speedway. Also earning qualifying points were Brad Loyet (4 points), Kerry Madsen (3), Daryn Pittman (2) and Paul McMahan (1). Wayne Johnson, Jason Sides, Jac Haudenschild, Brad Sweet and Cody Darrah won the five heat races. … The dash draw was a 6 for the ninth time this year. … Christopher Bell won the dash to earn his first World of Outlaws STP Sprint Car Series A-main pole. … Bell joins Rico Abreu, who was in attendance Wednesday night, as a first-time winner on the World of Outlaws STP Sprint Car Series circuit this season.
World of Outlaws STP Sprint Car Series Statistical Report; Jacksonville (Ill.) Speedway; May 7, 2014
A-Main – (40 Laps): 1. 53-Christopher Bell [1] [$6,000]; 2. 9-Daryn Pittman [4] [$3,500]; 3. 15-Donny Schatz [2] [$2,000]; 4. 49-Brad Sweet [8] [$1,800]; 5. 4-Cody Darrah [5] [$1,500]; 6. 29-Kerry Madsen [10] [$1,400]; 7. 11-Steve Kinser [13] [$1,350]; 8. 7S-Jason Sides [6] [$1,300]; 9. 83-David Gravel [24] [$1,250]; 10. 11K-Kraig Kinser [16] [$1,200]; 11. 44-A.J. Bruns [9] [$900]; 12. 71M-Joey Saldana [17] [$800]; 13. 1S-Logan Schuchart [18] [$700]; 14. 9W-Jac Haudenschild [7] [$650]; 15. 82-Bryan Clauson [19] [$600]; 16. 18-Ian Madsen [21] [$550]; 17. 9X-Paul Nienhiser [14] [$500]; 18. 1-Sammy Swindell [20] [$500]; 19. 21-Brian Brown [22] [$500]; 20. 77X-Wayne Johnson [3] [$500]; 21. 12-Jerrod Hull [12] [$500]; 22. 9P-Parker Price-Miller [15] [$500]; 23. 99-Brady Bacon [23] [$500]; 24. 51-Paul McMahan [11] [$500]. Lap Leaders: Christopher Bell 1-40. KSE Hard Charger Award: 83-David Gravel [+15]
Qualifying: 1. 15-Donny Schatz, 11.544; 2. O5-Brad Loyet, 11.551; 3. 29-Kerry Madsen, 11.577; 4. 9-Daryn Pittman, 11.607; 5. 51-Paul McMahan, 11.618; 6. 44-A.J. Bruns, 11.688; 7. 12-Jerrod Hull, 11.763; 8. 1M-Jim Moughan, 11.763; 9. 53-Christopher Bell, 11.765; 10. 11-Steve Kinser, 11.801; 11. 77X-Wayne Johnson, 11.803; 12. 9X-Paul Nienhiser, 11.838; 13. 9W-Jac Haudenschild, 11.865; 14. 52F-Logan Faucon, 11.903; 15. 4-Cody Darrah, 11.992; 16. 51B-Joe B Miller, 12.023; 17. 9P-Parker Price-Miller, 12.080; 18. 11K-Kraig Kinser, 12.088; 19. 49-Brad Sweet, 12.121; 20. 71M-Joey Saldana, 12.147; 21. 1S-Logan Schuchart, 12.147; 22. 82-Bryan Clauson, 12.205; 23. 84-Ben Wagoner, 12.260; 24. 22-Bret Tripplett, 12.296; 25. W20-Greg Wilson, 12.330; 26. 1-Sammy Swindell, 12.356; 27. 18-Ian Madsen, 12.429; 28. 17M-Joey Moughan, 12.468; 29. 6B-Andy Baugh, 12.579; 30. 21-Brian Brown, 12.595; 31. 4S-Danny Smith, 12.616; 32. 7S-Jason Sides, 12.619; 33. 99-Brady Bacon, 12.681; 34. 14T-Jimmy Bridgeman, 12.689; 35. 1A-Jacob Allen, 12.926; 36. 5-Caleb Wankel, 13.019; 37. 5W-Tiffany Wyzard, 13.020; 38. 10S-Jeremy Standridge, 13.102; 39. 83-David Gravel, 15.344
Heat 1 – (10 Laps – Top 4 finishers transfer to the A-feature): 1. 77X-Wayne Johnson [2]; 2. 15-Donny Schatz [4]; 3. 44-A.J. Bruns [3]; 4. 1-Sammy Swindell [6]; 5. 4S-Danny Smith [7]; 6. 1S-Logan Schuchart [5]; 7. 5-Caleb Wankel [8]; 8. 51B-Joe B Miller [1]
Heat 2 – (10 Laps – Top 4 finishers transfer to the A-feature): 1. 7S-Jason Sides [7]; 2. 9P-Parker Price-Miller [1]; 3. 82-Bryan Clauson [5]; 4. 18-Ian Madsen [6]; 5. 12-Jerrod Hull [3]; 6. 5W-Tiffany Wyzard [8]; 7. 9X-Paul Nienhiser [2]; 8. O5-Brad Loyet [4]
Heat 3 – (10 Laps – Top 4 finishers transfer to the A-feature): 1. 9W-Jac Haudenschild [2]; 2. 29-Kerry Madsen [4]; 3. 11K-Kraig Kinser [1]; 4. 99-Brady Bacon [7]; 5. 1M-Jim Moughan [3]; 6. 17M-Joey Moughan [6]; 7. 84-Ben Wagoner [5]; 8. 10S-Jeremy Standridge [8]
Heat 4 – (10 Laps – Top 4 finishers transfer to the A-feature): 1. 49-Brad Sweet [1]; 2. 53-Christopher Bell [3]; 3. 9-Daryn Pittman [4]; 4. 83-David Gravel [8]; 5. 52F-Logan Faucon [2]; 6. 22-Bret Tripplett [5]; 7. 14T-Jimmy Bridgeman [7]; 8. 6B-Andy Baugh [6]
Heat 5 – (10 Laps – Top 4 finishers transfer to the A-feature): 1. 4-Cody Darrah [2]; 2. 71M-Joey Saldana [1]; 3. 21-Brian Brown [6]; 4. 11-Steve Kinser [3]; 5. 51-Paul McMahan [4]; 6. W20-Greg Wilson [5]; 7. 1A-Jacob Allen [7]
Dash – (6 Laps, finishing order determined first 10 starting positions of A-feature): 1. 53-Christopher Bell [2]; 2. 15-Donny Schatz [6]; 3. 77X-Wayne Johnson [1]; 4. 9-Daryn Pittman [4]; 5. 4-Cody Darrah [8]; 6. 7S-Jason Sides [10]; 7. 9W-Jac Haudenschild [7]; 8. 49-Brad Sweet [9]; 9. 44-A.J. Bruns [3]; 10. 29-Kerry Madsen [5]
C-Main – (10 Laps – Top 2 finishers transfer to the B-feature): 1. 17M-Joey Moughan [1] [-]; 2. 4S-Danny Smith [3] [-]; 3. 6B-Andy Baugh [2] [$125]; 4. 14T-Jimmy Bridgeman [4] [$125]; 5. 1A-Jacob Allen [5] [$125]; 6. 5-Caleb Wankel [6] [$100]; 7. 10S-Jeremy Standridge [8] [$100]; 8. 5W-Tiffany Wyzard [7] [$100]; 9. O5-Brad Loyet [9] [$100]
Last Chance Showdown – (12 Laps – Top 4 finishers transfer to the A-feature): 1. 9X-Paul Nienhiser [4] [-]; 2. 51-Paul McMahan [1] [-]; 3. 12-Jerrod Hull [2] [-]; 4. 1S-Logan Schuchart [7] [-]; 5. 51B-Joe B Miller [6] [$200]; 6. 1M-Jim Moughan [3] [$180]; 7. 52F-Logan Faucon [5] [$175]; 8. W20-Greg Wilson [10] [$160]; 9. 17M-Joey Moughan [12] [$150]; 10. 22-Bret Tripplett [9] [$150]; 11. 4S-Danny Smith [11] [$150]; 12. 84-Ben Wagoner [8] [$150]
World of Outlaws STP Sprint Car Series Championship Standings