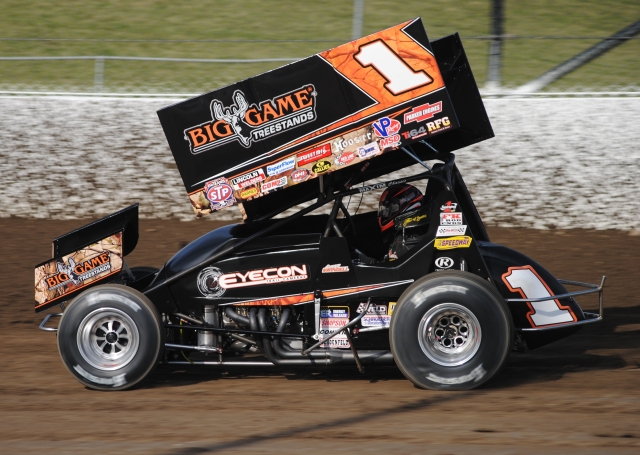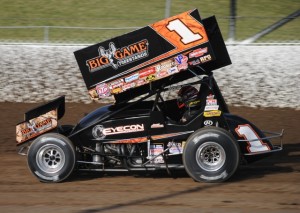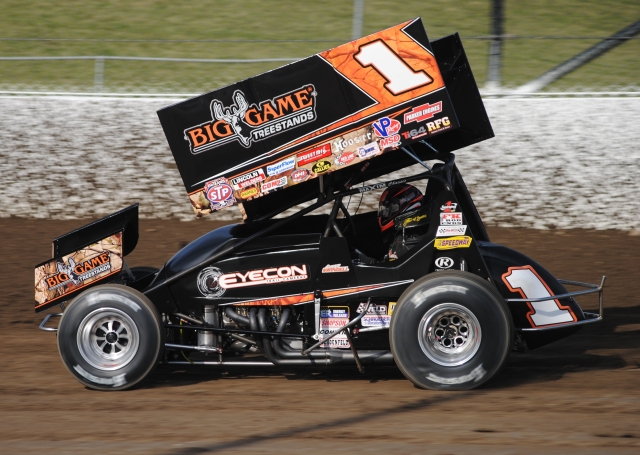 By T.J. Buffenbarger
Rossburg, OH — (July 11, 2014) –Sammy Swindell started his Kings Royal weekend off on a good note by winning the Knight Before the Kings Royal feature Friday night at Eldora Speedway with the World of Outlaws STP Sprint Car Series. Swindell took the lead from Tim Shaffer and worked his way through slower traffic for the victory.
"It's great after the year we've had. We've been right there the past few races, couldn't pull it off," said Swindell. The car kept getting better and better. (The car) was tight early, let Shaffer get away. I tried to pace myself and run some nice laps and keep the car under me. Big Game car and team did a great job.   Randy Sweet was here to watch this, Maxim, Paul Kistler, the motor was awesome. Everything fell into place. If we can keep that up I might win a couple of more.
Tim Shaffer took the lead at the start with Sammy Swindell and Joey Saldana falling in behind. Shaffer pulled away until encountering slower traffic on lap eight. This allowed Swindell to close the gap when Shaffer was boxed in by traffic racing side by side. Swindell got a run off turn two and dove under Shaffer in turn three to take the lead on lap 14. Shaffer tried to return the favor in turns one and two, nearly making contact, with Swindell maintaining the lead.
Two laps later Saldana stopped in turns three and four with a flat right rear tire. The damage from the shredded tire was too much for Saldana to continue.   Two laps later the caution appeared again for Cole Duncan spinning in turn two. Two more laps were completed when David Gravel and Kerry Madsen making contact with Gravel making contact with the inside wall. The caution negated an incredible move that saw Jac Haudenschild go from fourth to second in turns three and four.
Swindell led during the single file restart and pulled away until the red flag appeared on lap 18 when Brandon Wimmer flipped in turn four. Kraig Kinser and Jason Sides also stopped in turn four. Wimmer was uninjured.
From there Swindell got a great restart and pulled away for the remainder of the race. Shaffer had pressure from Daryn Pittman for the second spot, but was able to hold onto second after a wild battle between Pittman, Kerry Madsen, and Shane Stewart for third.   Madsen moved up to third and closed in on the lead duo, but ran out of laps with Swindell taking the victory over Shaffer, Madsen, Stewart and Pittman.
Knight Before the Kings Royal
World of Outlaws STP Sprint Car Series
Eldora Speedway – Rossburg, OH
Friday July 11, 2014
Qualifying: 1. 71m – Joey Saldana, 13.069; 2. 51 – Paul McMahan, 13.082; 3. 29 – Kerry Madsen, 13.095; 4. 24 – Rico Abreu, 13.205; 5. 1 – Sammy Swindell, 13.230; 6. 45 – Tim Shaffer, 13.234; 7. 83 – David Gravel, 13.237; 8. 2 – Shane Stewart, 13.258; 9. 9 – Daryn Pittman, 13.259; 10. 49 – Brad Sweet, 13.302; 11. 4 – Cody Darrah, 13.337; 12. 82 – Roger Crockett, 13.348; 13. w20 – Greg Wilson, 13.352; 14. 49x – Cole Duncan, 13.364; 15. 15 – Donny Schatz, 13.375; 16. 9w – Jac Haudenschild, 13.384; 17. 10H – Danny Holtgraver, 13.411; 18. 11 – Steve Kinser, 13.425; 19. 40 – Caleb Helms, 13.429; 20. 63 – Chad Kemenah, 13.432; 21. 1s – Logan Schuchart, 13.452; 22. 11N – Randy Hannagan, 13.452; 23. 14K – Dale Blaney, 13.462; 24. 21 – Brian Brown, 13.473; 25. 81 – Lee Jacobs, 13.479; 26. 71 – Kevin Swindell, 13.508; 27. 5t – Travis Philo, 13.513; 28. 7s – Jason Sides, 13.514; 29. 24H – Brandon Wimmer, 13.516; 30. 83 – Jason Meyers, 13.530; 31. 3G – James McFadden, 13.568; 32. 11k – Kraig Kinser, 13.582; 33. 28 – Brian Paulus, 13.592; 34. 59 – Tim Kaeding, 13.599; 35. 19M – Brent Marks, 13.601; 36. 48 – Danny Dietrich, 13.627; 37. 9x – Rob Chaney, 13.628; 38. 44w – Austin Wheatley, 13.711; 39. 21M – Dallas Hewitt, 13.713; 40. 19 – Paige Polyak, 13.757; 41. 1a – Jacob Allen, 13.760; 42. 60 – Kory Crabtree, 13.840; 43. 33m – Sheldon Haudenschild, 13.860; 44. 16 – Danny Mumaw, 13.968; 45. 40dd – Caleb Griffith, 14.024; 46. 2M – Dustin Daggett, 14.025; 47. 2x – Nathan Skaggs, 14.026; 48. 46au – Stuart Williams, 14.061; 49. 59 – Chris Jones, 15.244;
Heat Race #1 (8 Laps): 1. Jac Haudenschild, 2. Cody Darrah, 3. Tim Shaffer, 4. Joey Saldana, 5. Rob Chaney, 6. Kevin Swindell, 7. Randy Hannagan, 8. James McFadden, 9. Dustin Daggett, 10. Kory Crabtree. (First four finishers transferred to the "A" Feature)
Heat Race #2 (8 Laps): 1. David Gravel, 2. Danny Holtgraver, 3. Logan Schuchart, 4. Kraig Kinser, 5. Roger Crockett, 6. Sheldon Haudenschild, 7. Austin Wheatley, 8. Nathan Skaggs, 9. Paul McMahan, 10. Travis Philo. (First four finishers transferred to the "A" Feature)
Heat Race #3 (8 Laps): 1. Steve Kinser, 2. Shane Stewart, 3. Kerry Madsen, 4. Greg Wilson, 5. Dale Blaney, 6. Tim Kaeding, 7. Dallas Hewitt, 8. Brian Paulus, 9. Jason Sides, 10. Stuart Williams. (First four finishers transferred to the "A" Feature)
Heat Race #4 (8 Laps): 1. Daryn Pittman, 2. Brandon Wimmer, 3. Caleb Helms, 4. Cole Duncan, 5. Brian Brown, 6. Rico Abreu, 7. Brent Marks, 8. Paige Polyak, 9. Chris Jones, 10. Danny Mumaw. (First four finishers transferred to the "A" Feature)
Heat Race #5 (8 Laps): 1. Chad Kemenah, 2. Brad Sweet, 3. Donny Schatz, 4. Sammy Swindell, 5. Lee Jacobs, 6. Danny Dietrich, 7. Jason Meyer, 8. Jacob Allen, 9. Caleb Griffith. (First four finishers transferred to the "A" Feature)
C-Main (10 Laps): 1. Austin Wheatley, 2. Jacob Allen, 3. Dallas Hewitt, 4. Paige Polyak, 5. Dustin Daggett, 6. Nathan Skaggs, 7. Brian Paulus, 8. Chris Jones, 9. Kory Crabtree. DNS: Sheldon Haudenschild, Danny Mumaw, Caleb Griffith, Stewart Williams. (First two finishers transferred to the Last Chance Showdown)
Dash (6 Laps): 1. Tim Shaffer, 2. Sammy Swindell, 3. Kerry Madsen, 4. Joey Saldana, 5. Daryn Pittman, 6. Shane Stewart, 7. David Gravel, 8. Chad Kemenah, 9. Steve Kinser, 10. Jac Haudenschild. (Finish determined the first five rows of the "A" Feature)
B-Main (12 Laps): 1. Paul McMahan, 2. Rico Abreu, 3. Randy Hannagan, 4. Travis Philo, 5. Dale blaney, 6. Roger Crockett, 7. Jason Sides, 8. James McFadden, 9. Kevin Swindell, 10. Danny Dietrich, 11. Rob Chaney, 12. Jason Meyers, 13. Jacob Allen, 14. Brent Marks, 15. Brian Brown, 16. Lee Jacobs, 17. Austin Wheatley, 18. Tim Kaeding. (First four finishers transferred into the "A" Feature)
"A" Feature (30 Laps): 1. Sammy Swindell, 2. Tim Shaffer, 3. Kerry Madsen, 4. Shane Stewart, 5. Daryn Pittman, 6. Paul McMahan, 7. Donny Schatz, 8. Jac Haudenschild, 9. Steve Kinser, 10. Brad Sweet, 11. Rico Abreu, 12. Randy Hannagan, 13. Logan Schuchart, 14. Danny Holtgraver, 15. Caleb Helms, 16. Cody Darrah, 17. Chad Kemenah, 18. Kraig Kinser, 19. Jason Sides, 20. David Gravel, 21. Greg Wilson, 22. Brandon Wimmer, 23. Travis Philo, 24. Cole Duncan, 25. Joey Saldana