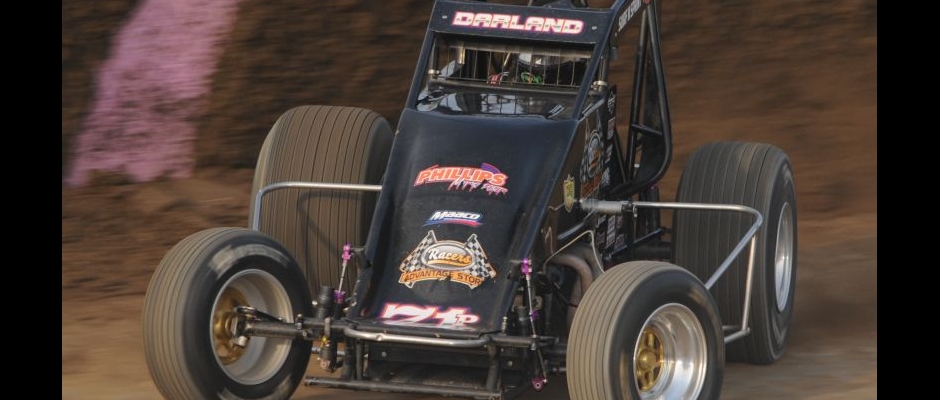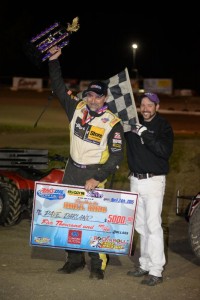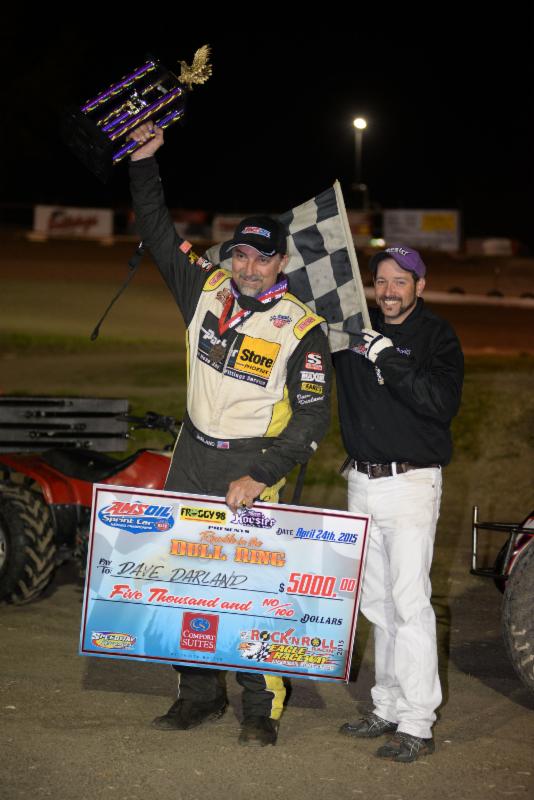 From USAC, 305 results from Bill Wright
Eagle, NE — (April 24, 2015) — Raindrops began to fall as Dave Darland picked up career AMSOIL National Sprint Car win #55 as he used traffic late in Friday's 30-lapper at Eagle Raceway to win the "Rumble in the Bullring" co-sanctioned by WAR Sprint Cars. The 48-year old Lincoln, Indiana native made it back-to-back wins at the Nebraska oval, sweeping this year's event after posting the ProSource "Fast Time" and winning his heat.
Jon Stanbrough out-dueled Chris Windom off the front row to lead the opening lap, as Windom fell into second with Darland getting a great start to take third early. After a lap-six stoppage for C.J. Leary who caught the turn-one guardrail, Windom pounced for the lead as Stanbrough got tight in the opening set of corners after the restart due to a low right-rear tire.
Stanbrough faded back through the top-five as Windom and Darland raced away and into thick lapped traffic. Behind them, Chase Stockon had rallied to third and defending series champion Brady Bacon broke into the top-five from ninth.
With 12 laps to go, Robert Ballou's right-rear went flat to cause the final yellow. Windom and Darland again distanced themselves from the pack in the closing laps, with Windom encountering traffic again with six laps remaining. On lap 26, he tried to squeeze under a slower car down the backstretch but couldn't complete the pass, as Darland ran the top through turns three and four to take the lead.
Darland raced away to score his second win of the season, this one by 2.215 seconds in the Phillips Motorsports – Trench Shoring #71P DRC/Foxco.
"I love Eagle and am glad they have us, and I'm happy to win close to the home of one of our sponsors, the Dursts. We're happy to get one in their backyard. It was really fast on the bottom, and we ran down there for the most part. We just had a couple openings to go after, and our car was great.
Our start was really key, to get those couple spots right away. We were coming up fast on lapped cars, and you had to be careful to be in the right spot. That's how we got Chris there; he got held up and I could see it coming and jumped outside of him.," Darland said.
Windom narrowly held onto the second spot in his first night back aboard the Rick Pollock – Bates Commodities #21x Maxim/Advanced.
"Lapped traffic played a huge part. You had to pick your moves just right, and I messed up once. You can't mess up once with Dave behind you. Rick and I always seem to run well together, and I'm glad he gave me an opportunity to come out here with him. Hopefully we can get at least one win this weekend," Windom said.
Hines came out on top of a slugfest with Stockon with just a few laps to go to fill the podium in the MP Environmental Services – MPHG Promotions #4 DRC/Stanton Chevy.
"We made some changes to our shock program after Florida, and we've been fast since then. We're still learning on them, and the driver is getting back to shape to run up front. I was a bit too tight early – we needed more laps. The track was just so fast, it was tough to do much with those guys. You couldn't give up anything and make sure not to make mistakes," Hines said.
Kevin Thomas, Jr. sliced through to steal fourth on the final lap in the Bakken Concrete – Indiana Underground Construction #17RW Maxim/Fisher, and Bacon rounded out the top-five in the Hoffman Auto Racing – Mean Green #69 Triple X/Williams Mopar.
National point leader Stockon fell to sixth on the final lap.
—————————————————-
AMSOIL USAC NATIONAL SPRINT CAR RACE RESULTS: April 24, 2015 – Eagle, Nebraska – Eagle Raceway – "Rumble in the Bullring" – (co-sanctioned by WAR Sprint Cars)
QUALIFICATIONS: 1. Dave Darland, 71P, Phillips-13.586; 2. Chase Stockon, 32, 32/TBI-13.611; 3. Robert Ballou, 12, Ballou-13.652; 4. Tracy Hines, 4, THR-13.680; 5. Chris Windom, 21X, Pollock-13.701; 6. Jon Stanbrough, 81, JSR-13.712; 7. Kevin Thomas Jr., 17RW, Dutcher-13.925; 8. C.J. Leary, 30, Leary-13.928; 9. Brady Bacon, 69, Dynamics-13.938; 10. Landon Simon, 24, LSR-14.049; 11. Aaron Farney, 15F, Farney-14.070; 12. Casey Shuman, 2X, Barnhill-14.104; 13. Bret Mellenberndt, 97, Mellenberndt-14.350; 14. Tony Rost, 99, Rost-14.381; 15. Steve Thomas, 20, Thomas-14.703; 16. Alex Schriever, 0, Davis-14.723; 17. Chris Parkinson, 65, Parkinson-14.742; 18. Jarett Andretti, 18, Andretti-14.761; 19. Kenny Potter, 55, Potter-14.826; 20. Jeff Wingate, 8, Wingate-14.975; 21. Mike Moore, 69X, Moore-15.216; 22. Billy Alley, 75, Hockett-15.225; 23. Josh Stephens, 09, Stephens-15.233; 24. Robert Bell, 71, Bell-15.390; 25. John Manley, 8X, Wingate-15.588; 26. Scott Comstock, 41, Comstock-15.916; 27. Clyde Knipp, 13, Korte-17.215; 28. John Helm, 12X, Helm-NT.
FIRST HEAT: (8 laps) 1. Darland, 2. Bacon, 3. Windom, 4. Mellenberndt, 5. Parkinson, 6. Manley, 7. Moore. 1:52.13
SECOND HEAT: (8 laps) 1. Stockon, 2. Stanbrough, 3. Andretti, 4. Simon, 5. Rost, 6. Alley, 7. Comstock. 1:54.30
THIRD HEAT: (8 laps) 1. Farney, 2. Ballou, 3. K. Thomas, 4. Potter, 5. Stephens, 6. S. Thomas, 7. Knipp. NT
FOURTH HEAT: (8 laps) 1. Shuman, 2. Hines, 3. Leary, 4. Bell, 5. Wingate, 6. Helm, 7. Schriever. 1:55.11
SEMI: (12 laps) 1. Parkinson, 2. Moore, 3. S. Thomas, 4. Alley, 5. Stephens, 6. Schriever, 7. Wingate, 8. Knipp, 9. Helm, 10. Manley, 11. Comstock, 12. Rost. NT
FEATURE: (30 laps) 1. Dave Darland, 2. Chris Windom, 3. Tracy Hines, 4. Kevin Thomas, Jr., 5. Brady Bacon, 6. Chase Stockon, 7. Landon Simon, 8. Jon Stanbrough, 9. Casey Shuman, 10. Aaron Farney, 11. Robert Ballou, 12. Jarett Andretti, 13. Bret Mellenberndt, 14. Chris Parkinson, 15. Alex Schriever, 16. Mike Moore, 17. Billy Alley, 18. Josh Stephens, 19. Kenny Potter, 20. Steve Thomas, 21. Robert Bell, 22. C.J. Leary. NT
—————————-
**Rost & Comstock flipped during the Semi.
FEATURE LAP LEADERS: Laps 1-6 Stanbrough, Laps 7-26 Windom, Laps 27-30 Darland.
NEW AMSOIL USAC NATIONAL SPRINT POINTS: 1-Stockon-525; 2-Darland-498; 3-Bacon/Ballou-494; 5-K.Thomas-448; 6-Stanbrough-421; 7-Hines-406; 8-Leary-383; 9-Justin Grant-315; 10-Kyle Cummins-310.
NEXT AMSOIL USAC NATIONAL SPRINT RACE: April 25 – McCool Junction, Nebraska – Junction Motor Speedway (co-sanctioned by WAR Sprint Cars)
305's
Heat one (started): 1. Clint Benson 100 (1) 2. TJ Artz 57 (2) 3. Jason Martin 5x (8) 4. Brandon Horton 1B (3) 5. Dan Satriano 95 (4) / 6. Jeff Radcliffe 21R (5) 7. Ryan King 93 (6) 8. Kyle Flodman 7K (7) 9. Boyd Peterson 57B (9)
Benson led the distance in the 10-lapper, but Martin was the man on the move, shooting from outside row four to third.
Heat two (started): 1. Adam Gullion 91 (4) 2. Gene Ackland (3) 3. Joey Danley 14 (6) 4. Trevor Grossenbacher 35 (5) 5. Keith Dragoo 77D (1) / 6. Matt Richards 1R (8) 7. Chase Weiler 0 (2) 8. Eric Reichwaldt 13 (7) DNS – Terry Richards 18
Ackland and Gullion shot to the front, while Danley used the high side to move into third on the first lap. The lead pair exchanged the point, with Gullion grabbing the spot with two to go.
Heat three (started): 1. Toby Chapman 1BX (1) 2. Jake Bubak 9x (5) 3. Doug Lovegrove 1 (3) 4. Shon Pointer 20P (6) 5. Dwight Carter 4U (2) / 6. Shayle Bade 03 (7) 7. Blain Petersen 68+1 (4) 8. Tyler Drueke 12 (8)
Chapman led Carter and Bade, who came from the last row on lap one. Bade took second on the next go-around, and Bubak shot up to third on the third lap. The red would come out for Petersen at the halfway point. Chapman led Bade, Bubak, Carter and Lovegrove back to green. Bubak would shoot to second on the restart, while Bade would exit. Chapman would hold off Bubak for the win.
B main (started): 1. M. Richards (2) 2 T. Richards (8) 3. Radcliffe (1) 4. King (4) 5. Bade (3) / 6. Flodman (7) 7. Weiler (5) 8. B. Peterson (6) DNS – B. Petersen, Reichwaldt, Drueke
M. Richards led the 10-lap distance. T. Richards came from the tail to take third by lap two, and second on lap eight in the non-stop event.
A main (started): 1. Grossenbacher (2) 2. Bubak (8) 3. Benson (6) 4. Gullion (10) 5. Horton (1) 6. J. Martin (7) 7. Ackland (5) 8. Danley (12) 9. Chapman (9) 10. M. Richards (16) 11. Lovegrove (4) 12. Bade (20) 13. Pointer (11) 14. T. Richards (17) 15. Satriano (13) 16. King (19) 17. Carter (15) 18. Artz (3) 19. Dragoo (14) 20. Radcliffe (18)
The 25-lapper went non-stop. Horton took the lead early with Grossenbacher and a charging Bubak, who had father Rich turning the wrenches, trailing him. Grossenbacher rode the cushion around Horton to take the point, and Bubak followed on lap four, using the low side. Bubak gave chase, reeling in the leader several times. Benson was into third by lap seven. The lead trio set a blistering pace. Grossenbacher did a good job in traffic in taking the win.