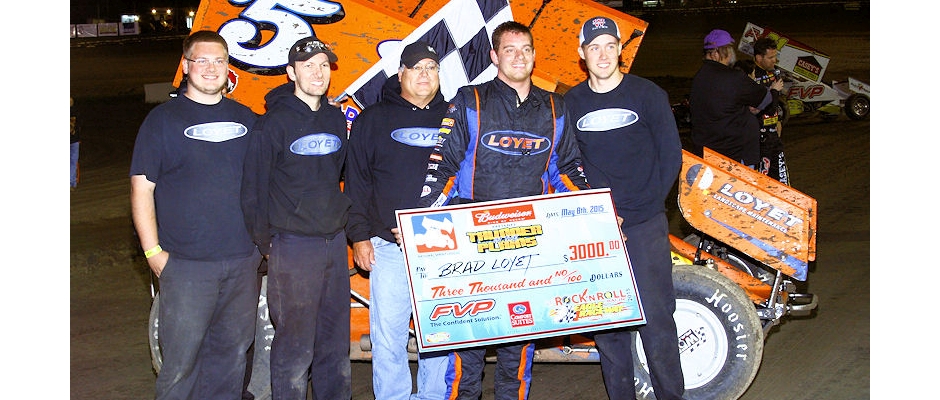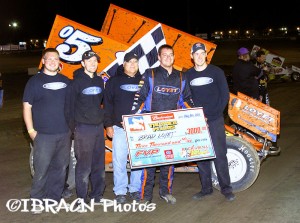 From Bill Wright
Eagle, NE — (May 8, 2015) — Brad Loyet exchanged the lead with Brian Brown on the final lap to win an absolute thriller with the FVP National Sprint League at Eagle Raceway on Friday night! The Sunset Hills, Missouri driver won $3,000 for his win and put himself in position for a $20,000 bonus from Durst Motorplex if he can win Saturday night, May 9 at Knoxville Raceway in Iowa.
Loyet led at the outset of the 30-lap feature from his pole position. Terry McCarl and Brown followed him early. The first six laps were bumpy. Before a circuit could be completed, the red flag came out for Aaron Reutzel, who got all four wheels off the ground in turn two. He was able to return to racing after a trip to the work area.
With four laps in the books, Ian Madsen came to a stop after making heavy contact with the turn one wall. A lap later, Lynton Jeffrey spun. Jeffrey would become the only flip victim with six laps recorded. He was uninjured.
The final 24 laps went non-stop with Loyet leading McCarl, Brown, Danny Lasoski and Bill Balog on the restart. As drivers searched high and low, Loyet entered heavy traffic around lap 15. As Brown went high, McCarl used the low side to shoot into second on lap 22. Brown regained the spot three laps later with a slingshot move on the high side.
With Loyet slowed in traffic, Brown drove around him into the lead on lap 28. Loyet came back and led as the white flag flew. Brown grabbed the lead again in turns one and two, but Loyet was able to dive to the low side of three and four to win by barely a car length. Lasoski surged to third, followed by Mark Dobmeier and KSE Hard-charger, Tim Kaeding. McCarl, Balog, Bryan Clauson, Logan Forler and Brooke Tatnell completed the top ten.
Brown earned $200 from Minnesota Mafia for his quick time in qualifications. Tatnell, Kaeding, Matt Juhl and Logan Forler claimed heat races. Dusty Zomer claimed the B main.
"We had a really good car," said Loyet in Victory Lane. "We were bottled up a little in lapped traffic. We were really good on the open track. I have to give it up for my guys. They work their butts off all week long to get us here. I think we're the only ones eligible for that 20 grand tomorrow!"
"Chad Morgan and Josh Hembe gave me a car that was capable of winning," said Brown. "Brad did a hell of a job. Terry and I were going at it too and I could hear Danny on the outside. I guarantee you everyone here enjoyed that one. It was a heck of a race! It was great to be in a 410 again at Eagle, and we're really happy to be a part of the FVP National Sprint League."
"These guys do a great job with the racecar, and I have to thank Tod (Quiring) for the opportunity to drive it. His vision for the NSL is second to none, because we really need it. My hats off to the o5. He did a good job. We made it interesting, but we sure would have liked the shot at the 20 grand."
The FVP National Sprint League is back in action Saturday night, May 9 at the Knoxville Raceway in Knoxville, Iowa. For more information on the FVP National Sprint League, visit www.NationalSprintLeague.com!
FVP National Sprint League Results from Eagle Raceway
FVP National Sprint League A main, 30 laps, (started): 1. o5, Brad Loyet, Sunset Hills, MO [1]; 2. 21, Brian Brown, Grain Valley, MO [3]; 3. 2, Danny Lasoski, Dover, MO [6]; 4. 13, Mark Dobmeier, Grand Forks, ND [8]; 5. 3, Tim Kaeding, San Jose, CA [17]; 6. 24, Terry McCarl, Altoona, IA [2]; 7. 17B, Bill Balog, Brookfield, WI [4]; 8. 17w, Bryan Clauson, Noblesville, IN [9]; 9. 2L, Logan Forler, Boise, ID [15]; 10. 55, Brooke Tatnell, Sans Souci, NSW, Aust. [14]; 11. 17A, Austin McCarl, Altoona, IA [10]; 12. 87, Aaron Reutzel, Clute, TX [5]; 13. 18, Ian Madsen, St. Mary's, NSW, Aust. [13]; 14. 44, Chris Martin, Ankeny, IA [19]; 15. 09, Matt Juhl, Sioux Falls, SD [16]; 16. 82, Dusty Zomer, Sioux Falls, SD [18]; 17. 81, Austin Johnson, Pleasant Hill, IA [12]; 18. 56, Davey Heskin, St. Michael, MN [22]; 19. 53, Jack Dover, Springfield, NE [20]; 20. 49, Josh Schneiderman, West Burlington, IA [23]; 21. 5H, Dakota Hendrickson, Omaha, NE [21]; 22. 3A, Billy Alley, Bennet, NE [11]; 23. 12, Lynton Jeffrey, Prairie City, IA [7]; 24. 2K, Kevin Ingle, Huron, SD [24]. Lap Leaders: Loyet 1-27, Brown 28, Loyet 29-30. KSE Hard-charger: Kaeding.
B Main, 10 laps, (started): 1. Dusty Zomer [4]; 2. Bryan Clauson [2]; 3. Davey Heskin [3]; 4. Josh Schneiderman [1] / 5. 7, Kaley Gharst, Decatur, IL [5]; 6. 7R, Ryan Bunton, Morton, IL [9]; 7. 0, Brandon Stevenson, Holstein, IA [6]; 8. 03, Shayle Bade, Lincoln, NE [8]; 9. 41A, Andee Beierle, Bismarck, ND [7] DNS – 1x, Mark Pace, Lincoln, NE
Fuel Safe Heat one, 10 laps, (started): 1. Brooke Tatnell [3]; 2. Mark Dobmeier [4]; 3. Dakota Hendrickson [1]; 4. Kevin Ingle [2]; 5. Bill Balog [6] / 6. Bryan Clauson [5]; 7. Shayle Bade [7]
DMI Heat two, 10 Laps, (started): 1. 3-Tim Kaeding[2]; 2. 18-Ian Madsen[3]; 3. 53-Jack Dover[1]; 4. 87-Aaron Reutzel[5]; 5. 24-Terry McCarl[6]; 6. 56-Davey Heskin[4]; 7. 41A-Andee Beierle[7]
Kaeding Performance Heat three, 10 Laps, (started): 1. Matt Juhl [2]; 2. Brad Loyet [4]; 3. Chris Martin [1]; 4. Danny Lasoski [6]; 5. Austin Johnson [3] / 6. Josh Schneiderman [5]; 7. Brandon Stevenson [7]
Maxim Heat four, 10 Laps, (started): 1. Logan Forler [2]; 2. Brian Brown [6]; 3. Billy Alley [3]; 4. Austin McCarl [4]; 5. Lynton Jeffrey [5]; 6. Kaley Gharst [7]; 7. Ryan Bunton [8]; 8. Dusty Zomer [1]
Minnesota Mafia Qualifying, 2 Laps, (Qualifying Order): 1. Brian Brown, 11.606 [9]; 2. Danny Lasoski, 11.642 [16]; 3. Terry McCarl, 11.674 [22]; 4. Bill Balog, 11.774 [1]; 5. Lynton Jeffrey, 11.820 [14]; 6. Josh Schneiderman, 11.832 [23]; 7. Aaron Reutzel, 11.855 [20]; 8. Bryan Clauson, 11.876 [25]; 9. Austin McCarl, 11.897 [29]; 10. Brad Loyet, 11.913 [5]; 11. Davey Heskin, 11.933 [2]; 12. Mark Dobmeier, 11.984 [15]; 13. Billy Alley, 12.017 [3]; 14. Austin Johnson, 12.029 [21]; 15. Ian Madsen, 12.061 [28]; 16. Brooke Tatnell, 12.074 [17]; 17. Logan Forler, 12.075 [27]; 18. Matt Juhl, 12.082 [6]; 19. Tim Kaeding, 12.113 [19]; 20. Kevin Ingle, 12.147 [4]; 21. Dusty Zomer, 12.171 [13]; 22. Chris Martin, 12.184 [8]; 23. Jack Dover, 12.201 [24]; 24. Dakota Hendrickson, 12.231 [11]; 25. Kaley Gharst, 12.324 [10]; 26. Brandon Stevenson, 12.556 [7]; 27. Andee Beierle, 12.722 [18]; 28. Shayle Bade, 12.920 [30]; 29. Ryan Bunton, 14.172 [26]; 30. Mark Pace, NT [12]
Contingencies
Minnesota Mafia Quick Time – Brian Brown
Fuel Safe Heat – Brooke Tatnell
DMI Heat – Tim Kaeding
Kaeding Performance Heat – Matt Juhl
Maxim Heat – Brian Brown
Hooker Harness "Locked In Award" – Dusty Zomer
Speedway Graphics "From the Tail Award" – Josh Schneiderman
KSE Hard-charger Award – Tim Kaeding
Bell Helmets "Hard Luck Award" – Lynton Jeffrey