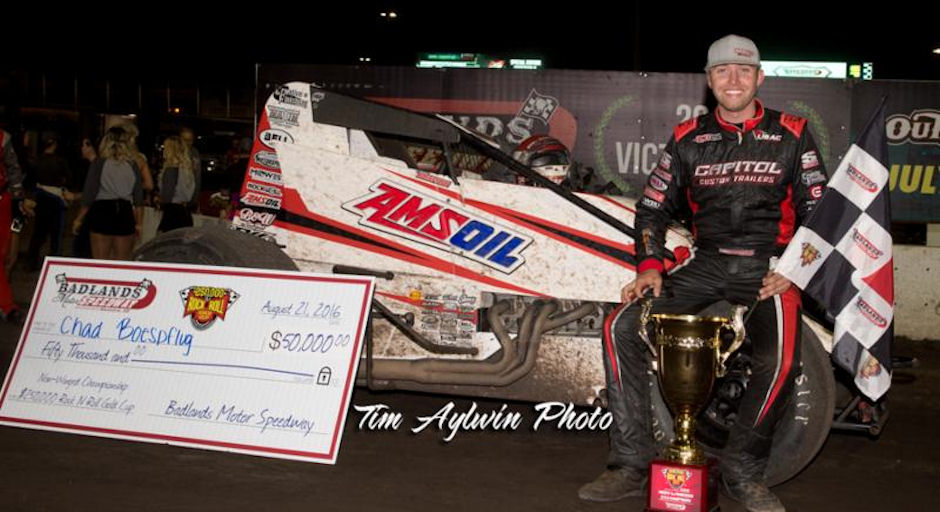 Brandon, South Dakota………As if his $10,000 win in Saturday's preliminary feature wasn't enough, it only proved to be the warm-up act for the biggest victory of Chad Boespflug's racing career after he swept the weekend's USAC AMSOIL Sprint Car "Special Events" at Badlands Motor Speedway with an encore performance in Sunday night's inaugural "Rock and Roll Gold Cup" that netted him a hefty $50,000 payday.
Without USAC points on the line in this weekend's highly-anticipated event at Badlands, each driver had a one-track-mind on possessing the substantial winner's share at the end of the night.
That fact was evident from the get-go as one of the great big-money racers, Dave Darland, jumped out front from the pole position ahead of outside front-row starter Thomas Meseraull into turn one. Meseraull would fight back on the outside exiting two, pulling side-by-side next to Darland halfway down the back straightway with the two making slight wheel-to-wheel contact just prior to the entry to turn three.
By the second lap, fourth-starting Chad Boespflug made his presence felt for the second straight night, blitzing the inside of the racetrack past Meseraull for second in turn two, then setting sail for leader Darland.
On lap five, Boespflug slid smoothly past Darland for the lead between turns one and two, then rocketed down the back straight to quickly open up a wide gap between himself and the rest of the field, extending his lead to more than two seconds over Darland in the ensuing laps.
Meanwhile, a scramble for second ensued between a number of drivers including Darland, Meseraull, Justin Grant, Bud Kaeding, Ryan Bernal and Chase Stockon.
Meseraull was able to blast past Darland one lap later for second, although, by that point, Boespflug had expanded his lead to nearly a half-straightaway as he closed in on the tail end of the field.
With Meseraull on the chase, Boespflug narrowly averted calamity on lap 20. Encircled by lapped traffic as he worked his way down the front straightaway, Boespflug headed to the topside to dispose of Dylan Peterson in turn one just moments before Peterson lost control, sliding sideways to a stop in the middle of turn one and, in turn, collecting Matt Goodnight. Bret Mellenberndt was next in line with nowhere to go, punching his left front wheel into Goodnight's left rear, breaking the front end on Mellenberndt's machine as he slid backward up the banking between turns one and two.
In the incident, fifth-running Bernal ramped over the left rear of fourth-running Stockon as they threaded the needle between Goodnight, Mellenberndt and the outside concrete. Both Bernal and Stockon were able to continue without a hitch.
The yellow gave Boespflug a clear track ahead and a chance to catch his breath, but it placed second-running Meseraull right beside him on the lap 20 double-file restart.
However, Boespflug's patience would be tested as lap 20 seemed to last an eternity as back-to-back cautions on the attempted restart involving Dylan Peterson, whose front end was broken after another car ran over his left front wheel, and Chris Windom, who was turned around after contact with Robert Ballou, stopped the flow of action with just 16 laps left.
Boespflug's restarts during the stretch had been replayed ad nauseam when yellow-after-yellow fell, but the Hanford, California native was up to the task when it counted, shooting out to the advantage over Meseraull when action resumed while Grant was able to slide by Meseraull for second.
The top-two of Boespflug and Grant began to open it up as Bud Kaeding climbed his way to the third spot when Darland, running eighth, found himself turned around and pointed toward the inside back straightaway wall at the exit of turn two.
On the ensuing restart, Kaeding continued to row his way to the front on the inside berm, grabbing the second position from Grant as he chopped the interval between himself and leader Boespflug to mere car lengths.
Meseraull, who just a handful of laps earlier was challenging Boespflug for the lead, broke a Jacob's Ladder, which sent him dropping back through the field. On lap 26, while running sixth, Meseraull slapped the wall at the exit of turn four.
As Meseraull's machine rolled slowly and helplessly down the front straightaway, Aaron Farney ramped Meseraull's right rear wheel, but was miraculously able to keep the car from getting upside down after receiving a bit of air time.
However, much of the middle-pack in the field rapidly approached Meseraull's car, including Darland, Landon Simon, Rob Caho, Jr., Goodnight and Mike Martin, who all plowed in. Caho and Goodnight saw their nights conclude upside down while Martin somersaulted over the stacked-up cars, landing just inside the infield pit area at the turn one wall opening. All drivers involved would walk away uninjured.
With 10 to go, the double-file restart put Boespflug on the pole alongside Bud Kaeding. Kaeding, who had made his charge to the front on the bottom, was now relegated to the top. Kaeding had intentions to get to the bottom as soon as he could after the green flag waved, falling in line behind Boespflug low into turn one.
Boespflug swapped lines on each end of the 3/8-mile dirt oval, hitting the bottom in turns one and two and the cushion in turns three and four as he began to distance himself from the field.
On the 29th lap, Grant glided by Bud Kaeding for the second spot and began shadowing Boespflug's every move during the final six laps, but was never able to make much headway as Boespflug operated the racetrack with precision, flawlessly steering his way to victory lane for the second consecutive night at Badlands to take the largest payday of his career in the highest-paying USAC Sprint Car race since the 2005 "Mopar Thunder" at Rossburg, Ohio's Eldora Speedway, a race won by Rob Chaney.
Following Boespflug to the finish line were Grant, Kaeding, Bernal and Stockon.
Boespflug's two-night run in his NineEight Motorsports-EZR/AMSOIL – Creative Finishing – Midwest Shades/Maxim/Claxton at Badlands pocketed him $60,000, allowing him to bask in the riches of the highest-paying USAC race of the season and the highest-paying auto racing event in the history of the state of South Dakota.
"This is awesome," Boespflug exclaimed. "To sweep the weekend is unbelievable. I knew it was going to be tough just because we had so many good guys here, but hats off to my crew. They busted their butts for me. I knew I was good on the bottom in turns one and two and (crew chief) Davey (Jones) told me under that last red that all I needed to do was just pick my line. I felt like we were really good everywhere, so I stuck with what I felt in the seat. I knew we needed to get a good restart, so I honed in on nailing turn four coming back to the green. We lost a little ground through the middle part of the race, but by the end, I could really stay on the cushion and rotate the corner well. I'm just so happy. I think we'll probably stay tonight now and have a little celebration."
Ione, California's Justin Grant followed up Saturday night's impressive third-place debut in the no. 17 with a runner-up finish on Sunday night in the Sam McGhee Motorsports/Brown & Miller Racing Solutions – Mike McGhee & Associates/Maxim/Foxco.
"I got to the front and, once again, the double-file restarts killed us," Grant admitted. "I kept getting shuffled back and then I'd make my way forward, and then we'd have a yellow again. It just seemed like we kept taking one step forward and then two backwards. I was right there on Chad (Boespflug) probably three or four times and then we'd have a red or something. It was just frustrating because I think that should be us with that big check. Thanks to the McGhee family for letting me run their car, especially Sam for putting in so much work to make it bad fast and capable of winning."
Bud Kaeding, of Campbell, California, was briefly in contention for his first USAC Sprint Car victory since a Terre Haute (Ind.) Action Track triumph in 2012, but had to settle for a solid third-place-run in his Kevin Rudeen/Hagar Reality – Lunstra Motorsports/KPC/Shaver.
"On that last restart, we would've obviously preferred to be on the bottom," Kaeding said. "All my good starts throughout the race were down there. I honestly just let him go on that last one just so I could tuck down behind him. I thought he was going to go to the top in turn one, but Davey Jones had been watching me and kind of told Chad where he needed to be, so he took my line away in turn one. That cost us a couple spots, but we got going again and got to third. We'll take a third, though. I haven't run a USAC (National Sprint Car) race in probably three or four years, so it feels good to be competitive with these guys with a team and car that aren't normally running non-wing. It was a good time and a great event; I just feel bad for the people who didn't come out."
Contingency award winners Sunday night at Badlands Motor Speedway included Dustin Smith (KSE Racing Products Hard Charger) and Mark Dobmeier (Wilwood Brakes 13th Place Feature Finisher).
—————————————————————————-
USAC AMSOIL SPRINT CAR "SPECIAL EVENT" RACE RESULTS: August 21, 2016 – Brandon, South Dakota – Badlands Motor Speedway – "Rock and Roll Gold Cup" Championship Night
FEATURE SCRAMBLE: (12 laps) 1. Dave Darland (#11 Walker/Curb-Agajanian), 2. Thomas Meseraull (#17GP Dutcher), 3. Ryan Bernal (#56 Phulps), 4. Chad Boespflug (#98E NineEight/EZR), 5. Justin Grant (#17 McGhee), 6. Bud Kaeding (#26 Rudeen), 7. Aaron Farney (#15F Farney), 8. Chase Stockon (#32 TBI), 9. Kevin Thomas, Jr. (#4J 4J Motorsports), 10. Brady Short (#11p Pottorff). NT
SEMI: (15 laps) 1. Landon Simon (#24 LSR), 2. Tim Kaeding (#3 Lunstra), 3. Dylan Peterson (#25 Peterson), 4. Aaron Reutzel (#87 Reutzel), 5. Justin Jacobsma (#10 Jacobsma), 6. Chuck McGillivray (#101 McGillivray), 7. Clinton Bruns (#7 Bruns), 8. Doug Martens (#51 Martens), 9. Rob Sharits (#14 Davis), 10. Donovan Peterson (#11xs Metal Worx). NT
FEATURE: (35 laps) 1. Chad Boespflug, 2. Justin Grant, 3. Bud Kaeding, 4. Ryan Bernal, 5. Chase Stockon, 6. Dustin Smith (#77 Smith), 7. Kevin Thomas, Jr., 8. Brady Short, 9. Scotty Weir (#39w Goodnight), 10. Robert Ballou (#1 Ballou), 11. Dave Darland, 12. Aaron Farney, 13. Mark Dobmeier (#13 Grinch), 14. Alex Schriever (#0 Davis), 15. Landon Simon, 16. Thomas Meseraull, 17. Chris Windom (#11w Walker/Curb-Agajanian), 18. Matt Goodnight (#39 Goodnight), 19. Rob Caho, Jr. (#78 Caho), 20. Mike Martin (#16 Martin), 21. Bret Mellenberndt (#97 Mellenberndt), 22. Dylan Peterson, 23. Tim Kaeding, 24. Aaron Reutzel. NT
—————————-
**Goodnight, Caho and Martin flipped on lap 26 of the feature.
FEATURE LAP LEADERS: Laps 1-4 Darland, Laps 5-35 Boespflug.
KSE RACING PRODUCTS HARD CHARGER: Dustin Smith (13th to 6th)
NEXT USAC AMSOIL SPRINT CAR NATIONAL CHAMPIONSHIP RACE: August 24 – Kokomo, Indiana – Kokomo Speedway – "Bryan Clauson Celebration of Life" – "Special Event"