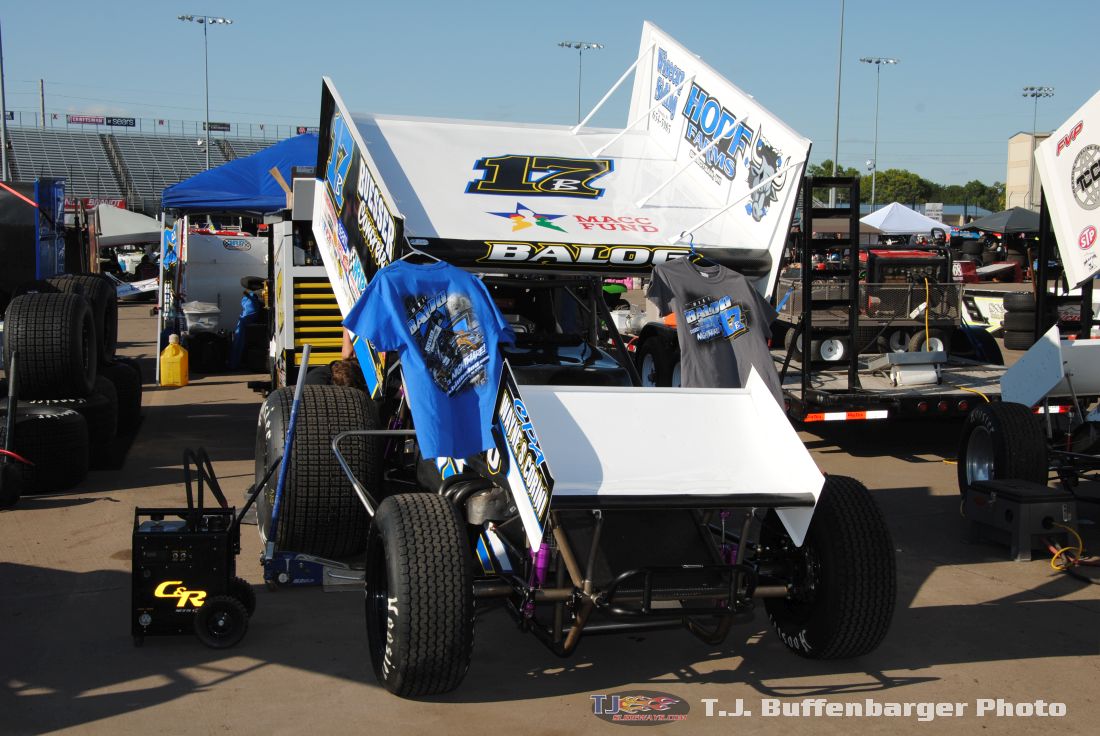 By Gared Tennyson
Bill Balog who had just stood victorious over the field of Badger Midgets, charged from his 10th place starting spot to win over Scotty Neitzel and Indiana's Brandon Wimmer.
25 teams signed in to compete at Beaver Dam Raceway on a beautiful April day. Bill Balog set quick time in Osborn and Son Trucking Qualifications. Defending champion Jake Blackhurst timed in 2nd quick over Ben Schmidt. Mike Reinke qualified his yellow 02 in 4th, and Brandon Wimmer was 5th.
Steve Meyer would power past Dave Uttech to take the lead of heat race 1. Mike Reinke moved into 2nd and would reel Meyer in. The pair battled for the lead, allowing Bill Balog to catch them and make it a 3 car battle for the lead. Mike Reinke would snag the win over Meyer and Balog. Dave Uttech came home in 4th with Scott Biertzer in 5th.
Heat 2 was dominated by Jeremy Schultz who lead all 10 laps. Brandon Wimmer would bring his 7tw car home in 2nd followed by defending champion Jake Blackhurst. Josh Walter would finish in 4th and Jereme Schroeder would rebound for a first lap issue to finish 5th.
Heat 3 was picked up by former two time champion Scotty Neitzel. Scotty Thiel brought his Professional Plating 64 home in 2nd ahead of Ben Schmidt and Russel Borland. Kris Spitz would cross in 5th behind the wheel of his red #4k.
Steve Meyer took the early lead in the A main, but soon faced a challenge from Scotty Neitzel. Neitzel would take the lead and set sail into lapped traffic but a caution near the halfway point would bunch the field back up and put defending champion Jake Blackhurst and eight time champion Bill Balog on Neitzel's tail. Neitzel would once again take off from the field and into lapped traffic, but as the race neared it's conclusion Bill Balog who started in 10 place used the high side in turns 3 and 4 to power past Neitzel's orange 2w and into the lead. Balog would pick up the win over Scotty Neitzel. Brandon Wimmer who was 6th with 3 laps to go charged to 3rd followed by Jeremy Schultz and Jake Blackhurst.
Wipperfurth Memorial
Beaver Dam Raceway
Beaver Dam, WI
Saturday April 20, 2019
Interstate Racing Association
Osborn and Sons Trucking Qualifications (2 Laps): 1. 17B-Bill Balog, 12.015[13]; 2. 25-Jake Blackhurst, 12.028[4]; 3. 73-Ben Schmidt, 12.071[5]; 4. 02-Mike Reinke, 12.168[18]; 5. 7TW-Brandon Wimmer, 12.180[14]; 6. 23-Russel Borland, 12.304[19]; 7. 85M-Steve Meyer, 12.338[6]; 8. 7-Zane Devault, 12.338[10]; 9. 64-Scotty Thiel, 12.369[15]; 10. 68-Dave Uttech, 12.384[11]; 11. 10W-Jeremy Schultz, 12.465[9]; 12. 2W-Scott Neitzel, 12.532[1]; 13. 4B-Scott Biertzer, 12.589[7]; 14. 43-Jereme Schroeder, 12.694[23]; 15. 4K-Kris Spitz, 12.705[17]; 16. 8-Jack Croaker, 13.000[24]; 17. 20A-Jordan Adams, 13.111[8]; 18. 14AJ-Wayne Modjeski, 13.175[21]; 19. 29-Hunter Custer, 13.252[16]; 20. 12W-Josh Walter, 13.442[25]; 21. 45-Matt Wiese, 13.654[2]; 22. 24M-Adam Miller, 13.911[3]; 23. 15M-Justin Miller, 13.975[12]; 24. 63-Nick Matuszewski, 14.100[22]; (DNS) 26T-Tyler Tiscchendorf, 09.999
Weld Wheels / EMI Heat Race #1 (10 Laps): 1. 02-Mike Reinke, [3]; 2. 85M-Steve Meyer, [2]; 3. 17B-Bill Balog, [4]; 4. 68-Dave Uttech, [1]; 5. 4B-Scott Biertzer, [5]; 6. 24M-Adam Miller, [8]; 7. 29-Hunter Custer, [7]; 8. 8-Jack Croaker, [6]; (DNS) 26T-Tyler Tiscchendorf,
All Star Performance / AutoMeter Heat Race #2 (10 Laps): 1. 10W-Jeremy Schultz, [1]; 2. 7TW-Brandon Wimmer, [3]; 3. 25-Jake Blackhurst, [4]; 4. 12W-Josh Walter, [7]; 5. 43-Jereme Schroeder, [5]; 6. 15M-Justin Miller, [8]; 7. 7-Zane Devault, [2]; 8. 20A-Jordan Adams, [6]
Behling Racing Heat Race #3 (10 Laps): 1. 2W-Scott Neitzel, [1]; 2. 64-Scotty Thiel, [2]; 3. 73-Ben Schmidt, [4]; 4. 23-Russel Borland, [3]; 5. 4K-Kris Spitz, [5]; 6. 45-Matt Wiese, [7]; 7. 63-Nick Matuszewski, [8]; 8. (DNF) 14AJ-Wayne Modjeski, [6]
A Feature (30 Laps): 1. 17B-Bill Balog, [9]; 2. 2W-Scott Neitzel, [3]; 3. 7TW-Brandon Wimmer, [7]; 4. 10W-Jeremy Schultz, [6]; 5. 25-Jake Blackhurst, [2]; 6. 02-Mike Reinke, [8]; 7. 64-Scotty Thiel, [5]; 8. 85M-Steve Meyer, [1]; 9. 15M-Justin Miller, [19]; 10. 23-Russel Borland, [10]; 11. 12W-Josh Walter, [13]; 12. 4B-Scott Biertzer, [14]; 13. 7-Zane Devault, [11]; 14. 43-Jereme Schroeder, [15]; 15. 4K-Kris Spitz, [16]; 16. 68-Dave Uttech, [12]; 17. 8-Jack Croaker, [22]; 18. 14AJ-Wayne Modjeski, [24]; 19. 24M-Adam Miller, [18]; 20. 20A-Jordan Adams, [23]; 21. 63-Nick Matuszewski, [21]; 22. 45-Matt Wiese, [17]; 23. (DNF) 29-Hunter Custer, [20]; 24. (DNF) 73-Ben Schmidt, [4]; (DNS) 26T-Tyler Tiscchendorf,
Wisconsin wingLESS Sprints
Qualifications: 1. 71S-Doug Schenck, 14.850[26]; 2. 7S-Craig Campton, 14.864[12]; 3. 01-Chris Dodd, 14.978[28]; 4. 38V-Matt VandeVere, 15.074[5]; 5. 38-Allen Hafford, 15.076[8]; 6. 21-Ryan Zielski, 15.165[13]; 7. 50-Rusty Egan, 15.239[11]; 8. 91-Jimmy Sivia, 15.359[25]; 9. 4-Jordan Paulsen, 15.419[27]; 10. 19K-Derek Crane, 15.470[4]; 11. 18-Nick Petska, 15.492[22]; 12. 41-Dennis Spitz, 15.597[1]; 13. 23Z-Zach Raidart, 15.609[21]; 14. 6-Vince Bartolotta, 15.807[3]; 15. 54-Scott Grissom, 15.881[9]; 16. 77-James Walldan, 15.931[14]; 17. 9-Greg Olsen, 15.946[32]; 18. 51-Charles Spoonmore, 15.956[7]; 19. 70-Chris Klemko, 16.069[17]; 20. 66-Denny Smith, 16.085[30]; 21. 1-Rod Colburn, 16.093[19]; 22. 29-Randy Stanford, 16.366[15]; 23. 29OG-Tom Eller, 16.466[18]; 24. 39-William Huck, 16.607[10]; 25. 20-Natalie Klemko, 16.719[29]; 26. 00-Paul Shaffer, 17.150[31]; 27. 2-Tommy Colbourn, 17.503[23]; 28. 61-Zach Hansen, 17.571[16]; 29. 11-Lance Walldan, 17.877[24]; 30. 22-Greg Alt, 19.750[20]; 31. 12-Shawn Swim, 19.750[6]; 32. 22W-Bruce Waterworth, 19.750[2]
Heat Race #1 (8 Laps): 1. 4-Jordan Paulsen, [2]; 2. 71S-Doug Schenck, [4]; 3. 38-Allen Hafford, [3]; 4. 6-Vince Bartolotta, [1]; 5. 51-Charles Spoonmore, [5]; 6. 29-Randy Stanford, [6]; 7. 22-Greg Alt, [8]; 8. 00-Paul Shaffer, [7]
Heat Race #2 (8 Laps): 1. 7S-Craig Campton, [4]; 2. 21-Ryan Zielski, [3]; 3. 54-Scott Grissom, [1]; 4. 18-Nick Petska, [2]; 5. 70-Chris Klemko, [5]; 6. 29OG-Tom Eller, [6]; 7. 22W-Bruce Waterworth, [8]; 8. (DNF) 2-Tommy Colbourn, [7]
Heat Race #3 (8 Laps): 1. 01-Chris Dodd, [4]; 2. 50-Rusty Egan, [3]; 3. 41-Dennis Spitz, [2]; 4. 66-Denny Smith, [5]; 5. 77-James Walldan, [1]; 6. 61-Zach Hansen, [7]; 7. 39-William Huck, [6]; (DNS) 12-Shawn Swim,
Heat Race #4 (8 Laps): 1. 91-Jimmy Sivia, [3]; 2. 38V-Matt VandeVere, [4]; 3. 9-Greg Olsen, [1]; 4. 1-Rod Colburn, [5]; 5. 20-Natalie Klemko, [6]; 6. 23Z-Zach Raidart, [2]; 7. 11-Lance Walldan, [7]; (DNS) 19K-Derek Crane,
B Feature (12 Laps): 1. 29-Randy Stanford, [2]; 2. 29OG-Tom Eller, [3]; 3. 61-Zach Hansen, [4]; 4. 39-William Huck, [5]; 5. 11-Lance Walldan, [6]; 6. 22W-Bruce Waterworth, [8]; 7. 22-Greg Alt, [7]; 8. (DNF) 23Z-Zach Raidart, [1]; 9. (DNF) 2-Tommy Colbourn, [10]; 10. (DNF) 00-Paul Shaffer, [9]; (DNS) 19K-Derek Crane, ; (DNS) 12-Shawn Swim,
A Feature (25 Laps): 1. 38V-Matt VandeVere, [1]; 2. 71S-Doug Schenck, [4]; 3. 01-Chris Dodd, [2]; 4. 4-Jordan Paulsen, [6]; 5. 41-Dennis Spitz, [11]; 6. 21-Ryan Zielski, [9]; 7. 9-Greg Olsen, [13]; 8. 54-Scott Grissom, [12]; 9. 70-Chris Klemko, [19]; 10. 77-James Walldan, [17]; 11. 20-Natalie Klemko, [20]; 12. 29-Randy Stanford, [21]; 13. 50-Rusty Egan, [8]; 14. 51-Charles Spoonmore, [18]; 15. 7S-Craig Campton, [3]; 16. 29OG-Tom Eller, [22]; 17. 38-Allen Hafford, [10]; 18. 61-Zach Hansen, [23]; 19. 39-William Huck, [24]; 20. (DNF) 1-Rod Colburn, [16]; 21. (DNF) 6-Vince Bartolotta, [14]; 22. (DNF) 66-Denny Smith, [15]; 23. (DNF) 18-Nick Petska, [5]; 24. (DNF) 91-Jimmy Sivia, [7]
Badger Midget Racing Association
Qualifying: 1. 3-Bill Balog, 15.345[17]; 2. 57-Chase Jones, 15.387[6]; 3. 99-Ryan Probst, 15.517[3]; 4. 40-Chase McDermand, 15.656[11]; 5. 14-Jack Routson, 15.687[21]; 6. 7-Brian Peterson, 15.706[22]; 7. 2-Zach Boden, 15.769[18]; 8. 9K-Kevin Olson, 15.867[2]; 9. 77-Jordan Mattson, 15.935[7]; 10. 5-Kyle Brinkmann, 16.105[12]; 11. 5R-Matthew Rechek, 16.157[4]; 12. 66-Denny Smith, 16.485[8]; 13. 9S-Mike Stroik, 16.497[13]; 14. 5K-Kevin Douglas, 16.565[15]; 15. 66T-Tristan Koenings, 16.586[10]; 16. 71-Kyle Koch, 16.796[19]; 17. 87R-Josh Rehberg, 16.874[5]; 18. 28-Jim Fuerst, 17.179[14]; 19. 4-Pat Hensen, 17.196[1]; 20. 76-Mike Unger, 17.236[9]; 21. 29-Harrison Kleven, 17.447[20]; 22. 73-Jeremy Douglas, 17.486[16]
AutoMeter Heat Race #1 (8 Laps): 1. 71-Kyle Koch, [1]; 2. 28-Jim Fuerst, [2]; 3. 4-Pat Hensen, [3]; 4. 76-Mike Unger, [4]; 5. 29-Harrison Kleven, [5]; 6. 73-Jeremy Douglas, [7]; 7. 87R-Josh Rehberg, [6]
Engler Machine Heat Race #2 (8 Laps): 1. 57-Chase Jones, [6]; 2. 9K-Kevin Olson, [3]; 3. 7-Brian Peterson, [4]; 4. 40-Chase McDermand, [5]; 5. 66-Denny Smith, [1]; 6. 5K-Kevin Douglas, [7]; 7. 5-Kyle Brinkmann, [2]
Madison Extinguisher Service Heat Race #3 (8 Laps): 1. 3-Bill Balog, [6]; 2. 2-Zach Boden, [3]; 3. 14-Jack Routson, [4]; 4. 77-Jordan Mattson, [2]; 5. 9S-Mike Stroik, [1]; 6. (DNF) 5R-Matthew Rechek, [8]; 7. (DNF) 99-Ryan Probst, [5]; 8. (DNF) 66T-Tristan Koenings, [7]
A Feature (25 Laps): 1. 3-Bill Balog, [10]; 2. 9K-Kevin Olson, [4]; 3. 40-Chase McDermand, [8]; 4. 14-Jack Routson, [7]; 5. 2-Zach Boden, [5]; 6. 7-Brian Peterson, [6]; 7. 9S-Mike Stroik, [1]; 8. 5K-Kevin Douglas, [20]; 9. 28-Jim Fuerst, [14]; 10. 4-Pat Hensen, [15]; 11. 73-Jeremy Douglas, [18]; 12. 66T-Tristan Koenings, [22]; 13. 66-Denny Smith, [2]; 14. 87R-Josh Rehberg, [13]; 15. 77-Jordan Mattson, [3]; 16. 29-Harrison Kleven, [17]; 17. 57-Chase Jones, [9]; 18. 71-Kyle Koch, [12]; 19. 5R-Matthew Rechek, [21]; 20. 76-Mike Unger, [16]; (DNS) 99-Ryan Probst, ; (DNS) 5-Kyle Brinkmann,