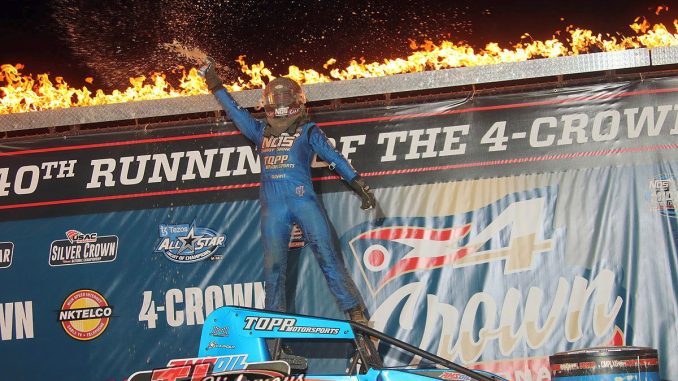 ROSSBURG, Ohio (September 24, 2022) – Justin Grant won the USAC Amsoil National Sprint Car Series potion of the 4-Crown Nationals Saturday night at Eldora Speedway. Grant took the lead from Jason McDougal on lap five and drove masterfully through slower traffic to hold off a late surge from C.J. Leary for the victory.
Grant was ecstatic in victory lane after winning one of USAC crown jewel events and that the event was part of the "Bubby Jones Master of Going Faster" series named after Grant's late father in law.
"Eldora Speedway, it's so awesome. It's every bit as good as a sprint car gets," said Grant in victory lane. "It's on the fence, its high stakes, high risk, and high reward. I was having an absolute blast out there. I've struggled the last couple of years at Eldora and about wrote myself off last year here during the 4-Crown. Dylan Cook keeps bringing me an awesome NOS Energy Drink, TOPP Motorsports #4."
Jason McDougal and Matt Westfall started on the front row for the 30-lap main event. McDougal led at the start with Justin Grant driving by Westfall for second position on the opening lap. While working lap three the red flag appeared when Dallas Hewitt and Robert Ballou got upside down in turn four. Both drivers were able to emerge from their cars under their own power, but could not make repairs to continue.
After the restart, McDougal held the lead for two more laps until Justin Grant nosed ahead on the backstretch after getting a run on the top side of turn two. Brady Bacon made his presence felt on lap seven driving into third followed by taking second position from McDougal on lap eight. Two laps later C.J. Leary followed Bacon around McDougal as they began to track down Grant for the lead.
With 12 laps to go Bacon quickly closed on Grant with Leary right in tow, but as they approached slower traffic Grant extended his lead while Bacon and Leary battled for second position. Leary took the spot with five laps to go and attempted to catch Grant. Grant was up for the challenge maintaining his lead to the checkered flag. Leary finished second while Bacon, McDougal, and Chase Stockon rounded out the top five.
40th 4-Crown Nationals
USAC AMSOIL National Sprint Car Series
Eldora Speedway
Rossburg, Ohio
Saturday, September 24, 2022
FATHEADZ EYEWEAR QUALIFYING: 1. Chase Stockon, 5s, KO-16.032; 2. Brady Bacon, 69, Dynamics-16.051; 3. Geoff Ensign, 5, Baldwin/Fox-16.066; 4. Shane Cottle, 74x, Hodges-16.104; 5. Isaac Chapple, 52, Chapple-16.184; 6. Justin Grant, 4, TOPP-16.194; 7. Matt Westfall, 33m, Marshall-16.221; 8. Jason McDougal, 5m, KO-16.237; 9. Kyle Cummins, 3R, Rock Steady-16.276; 10. Emerson Axsom, 47BC, Clauson Marshall Newman-16.278; 11. Kevin Thomas Jr., 15K, BGE Dougherty-16.316; 12. Jadon Rogers, 14, Engler-16.335; 13. Jake Swanson, 21AZ, Team AZ-16.339; 14. Carson Garrett, 15, BGE Dougherty-16.340; 15. C.J. Leary, 77m, Michael-16.341; 16. Dallas Hewitt, 18, Keen-16.391; 17. Anton Hernandez, 2B, 2B Racing-16.460; 18. Dustin Clark, 75, Clark-16.488; 19. Logan Seavey, 42, Cheney-16.500; 20. Brandon Mattox, 28, Mattox-16.529; 21. Braxton Cummings, 71B, Cummings-16.567; 22. Robert Ballou, 12, Ballou-16.576; 23. Brian Ruhlman, 49, Ruhlman-16.618; 24. Jack James, 99J, James-16.683; 25. Evan Mosley, 27, Mosley-16.705; 26. Keith Sheffer II, 86, Sheffer-16.720; 27. Ryan Barr, 21B, Barr-16.747; 28. Nathan Moore, 48, Moore-16.749; 29. Corey Smith, 66s, CS-16.982; 30. Lee Underwood, 24L, Underwood-16.984; 31. Larry Kingseed Jr., 59, Powell-17.002; 32. Alex Bright, 37, Felker-17.062; 33. Korbyn Hayslett, 1H, Hayslett-17.089; 34. Hunter Maddox, 24m, Maddox-17.130; 35. Chris Windom, 19, Hayward-17.216; 36. Chris Phillips, 6, Phillips-17.235; 37. Gage Etgen, 99, Etgen-17.269; 38. Matt Goodnight, 39, Goodnight-17.339; 39. Chad Ruhlman, 49c, Ruhlman-17.584; 40. Mitchel Moles, 19AZ, Reinbold/Underwood-NT.
SIMPSON RACE PRODUCTS FIRST HEAT: (8 laps, top-4 transfer to the feature) 1. Jake Swanson, 2. Chase Stockon, 3. Anton Hernandez, 4. Kyle Cummins, 5. Braxton Cummings, 6. Isaac Chapple, 7. Evan Mosley, 8. Corey Smith, 9. Korbyn Hayslett, 10. Gage Etgen. 2:11.97
COMPETITION SUSPENSION (CSI) SECOND HEAT: (8 laps, top-4 transfer to the feature) 1. Brady Bacon, 2. Robert Ballou, 3. Justin Grant, 4. Dustin Clark, 5. Emerson Axsom, 6. Carson Garrett, 7. Lee Underwood, 8. Keith Sheffer II, 9. Hunter Maddox, 10. Matt Goodnight. 2:11.68
PIT STOP USA THIRD HEAT: (8 laps, top-4 transfer to the feature) 1. C.J. Leary, 2. Kevin Thomas Jr., 3. Matt Westfall, 4. Logan Seavey, 5. Geoff Ensign, 6. Brian Ruhlman, 7. Chris Windom, 8. Larry Kingseed Jr., 9. Ryan Barr, 10. Chad Ruhlman. 2:09.23
ROD END SUPPLY FOURTH HEAT: (8 laps, top-4 transfer to the feature) 1. Mitchel Moles, 2. Jadon Rogers, 3. Shane Cottle, 4. Jason McDougal, 5. Brandon Mattox, 6. Dallas Hewitt, 7. Alex Bright, 8. Chris Phillips, 9. Jack James, 10. Nathan Moore. 2:13.44
C-MAIN: (8 laps, top-4 transfer to the semi) 1. Korbyn Hayslett, 2. Larry Kingseed Jr., 3. Chris Windom, 4. Alex Bright, 5. Lee Underwood, 6. Chad Ruhlman, 7. Hunter Maddox, 8. Chris Phillips, 9. Matt Goodnight. 2:19.32
ELLIOTT'S CUSTOM TRAILERS & CARTS SEMI: (12 laps, top-6 transfer to the feature) 1. Emerson Axsom, 2. Carson Garrett, 3. Geoff Ensign, 4. Isaac Chapple, 5. Dallas Hewitt, 6. Brandon Mattox, 7. Chris Windom, 8. Braxton Cummings, 9. Brian Ruhlman, 10. Ryan Barr, 11. Korbyn Hayslett, 12. Evan Mosley, 13. Corey Smith, 14. Jack James, 15. Larry Kingseed Jr., 16. Nathan Moore, 17. Keith Sheffer II. 3:32.07
FEATURE: (30 laps, starting positions in parentheses) 1. Justin Grant (3), 2. C.J. Leary (8), 3. Brady Bacon (5), 4. Jason McDougal (1), 5. Chase Stockon (6), 6. Shane Cottle (4), 7. Mitchel Moles (9), 8. Matt Westfall (2), 9. Kevin Thomas Jr. (14), 10. Kyle Cummins (12), 11. Geoff Ensign (10), 12. Logan Seavey (20), 13. Emerson Axsom (13), 14. Anton Hernandez (18), 15. Brandon Mattox (21), 16. Carson Garrett (16), 17. Jake Swanson (7), 18. Jadon Rogers (15), 19. Dustin Clark (19), 20. Isaac Chapple (11), 21. Dallas Hewitt (17), 22. Robert Ballou (22). NT
FEATURE LAP LEADERS: Laps 1-4 Jason McDougal, Laps 5-30 Justin Grant.
**Dallas Hewitt & Robert Ballou flipped on lap 3 of the feature.
USAC AMSOIL SPRINT CAR NATIONAL CHAMPIONSHIP POINTS: 1-Justin Grant-2107, 2-Brady Bacon-2027, 3-C.J. Leary-2003, 4-Robert Ballou-1933, 5-Emerson Axsom-1852, 6-Logan Seavey-1770, 7-Chase Stockon-1583, 8-Matt Westfall-1501, 9-Jadon Rogers-1447, 10-Jake Swanson-1328.
OVERALL PROSOURCE PASSING MASTER POINTS: 1-Justin Grant-154, 2-Thomas Meseraull-129, 3-Brady Bacon-113, 4-Robert Ballou-98, 5-Buddy Kofoid-97, 6-Kaylee Bryson-97, 7-Logan Seavey-91, 8-Kyle Cummins-78, 9-C.J. Leary-76, 10-Emerson Axsom-75.
BUBBY JONES MASTER OF GOING FASTER POINTS: 1-Brady Bacon-572, 2-Justin Grant-546, 3-C.J. Leary-520, 4-Chase Stockon-445, 5-Robert Ballou-444, 6-Emerson Axsom-438, 7-Logan Seavey-426, 8-Matt Westfall-397, 9-Jadon Rogers-365, 10-Jason McDougal-334.
NEXT USAC AMSOIL SPRINT CAR NATIONAL CHAMPIONSHIP RACE: September 30, 2022 – Kokomo Speedway – Kokomo, Indiana – 1/4-Mile Dirt Track – Let's Just Race Presented By Schroeder Products
CONTINGENCY AWARD WINNERS:
Dirt Draft Hot Laps Fastest Driver: Brady Bacon (15.782)
Fatheadz Eyewear Fast Qualifier: Chase Stockon (16.032)
Simpson Race Products First Heat Winner: Jake Swanson
Competition Suspension, Inc. Second Heat Winner: Brady Bacon
Pit Stop USA Third Heat Winner: C.J. Leary
Rod End Supply Fourth Heat Winner: Mitchel Moles
Elliott's Custom Trailers & Carts Semi Winner: Emerson Axsom
GSP Quality Driving Performance: Mitchel Moles
Feature Hard Charger: Logan Seavey (20th to 12th)
Rosewood Machine & Tool Precision Move of the Race: Logan Seavey