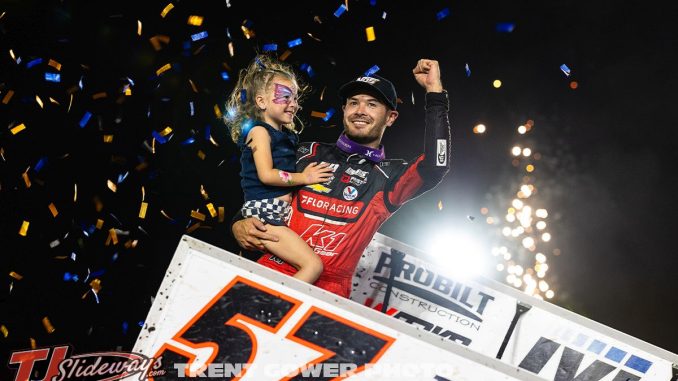 From Alex Nieten
CHICO, CA (September 7, 2023) — California loves Kyle Larson. And Kyle Larson loves California.
The Elk Grove, CA native's talents were shaped by "The Golden State's" bullrings. And Larson enjoys any opportunity to return to those racetracks. On Thursday night, the opportunity arose for Larson to return to Silver Dollar Speedway in Chico, CA, and for the second year in a row, Larson gave his home state fans a show with the World of Outlaws NOS Energy Drink Sprint Cars.
Fresh off a Southern 500 win with the NASCAR Cup Series last weekend, Larson flew to California for the opening prelim of the 69th Gold Cup Race of Champions. "Yung Money" lined up sixth for the 30-lap Feature, took the lead on the 22nd circuit, and drove away to the checkered flag for his 10th career win at the quarter-mile.
Any win at the historic Silver Dollar Speedway is a special one for Larson. Last year he, Brad Sweet, and Colby Copeland formed SLC Promotions and took the reins of the facility. Their efforts have already restored a measure of Gold Cup's former glory. And Larson stood proud in Victory Lane in front of an admiring crowd as the atmosphere continues to grow toward feeling like the Gold Cup of old thanks in large part to his passion for the sport.
The only part that could make it any better for Larson? If he could stay to chase his third Gold Cup title, but NASCAR duties call.
"Thanks to all the fans. I wish I could stay the rest of the weekend but got to get to Kansas tomorrow," Larson said. "It's just great to see Gold Cup growing again. It's awesome. I hope to hear about everybody having fun at the glow party… You get a little FOMO. You wish you could be at two places at once. It's tough, but I'm fortunate to be here for Wednesday and Thursday. I wasn't supposed to run tonight, but things changed with my schedule and was able to stay for tonight."
While Larson began the main event back in sixth, it was Kalib Henry and Shane Golobic leading the field to green. But it was neither Henry or Golobic leading the opening lap. Fourth-starting Chase Johnson powered to third entering Turn 1 and went low while the front row starters opted for the high line. Johnson found enough grip to pull by Golobic going down the back straightaway and slide Henry for the lead in Turn 3.
Johnson wasted no time pulling ahead after the massive move from fourth to first while Larson quickly began his charge by jumping from sixth to fourth on the opening lap and claiming third on the next circuit.
At the front, Johnson drove away and even when first encountering traffic, he sliced through the slower cars to extend his lead. The Penngrove, CA native controlled the first half of the Feature.
Right at the halfway point was when Larson roared to life behind the wheel of the #57. The two-time Gold Cup champion began to pressure Henry for second. Then on the 15th lap Larson ripped the top in Turns 1 and 2 to take over the runner-up spot. Once he claimed second, Johnson's lead began to vanish. On the lap Larson passed Henry, he was 2.047 seconds behind. The next lap he slashed the gap nearly in half to 1.197 seconds. Three laps later it was down to three tenths as he began to show Johnson a nose here and there.
On Lap 22 in traffic, the gap he needed opened as Larson ducked under Johnson exiting Turn 2 and cleared him heading into the next set of corners. Johnson tripped up on the cushion in Turn 4, and that was all Larson needed to drive away to the finish line with a four-second lead.
While the win will cap Larson's racing for the week at Gold Cup, he fully intends to keep an eye from afar as the California crown jewel continues to grow again.
"I'll for sure be tuned in on Saturday," Larson said. "This is a race that I grew up coming to for so long. Won my first ever World of Outlaws race at this track in this event. This facility means a lot to me."
After Johnson's mistake on the cushion, Shane Golobic was able to roll by to claim the second spot. The pilot of the Matt Wood Racing/NOS Energy Drink #17W finished runner-up to continue his impressive year at Silver Dollar. Golobic is at four wins and two seconds in six starts at the Chico oval. His performance throughout the night earned him enough points to claim one of two lock-in spots for Saturday's Toyota Racing Dash. Golobic came away happy with his team's continued speed but wishing he could try the start of the race over.
"It just shows how fast this NOS Energy Drink #17W is," Golobic said. "I didn't do my job early in the race. You can't go second to fourth and expect to do anything and let the #57 by early in the race. You're going to be in trouble. I've got to clean that up. Really wish I could do that over to try again, but second is nothing to hang our heads about."
Completing the top three by way of a charge from 11th was Corey Day in the Jason Meyers Racing #14. The Clovis, CA teenager completed an all-California native podium sweep by continuing his recent impressive stretch. Day is up to four consecutive World of Outlaws top fives and three podiums in the last four races. With Larson unable to attend Saturday, Day moved into the other available spot in Saturday's Dash.
"We didn't really have a good qualifying run there, and that hurt us in points," Day said. "We needed to perform in that Feature, and that was about as good as I could do with no cautions. Glad we could be good at this place the first time here this year. We got rained out every single time we tried to come up here and race. Happy to run third our first night at this place for the biggest race of the year here."
Logan Schuchart and Brad Sweet rounded out the top five.
Day's efforts also earned him the KSE Racing Hard Charger.
Carson Macedo grabbed another Simpson Performance Products QuickTime Award.
CASE No.1 Engine Oil Heat Race One went to Andy Forsberg. NOS Energy Drink Heats Two through Four were topped by Sean Becker, Giovanni Scelzi, and Cole Macedo.
Dylan Bloomfield won the Micro-Lite Last Chance Showdown.
The Smith Titanium Brake Systems Break of the Race was awarded to Chase Johnson. After leading the opening 21 laps, Johnson slipped back to seventh in the final rundown.
World of Outlaws NOS Energy Drink Sprint Car Series
69th Gold Cup Race of Champions
Silver Dollar Speedway
Chico, California
Thursday, September 7, 2023
Qualifying
1. 41-Carson Macedo, 11.998[24]
2. 83V-Dylan Bloomfield, 12.048[25]
3. 83-James McFadden, 12.062[17]
4. 57-Kyle Larson, 12.107[3]
5. 49-Brad Sweet, 12.108[23]
6. 24X-Chase Johnson, 12.129[21]
7. 1S-Logan Schuchart, 12.156[7]
8. 17W-Shane Golobic, 12.191[18]
9. 17M-Kalib Henry, 12.199[20]
10. 20G-Noah Gass, 12.229[15]
11. 1-Chance Grasty, 12.238[6]
12. 87-Ashlyn Rodriguez, 12.244[16]
13. 3-Kaleb Montgomery, 12.280[13]
14. 14-Corey Day, 12.301[5]
15. 18-Giovanni Scelzi, 12.301[1]
16. 6-Tim Kaeding, 12.317[19]
17. 92-Andy Forsberg, 12.342[2]
18. 7B-Sean Becker, 12.368[4]
19. 7S-Robbie Price, 12.377[9]
20. 21-Cole Macedo, 12.600[10]
21. 55D-Dawson Hammes, 12.659[26]
22. 2K-Gauge Garcia, 12.718[11]
23. 77-Ryan Lippincott, 12.739[14]
24. 12J-John Clark, 12.809[22]
25. 3AU-Karl Hoffmans, 13.211[12]
26. 7X-Eddy Lewis, 13.352[8]
Heat Race #1 (10 Laps)
1. 92-Andy Forsberg[2]
2. 17M-Kalib Henry[4]
3. 3-Kaleb Montgomery[3]
4. 41-Carson Macedo[6]
5. 49-Brad Sweet[5]
6. 55D-Dawson Hammes[1]
7. 3AU-Karl Hoffmans[7]
Heat Race #2 (10 Laps)
1. 7B-Sean Becker[2]
2. 14-Corey Day[3]
3. 2K-Gauge Garcia[1]
4. 20G-Noah Gass[4]
5. 24X-Chase Johnson[5]
6. 83V-Dylan Bloomfield[6]
7. 7X-Eddy Lewis[7]
Heat Race #3 (10 Laps)
1. 18-Giovanni Scelzi[3]
2. 77-Ryan Lippincott[1]
3. 7S-Robbie Price[2]
4. 83-James McFadden[6]
5. 1S-Logan Schuchart[5]
6. 1-Chance Grasty[4]
Heat Race #4 (10 Laps)
1. 21-Cole Macedo[2]
2. 6-Tim Kaeding[3]
3. 17W-Shane Golobic[5]
4. 57-Kyle Larson[6]
5. 12J-John Clark[1]
6. 87-Ashlyn Rodriguez[4]
Last Chance Showdown (10 Laps)
1. 83V-Dylan Bloomfield[1]
2. 1-Chance Grasty[2]
3. 55D-Dawson Hammes[4]
4. 87-Ashlyn Rodriguez[3]
5. 3AU-Karl Hoffmans[5]
6. 7X-Eddy Lewis[6]
NOS Energy Drink Feature (30 Laps)
1. 57-Kyle Larson[6]
2. 17W-Shane Golobic[2]
3. 14-Corey Day[11]
4. 1S-Logan Schuchart[3]
5. 49-Brad Sweet[5]
6. 41-Carson Macedo[8]
7. 24X-Chase Johnson[4]
8. 83-James McFadden[7]
9. 18-Giovanni Scelzi[9]
10. 17M-Kalib Henry[1]
11. 3-Kaleb Montgomery[12]
12. 20G-Noah Gass[10]
13. 21-Cole Macedo[16]
14. 83V-Dylan Bloomfield[21]
15. 6-Tim Kaeding[14]
16. 92-Andy Forsberg[13]
17. 7S-Robbie Price[17]
18. 1-Chance Grasty[22]
19. 2K-Gauge Garcia[19]
20. 12J-John Clark[20]
21. 55D-Dawson Hammes[23]
22. 87-Ashlyn Rodriguez[24]
23. 77-Ryan Lippincott[18]
24. 7B-Sean Becker[15]
Northwest Focus Midget Car Series
Heat Race #1 (8 Laps)
1. 24-Nick Evans[1]
2. 2J-Jonathan Jorgenson[5]
3. 17M-Shane Smith[8]
4. 90-Brian Holmkvist[4]
5. 71-Bryan Murphy[3]
6. 23-Randy Schaaf[7]
7. 17-Kyle Hanson[2]
8. 21-Todd Hartmann[6]
Heat Race #2 (8 Laps)
1. 66-Jeff Westergard[2]
2. 14-Garrett Thomas[5]
3. 62-Chuck Pierce[4]
4. 5C-Chris Foster[1]
5. 48-Stewart Lee[3]
6. 18-Ayuka Carlson[6]
7. 16-Duane Swanson[7]
8. 21C-Dale Creager[8]
A-Main (25 Laps)
1. 24-Nick Evans[4]
2. 14-Garrett Thomas[2]
3. 17M-Shane Smith[6]
4. 48-Stewart Lee[11]
5. 62-Chuck Pierce[3]
6. 90-Brian Holmkvist[5]
7. 23-Randy Schaaf[9]
8. 2J-Jonathan Jorgenson[8]
9. 5C-Chris Foster[1]
10. 21-Todd Hartmann[15]
11. 17-Kyle Hanson[14]
12. 18-Ayuka Carlson[12]
13. 21C-Dale Creager[16]
14. 16-Duane Swanson[13]
15. 71-Bryan Murphy[10]
16. 66-Jeff Westergard[7]