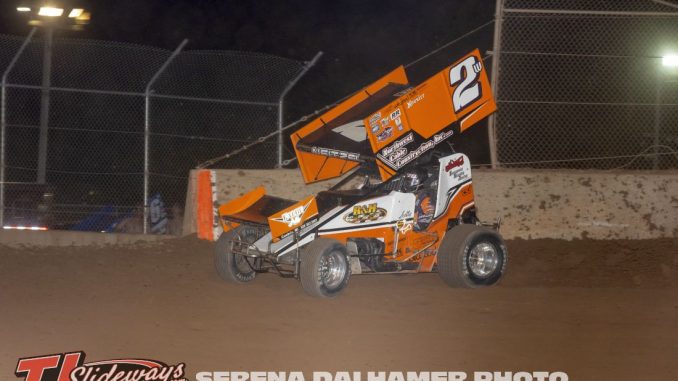 Mike Babicz
(Wilmot, Wis., Saturday, June 12, 2021)–Beaver Dam's Scott Nietzel captured his first 30-lap Bumper to Bumper Interstates Racing Association(IRA) Sprint Car feature at Wilmot Raceway in eight years Saturday, June 12.
Nietzel overtook early race leader Jeremy Schultz of Beaver Dam on the eighth lap of the non-stop main, pulling away through lapped traffic enroute to his second IRA win in as many nights having won on Friday, June 11 in Hartford, Michigan. IRA point leader Jake Blackhurst of Hanna City, IL caught Schultz on the final circuit for runner-up with Schultz coming across third. Mike Reinke of Howards Grove was fourth and Blake Nimee of Oswego, IL fifth.
Caledonia's Chris Carlson came from last starting spot in the field due to mechanical problems, but came through to take his sixth 20-lap modified feature win of the season. Carlson, who has won every 2021 main event at Wilmot, worked past early race leader Mike Simons of Genoa City on the restart following a caution with 11 laps remaining. Eagle's Steve Mueller came on to take second. Sheboygan's Joel Seegert third. Genoa City's Nick Simons fourth. West Allis Bart Sievert fifth.
"We couldn't keep the motor running, so we had to get pushed to start the feature which put us, by rule, in the back of the field," said Carlson. "We'll have to see what is going on with the motor. This is a great win because it's my dad's birthday, so this is for him."
Trevor's Chris Dodd headed up the field every lap of the 20-lap Autometer-Brewington Electric Wisconsin Wingless Sprints feature scoring his second Wilmot main event win in a row. Allen Hafford of Beach Park, IL was second. Kansasville's Ryan Marshall third. Bristol's Chris Klemko fourth. Clayton Rossmann of Wadsworth, IL fifth.
"The car was really dialed in," said Dodd. "I have to thank my great crew, sponsors, and everyone who supports this team."
Nick Petska of Spring Grove, IL won his second 20-lap IRA Lightning Sprints feature of the season at Wilmot. Petska overtook early race leader Nick Sheridan of Fox Lake, IL on the restart following a caution with 11 laps to go. Pleasant Prarie's Mike Neau, starting tenth, came on strong at the finish to take runner-up. Ron Brannam of Barrington, IL was third. C.J. Malleug of Johnsburg, IL fourth. Oak Creek's Mark Heinert fifth.
"Nick (Sheridan) was strong in his first night out," said Petska. "I didn't know where anyone was but I knew I needed to keep running hard. It's great for our team to finish one-two(Both cars are owned by Larry Neau)."
Wilmot Raceway hosts Family Night on Friday, June 18 featuring Wingless Sprints, Modifieds, Street Stocks and Bandit 4-Cylinder Stock Cars. Grandstands open at 5 p.m. with on track activity at 5:45 and racing slated for 6:30 p.m. Grandstand admission is $15.00 for ages 12 & over with ages 11 and under admitted free. For updated information phone the trackside raceline 262-862-2090, or check the official website wilmotraceway.com or the track's Facebook page.
Wilmot Raceway will host a Monster Truck Show Saturday evening, June 19 and Sunday afternoon, June 20. For information go to the Monster Truck Throwdown Facebook Page.
Chris Dodd won the Wisconsin WingLESS Sprint Car Series feature.
Wilmot Raceway
Wilmot, Wisconsin
Saturday, June 12, 2021
Bumper to Bumper Interstate Racing Association
Qualifying
1. 10W-Mike Reinke, 13.049[10]
2. 39-Jake Blackhurst, 13.103[20]
3. 2W-Scott Neitzel, 13.152[9]
4. 79-Blake Nimee, 13.179[1]
5. 23-Russel Borland, 13.318[4]
6. 4K-Kris Spitz, 13.469[7]
7. 85-Dustin Daggett, 13.471[11]
8. 19B-Jack Berger, 13.480[2]
9. 5J-Jeremy Schultz, 13.583[14]
10. 0-John Fahl, 13.618[3]
11. 68-Dave Uttech, 13.660[6]
12. 12-Corbin Gurley, 13.741[13]
13. 20R-Rob Pribnow, 13.802[21]
14. 43-Jereme Schroeder, 13.830[15]
15. 70-Chris Klemko, 13.888[8]
16. 29-Hunter Custer, 13.938[16]
17. 88-Christopher Flick, 14.053[18]
18. 61-Zach Hansen, 14.107[12]
19. 24-Scott Conger, 14.752[17]
20. 39D-Michael Decker, 15.283[5]
21. 7R-Andy Rein[19]
Heat Race #1 (10 Laps)
1. 85-Dustin Daggett[2]
2. 79-Blake Nimee[3]
3. 10W-Mike Reinke[4]
4. 20R-Rob Pribnow[5]
5. 29-Hunter Custer[6]
6. 0-John Fahl[1]
7. 24-Scott Conger[7]
Heat Race #2 (10 Laps)
1. 39-Jake Blackhurst[4]
2. 68-Dave Uttech[1]
3. 23-Russel Borland[3]
4. 88-Christopher Flick[6]
5. 43-Jereme Schroeder[5]
6. 39D-Michael Decker[7]
DNS: 19B-Jack Berger
Heat Race #3 (10 Laps)
1. 5J-Jeremy Schultz[2]
2. 2W-Scott Neitzel[4]
3. 4K-Kris Spitz[3]
4. 12-Corbin Gurley[1]
5. 70-Chris Klemko[5]
6. 7R-Andy Rein[7]
7. 61-Zach Hansen[6]
Dash #1 (4 Laps)
1. 39-Jake Blackhurst[2]
2. 2W-Scott Neitzel[4]
3. 10W-Mike Reinke[3]
4. 0-John Fahl[1]
5. 4K-Kris Spitz[5]
Dash #2 (4 Laps)
1. 5J-Jeremy Schultz[2]
2. 68-Dave Uttech[1]
3. 23-Russel Borland[3]
4. 79-Blake Nimee[4]
5. 85-Dustin Daggett[5]
A-Main (30 Laps)
1. 2W-Scott Neitzel[3]
2. 39-Jake Blackhurst[1]
3. 5J-Jeremy Schultz[2]
4. 10W-Mike Reinke[5]
5. 79-Blake Nimee[8]
6. 4K-Kris Spitz[9]
7. 85-Dustin Daggett[10]
8. 23-Russel Borland[6]
9. 20R-Rob Pribnow[12]
10. 12-Corbin Gurley[11]
11. 0-John Fahl[7]
12. 29-Hunter Custer[16]
13. 68-Dave Uttech[4]
14. 70-Chris Klemko[15]
15. 39D-Michael Decker[18]
16. 24-Scott Conger[20]
17. 88-Christopher Flick[13]
18. 43-Jereme Schroeder[14]
19. 7R-Andy Rein[17]
20. 61-Zach Hansen[19]
DNS: 19B-Jack Berger
Autometer Wisconsin WingLESS Sprint Car Series
Heat Race #1 (10 Laps)
1. 40-Tim Cox[4]
2. 38-Allen Hafford[2]
3. 70H-Tate Hensley[7]
4. 15-Dan Wade[1]
5. 99J-Seth Johnson[8]
6. 19K-Derek Crane[9]
7. 66-Denny Smith[5]
8. 14AJ-BG Wood[10]
9. 13W-Dave Wallace[3]
10. 20-Natalie Klemko[6]
Heat Race #2 (10 Laps)
1. 01-Chris Dodd[5]
2. 22-Greg Alt[1]
3. 70-Chris Klemko[10]
4. 12-Shawn Swim[3]
5. 41-Dennis Spitz[7]
6. 4G-George Gaertner III[9]
7. 8-Daniel Walldan[4]
8. 29-Bryce Andrews[6]
9. 69-TJ Smith[2]
10. 29J-Ralph Johnson[8]
Heat Race #3 (10 Laps)
1. 91-Jimmy Sivia[6]
2. 4-Jordan Paulsen[1]
3. 22S-Brian Strane[2]
4. 13-CJ Malueg[4]
5. 6B-Vince Bartolotta[3]
6. 89-George Gaertner Jr[9]
7. 19X-Nathan Crane[7]
8. 7-Trinity Uttech[5]
9. 39-William Huck[8]
10. 17M-Matt Rypel[10]
Heat Race #4 (10 Laps)
1. 50-Rusty Egan[1]
2. 09-Clayton Rossmann[3]
3. 7X-Ryan Marshall[9]
4. 14Z-Ryan Zielski[5]
5. 6-Jake Kouba[8]
6. 54-Scott Grissom[4]
7. 9X-Mike Sullivan[7]
8. 29OG-Tom Eller[2]
9. 47-Chance Ciskowski[6]
10. 7D-Josh Davidson[10]
B-Main (10 Laps)
1. 89-George Gaertner Jr[1]
2. 9X-Mike Sullivan[5]
3. 12-Shawn Swim[2]
4. 6B-Vince Bartolotta[3]
5. 14AJ-BG Wood[4]
6. 8-Daniel Walldan[6]
7. 13W-Dave Wallace[10]
8. 29OG-Tom Eller[8]
9. 7-Trinity Uttech[7]
10. 17M-Matt Rypel[9]
11. 69-TJ Smith[11]
B-Main 2 (10 Laps)
1. 54-Scott Grissom[3]
2. 13-CJ Malueg[1]
3. 19X-Nathan Crane[4]
4. 20-Natalie Klemko[11]
5. 47-Chance Ciskowski[8]
6. 39-William Huck[7]
7. 29J-Ralph Johnson[10]
8. 66-Denny Smith[5]
9. 15-Dan Wade[2]
10. 29-Bryce Andrews[6]
11. 7D-Josh Davidson[9]
A-Main (20 Laps)
1. 01-Chris Dodd[2]
2. 38-Allen Hafford[6]
3. 7X-Ryan Marshall[1]
4. 70-Chris Klemko[3]
5. 09-Clayton Rossmann[7]
6. 40-Tim Cox[10]
7. 4-Jordan Paulsen[11]
8. 50-Rusty Egan[8]
9. 22-Greg Alt[5]
10. 54-Scott Grissom[20]
11. 9X-Mike Sullivan[21]
12. 99J-Seth Johnson[12]
13. 41-Dennis Spitz[16]
14. 19X-Nathan Crane[24]
15. 13-CJ Malueg[22]
16. 89-George Gaertner Jr[19]
17. 12-Shawn Swim[23]
18. 91-Jimmy Sivia[4]
19. 6-Jake Kouba[13]
20. 19K-Derek Crane[17]
21. 4G-George Gaertner III[18]
22. 70H-Tate Hensley[9]
23. 22S-Brian Strane[14]
24. 14Z-Ryan Zielski[15]